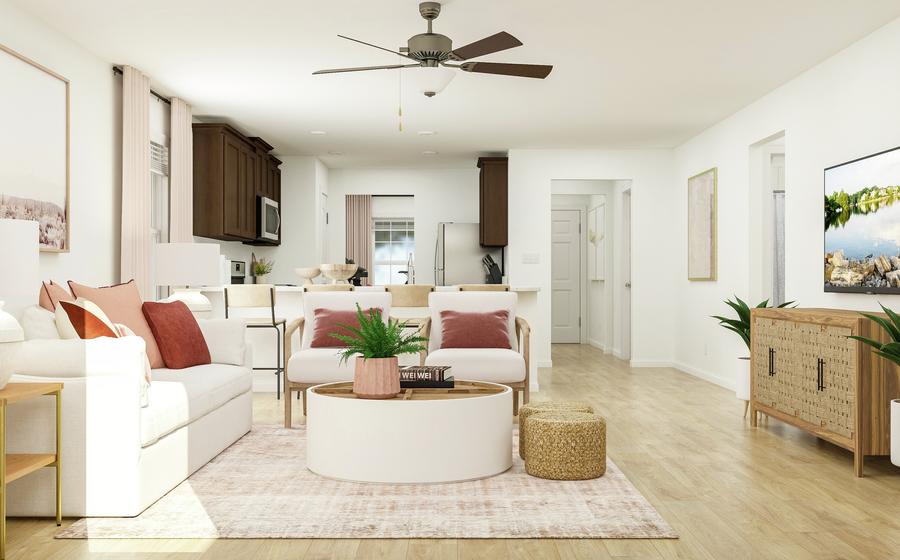 CompleteHome™
Every Home Should Be Complete
Your CompleteHome™
Your home is one of the most significant investments you make in your lifetime. At LGI Homes, we believe you deserve to be delighted with your new home. Our commitment to your satisfaction drives us to make your dream of homeownership as straightforward as possible. That's why the CompleteHome™ package includes everything your heart desires in a beautiful, move-in ready home.
Fantastic Curb Appeal
When you pull into your driveway, you can be proud that this house is your home. That's why the CompleteHome™ package starts outside. First impressions count. A quality-built home with professional front yard landscaping and designer coach lighting ensures your home has fantastic curb appeal.
Designer Kitchen
The heart of every home, your kitchen is a central gathering place. So, we outfitted every inch with top-of-the-line products. Stunning granite or quartz countertops, an undermount kitchen sink with extra deep basin, Moen® faucets with Power Clean™ spray technology and spacious wood cabinets with crown molding detail are just a few of the features you will find. These incredible finishes make it a joy to prepare every meal in your designer kitchen.
Appliances Ready for Cooking
Modern Conveniences
As important as style is for your new home, we also focus on function. The CompleteHome™ package features modern conveniences using integrated technology such as a programmable thermostat, USB compatible outlet in the kitchen and Wi-Fi-enabled garage door opener. Plus, every CompleteHome™ package includes energy-efficient features to keep your home running smoothly, such as double-pane Low-E windows and LED ENERGY STAR lights.
Value in Every Detail
From the Kwikset® door hardware with SmartKey Security™ to a finished garage, every detail of the CompleteHome™ package has been carefully considered. Every element adds style, value and function to your home.
Looking for even more? Select communities include CompleteHome Plus™ inventory, featuring modern designs, luxury finishes and even more style.
Learn About CompleteHome Plus™
Home is Just a Few Clicks Away.
Ready to move into your perfect new home? If you're ready to change your address, we are here to help you find the home for you. Click the button below to start your journey today!
Find a Home