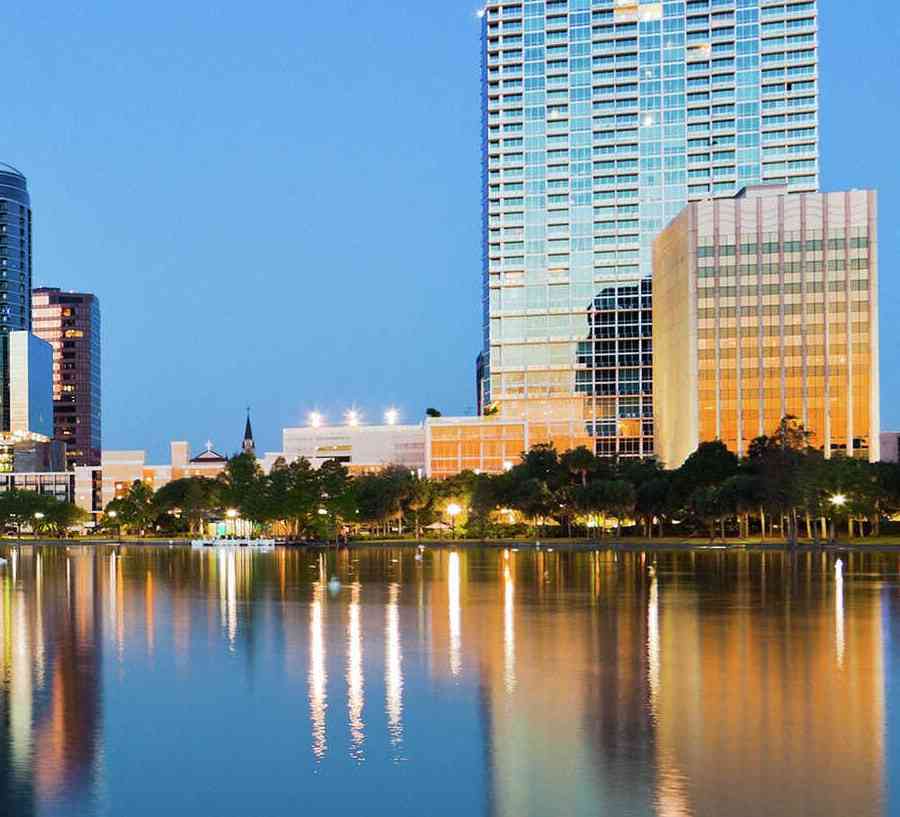 Where Every Day Is Like Vacation
Find Your New Home in Orlando
Orlando
Walt Disney World! Universal Studios Florida! Imagine living nearby! With 70 million visitors annually, tens of thousands of new residents move to Orlando every year. Near-perfect weather and being near the ocean means family-friendly activities and incredibly fresh seafood. An ideal place to retire, too. And of course, there is the no state income tax, to top it all off.
LGI Homes has stunning neighborhoods with family-friendly amenities and new homes for sale in the Orlando area. Discover the value, superior construction and luxurious upgrades included in every home we build. Prepare meals in a chef-ready kitchen with energy-efficient appliances and enjoy a low monthly payment by making LGI Homes your Orlando homebuilder.
Where Everyone Wants To Be
Orlando is home to more than 100 lakes

#4 'Best Places to Live in Florida in 2022' (Bankrate)
#2 'Most Fun Cities in America' (WalletHub, 2021)
#5 'The 30 Best Places to Retire in Florida' (WalletHub, 2021)

SeaWorld Orlando, Epcot, Magic Kingdom Park, Universal's Islands of Adventure & Gatorland

5 Largest Employers: Walt Disney World Resort, Adventist Health System Sunbelt, Inc., Universal Orlando Resort, Orange County Public Schools & University of Central Florida
Frequently Asked Questions
Continue reading for answers to frequently asked questions about our homes, community and the area.
01
When was Orlando founded and how did the city get its name?
Orlando's history can be traced back to 1838 during the height of the Seminole Wars. According to Orlando.gov, the city has four stories related to its name. Two stories revolve around individuals that passed away in the area with Orlando in their name, one story says a Judge, James Speer, named the city after a man that worked for him named Orlando and the fourth story suggests that the same Judge named the city after a character in the book "As You Like It," written by Shakespeare. To this day, it's unclear how Orlando was named.
02
What county is the city of Orlando, FL located in?
Orlando, Florida's fifth largest city is in Orange County, Florida. Orlando is the county seat of Orange County.
03
What family-friendly attractions are in the Orlando area?
The Orlando area is home to multiple world-class resorts, theme parks, zoos, museums and entertainment centers; it's magical. Amongst famous theme parks like Universal Studios and Disney World, there are other unique attractions to keep everyone active and entertained. Visit one of the oldest attractions - Gatorland, splash around at one of the many water parks or get outdoors at Wild Florida Airboats & Gator Park where you can enjoy boat tours, alligator-handling shows and more. View a list of more Orlando attractions with details by visiting VisitOrlando.com.
04
How far is Orlando from the ocean and beach?
There are ten popular beaches within a 2-hour drive of Orlando, Florida. The closest destination is the Canaveral National Seashore, which is about 56 minutes from Orlando (49.2 miles) with 24 miles of beaches. New Smyrna Beach, Daytona Beach, Cocoa Beach and Ponce Inlet are all well-known beach destinations about an hour to an hour and 10 minutes from Orlando by car.
05
Is there an international airport in Orlando?
There are two International Airports in the Orlando area offering more than 150 non-stop destinations. The Orlando International Airport (MCO) is 6 miles southeast of downtown Orlando and has over 120 gates. Sanford Airport (SFB) is a smaller international airport located about 30 minutes from the center of Downtown Orlando.
06
Who are some of the major employers in Orlando?
According to the Orlando business journal, the five largest employers in the Orlando area (central Florida) are Walt Disney World Resort, AdventHealth, Orange County Public Schools, Universal Studios Florida at Universal Orlando and Orlando Health. Other major employers include AAA, Darden Restaurants, Massey Services Inc., Marriott Vacations Worldwide and Mears Transportation Group.
07
Does LGI Homes sell four and five-bedroom homes in the Orlando area?
LGI Homes has multiple four and five-bedroom floor plans in various Orlando communities. These single-family, new-construction, homes are move-in-ready and include designer upgrades, integrated technology and a 10-year structural warranty. Contact us today for details and to schedule a tour of an Orlando move-in-ready home.
08
What professional sports teams call Orlando home?
Orlando is home to three major league teams. Orlando City SC and Orlando Pride are MLS teams, and Orlando Magic is an NBA team. The city is well-known for minor league and semi-pro sports teams and has a history of hosting major sporting events.
09
Does LGI Homes have multiple communities in the Orlando area?
Yes, LGI Homes has several single-family home neighborhoods in the Orlando area with affordable move-in-ready homes for sale. Every home includes integrated technology, modern designer upgrades and a 10-year structural warranty at no additional cost for homebuyers.
10
Is it a good time to purchase a new construction home in Orlando?
Every family's situation is unique. If you have been planning on buying a home in Orlando, can afford it and plan on staying in your home for several years, most experts agree that it's a good time to buy. It's nearly impossible to time the market, which is why you should buy a home when you are ready. Please check with your financial advisor or a real estate professional for details about your specific situation.
11
Are there new homes in Orlando from the $400s?
Orlando is a popular city. While some areas are on the higher price end, there are other areas with beautiful homes that are still affordable investments. LGI homes in the Orlando area range from the mid $200k and up.
12
Are there new homebuyer programs in Orlando, FL?
At the end of 2022, the Florida Housing Finance Corporation announced that Florida homebuyers have a range of assistance programs available. Florida Housing offers first-time homebuyers a Homebuyer program with a 30-year fixed rate mortgage; eligible borrowers may also participate in one of Florida Housing's second mortgage offers. Visit floridahousing.org to learn about the different Florida homebuyer assistance programs.
13
What is the weather like in Orlando, Florida?
According to WeatherSpark, Orlando has long summers that are "hot, oppressive, wet and mostly cloudy;" winters in Orlando are partly cloudy, cool and short. The coldest month is Orlando is January; the hottest months are July and August. The annual average high is 83 degrees Fahrenheit, and the average low is 65 degrees Fahrenheit.
REQUEST INFO