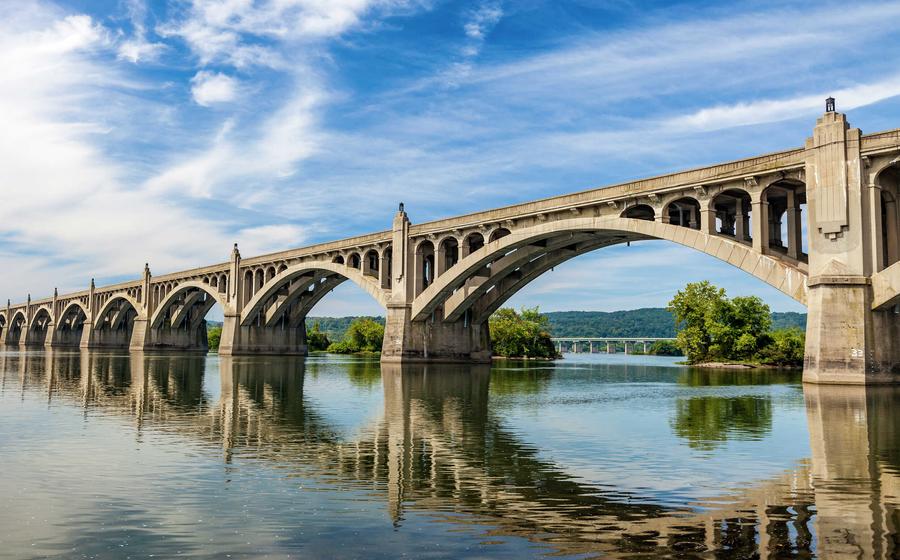 A Historic Place To Call Home
New Homes Available In York
York
York has earned distinction for being one of Pennsylvania's best places to live. It is the birthplace of the Articles of Confederation and where Congress signed the French Treaty of Alliance. The city's historic downtown area highlights three centuries of American history, making it easy to make short walks an exciting journey. Compared to the rest of Pennsylvania, real estate prices in York are affordable.
LGI Homes offers new homes for sale in York with unparalleled value and quality. Our floor plans are open, spacious and thoughtfully designed to accommodate your life. Plus, every home we build includes recessed lighting, high-end cabinetry, upgraded countertops, energy-efficient appliances, popular designer finishes and a 10-year structural warranty. High-quality luxury is affordable again.
Discover Your New Home
#4 'Best Places to Live in Pennsylvania' (U.S. News & World Report)
#17 'Best States According to Americans' (U.S. News & World Report)
#18 '2022 Most Diverse Places to Live in Pennsylvania' (Niche)
York real estate prices are 55% lower than the Pennsylvania average (AreaVibes)
Top industries in York include healthcare, government, education, manufacturing, tourism, and construction.
Top employers are York College of Pennsylvania, WellSpan Health, Walmart, Glatfelter, Rutter's Dairy, Kinsley Construction, Dentsply Sirona, A&S Trucking Service, Inc, and R&R Components.
Top attractions include York County History Center, Agricultural & Industrial Museum, Colonial Complex, Miniature Railroad Club of York, and Bonham House.
Frequently Asked Questions
Continue reading for answers to frequently asked questions about our homes, community and the area.
01
When was York established?
York, Pennsylvania, was established in 1741. The city played an essential role during the American Revolution, serving as the temporary capital of the Continental Congress from September 30, 1777 to June 27, 1778.
02
Where is York located in Pennsylvania?
York is located in southeastern Pennsylvania in the United States. It is located in York County and is the county seat. The city is approximately 30 miles south of the state capital and about 100 miles west of Philadelphia.
03
How far is York from Harrisburg?
York, Pennsylvania, is approximately 30 miles south of Harrisburg, the state capital. Harrisburg is located along the Susquehanna River and is easily accessible from York via several major highways, including I-83 and U.S. Route 30. The driving distance between the two cities is approximately 40 minutes, depending on traffic conditions.
04
What is the job market like in York?
The job market in York, Pennsylvania, is diverse and offers opportunities in various industries. The city has a significant manufacturing base, particularly in food processing, metal fabrication and machinery. As of January 2023, the unemployment rate in the York-Hanover MSA is 3.7%, according to the U.S. Bureau of Labor Statistics.
05
What are some major industries in York?
York, Pennsylvania, has a diverse economy with opportunities in several industries. The city is well-known for manufacturing. Education, healthcare, retail, logistics and transportation are significant sectors in the area.
06
Who are the top employers in York?
York is home to several large employers. The top employers in the area include WellSpan Health, Harley-Davidson, Amazon, Walmart, York Hospital, FedEx, Giant Food Stores, Voith Hydro, Caterpillar Inc. and York College of Pennsylvania. The government is also a significant employer.
07
What's the weather like in York?
The weather in York is typical of the Mid-Atlantic region of the United States, with four distinct seasons. Spring and summer are mild, ranging from the low 40s to the 70s. Fall and winter are typically cold, with average temperatures from the mid-30s to the mid-40s. The average temperature in York is 54 degrees Fahrenheit with 42.3 inches of rainfall annually, according to climate-data.org.
08
What big cities are located near York?
According to TravelMath.com, York is located near Baltimore (47 miles), Washington D.C. (75 miles), Philadelphia (83 miles), Newark (146 miles), New Jersey City (152 miles), New York (153 miles, Pittsburgh (176 miles), and Norfolk (216 miles).
09
What is the average cost of living like in York?
The cost of living in York, PA, is lower than the national average, making it affordable for many families and individuals. The cost of housing, food, transportation and other necessities is generally lower in York than in nearby cities in the region, such as Philadelphia and Baltimore.
According to the Council for Community and Economic Research data, York's overall cost of living is approximately 9% lower than the national average. Housing costs, in particular, are lower in York, with the average price of a home in the area being approximately 20% lower than the national average, according to Salary.com.
10
What is the population of York, PA?
According to the United States Census Bureau, the estimated population of York, Pennsylvania, as of 2021, was 44,834. York's 2023 population is 45,124, according to WorldPopulationReview.com.
11
What are the top-rated school districts in York County, PA?
According to Niche.com, the top school districts in York County are York Suburban School District, Northeastern York School District, Central York School District, Dallastown Area School District and Southern York County School District.
REQUEST INFO