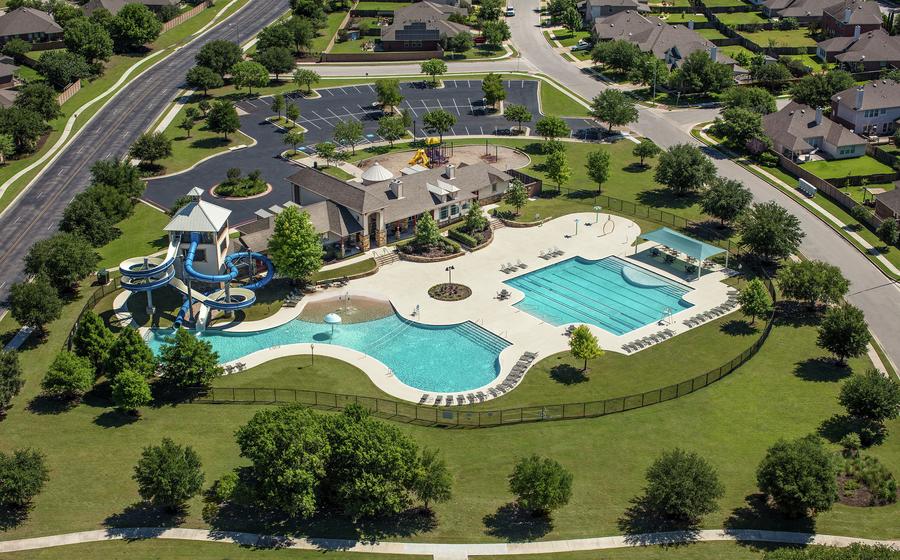 Discover ShadowGlen
The Idyllic Master-Planned Community in Manor, Texas
Tucked east of bustling Austin,
ShadowGlen
offers an idyllic escape from the city without compromising accessibility. ShadowGlen is off Highway 290, less than 16 miles from Downtown Austin. The community is a serene retreat that's a stone's throw from the city's thriving business, dining, event and entertainment hubs.
ShadowGlen is more than beautiful homes; the community offers a lifestyle with five-star golfing, sports and social areas, and commercial centers with retail hubs, including restaurants, office buildings and social centers. The neighborhood has miles of walking and biking paths, outdoor green spaces and a sports complex.
As you delve deeper into ShadowGlen, you'll discover a community that prizes active living and relaxation. It's a community with world-class amenities and abundant open areas, catering to residents craving an active lifestyle and peaceful family picnics. Let's examine the generous lifestyle that awaits you at ShadowGlen, where you'll find gorgeous residences from
Terrata Homes
and other home builders designed for comfort, convenience and enjoyment.

Live in Spacious, Thoughtfully-Designed Homes at ShadowGlen
A home is more than just a house – it's a backdrop for lifelong memories, a cornerstone for community connections and a launch pad for a lifestyle of comfort and convenience. That's why the ShadowGlen community is a collection of some of the finest residences in Austin.

New Construction Homes at ShadowGlen
Terrata Homes, part of the LGI Homes family, is one of the many home builders offering brand-new, luxury homes that flawlessly blend modernity with comfort.

These homes include designer chef-ready kitchens, luxurious master suites and flex rooms that offer the versatility to meet your specific needs – be it a home office, study, craft room or anything else.

With eight distinct floor plans available, ranging from approximately 1,990 to 2,560 square feet, families of all sizes can find a perfect fit. Each home features 3 to 4 bedrooms and 2.5 to 3 bathrooms, offering ample space for comfort and privacy. In September 2023, home prices start in the $470s, offering incredible value for the luxurious features included.

And while Terrata Homes offers an extensive selection of floor plans, upgrades-as-standard and a streamlined buying process, ShadowGlen also features beautiful homes from other distinguished builders, presenting an array of choices for those searching for their dream home.

Exceptional Community Amenities: Elevating Everyday Living at ShadowGlen
ShadowGlen offers a rich tapestry of amenities that encapsulates the essence of premium community living. Every detail has been meticulously curated at this location to enhance the resident's experience and enrich their lifestyle.

Recreation Center and Water Park: The Heartbeat of ShadowGlen
At the heart of the ShadowGlen community lies its bustling recreation center and water park, a unified hub where residents of all ages converge for leisure, entertainment and social interaction.

Designed to serve as the community's clubhouse, the recreation center is an inviting space that hosts various amenities and activities to enhance every resident's living experience. Residents can engage in many activities, from fitness classes to food truck Fridays. ShadowGlen fosters a strong and vibrant community spirit.

Adjacent to the recreation center, the family-friendly water park is a haven of aquatic fun. It boasts exciting water slides, a kid-friendly splash area and ample adult lounging space.

Whether you're looking to cool off on a hot Austin day or give your kids a fun and safe space to play, ShadowGlen's water park has something for everyone. It's a 4-acre family park with two expansive pools, a splash pad and exciting slides for family members. ShadowGlen's water park offers something for everyone.

ShadowGlen Golf Club: Experience Exceptional Golfing
The crown jewel of the ShadowGlen community is the ShadowGlen Golf Club. Designed by renowned architects Roy Bechtol and Randy Russell, the 7,174-yard, 18-hole championship course has been lauded by Avid Golfer Magazine as one of Austin's best public Golf Courses.

ShadowGlen offers a unique blend of challenge and scenery, with its layout meticulously carved into the rolling hills and undulating terrain native to the area.

The front nine holes feature a traditional, links-style design that artfully weaves around multiple water features. Meanwhile, the secluded back nine requires keen attention, as sharp elevation changes and the terrain's native character add an exciting layer of complexity to the golfing experience.

ShadowGlen Golf Club delivers a fantastic golfing experience and caters to post-game relaxation. The on-site bar and grill overlooking the finishing hole have a menu of delicious cuisine and craft beers, making it the perfect spot to unwind and recount the day's best shots.

Additional Comforts and Conveniences at ShadowGlen
While ShadowGlen boasts a top-tier golf facility and an incredible central hub for recreation, it also offers residents an abundance of additional amenities that make the community even more appealing.

Here's what residents can look forward to:

Embracing the Outdoors: With beautiful woodland walking trails crisscrossing the community and meandering through 202 acres of natural woodlands along Wilberger Creek, residents have a tranquil escape to nature. These trails provide an opportunity to stay active and a serene retreat from the hustle and bustle of daily life.
Fostering Growth and Learning: ShadowGlen Elementary School is in the community, serving children pre-K to fifth grade. It's convenient to have quality education for your children nearby. Additionally, just minutes from ShadowGlen are the highly regarded Manor High School and Manor New Tech High School (MNTHS).
Meeting Your Lifestyle Needs: ShadowGlen makes everyday living easy with various shopping and dining options. Whether you're in the mood for local boutique shopping or dining at popular eateries, you'll find what you need within or near the community.
Easy Commutes and More Opportunities: ShadowGlen is an ideal living environment for working professionals near Austin and other business hubs. The community offers accessible commuting routes to the city, providing a peaceful retreat after a busy workday.
In short, ShadowGlen offers a harmonious blend of convenience, activity and tranquility, enhancing the living experience for all residents.

Could ShadowGlen Be Your Dream Community?
ShadowGlen's blend of modern living, stunning natural surroundings, and unrivaled amenities attracts prospective homeowners. It's a community with numerous new home opportunities, including move-in-ready new construction homes. The neighborhood caters to diverse lifestyle needs and preferences, making it an attractive prospect for almost everyone.
Families: Enjoy thoughtfully designed homes with spacious interiors and nearby ShadowGlen Elementary School. The numerous play areas, recreation center and water park offer countless family fun and bonding opportunities.
Active Individuals and Outdoor Enthusiasts: You can take advantage of the scenic walking trails, the golf club and sports facilities. The fitness center at the recreation center also caters to those who enjoy a regular workout routine.
Working Professionals: Benefit from ShadowGlen's proximity to Austin and other business hubs, ensuring an easy commute. After a busy day at work, they can return to the tranquility of their ShadowGlen home.
Retirees: Looking for a peaceful yet vibrant community will also find ShadowGlen appealing. With its golf club, serene walking trails and the community's peaceful ambiance, it's an idyllic place to enjoy a relaxed and leisurely lifestyle.

How Can I Book a Tour of the ShadowGlen Community in Manor, Texas?
If you're interested in experiencing the ShadowGlen community firsthand, visit our
ShadowGlen webpage
, where you'll find a contact form, the community hours, details about new homes, up-to-date pricing and driving directions. Our new home specialists can answer your questions and schedule your tour.
If you're ready to embrace the lifestyle you've always desired, schedule your visit to the welcoming ShadowGlen community today.