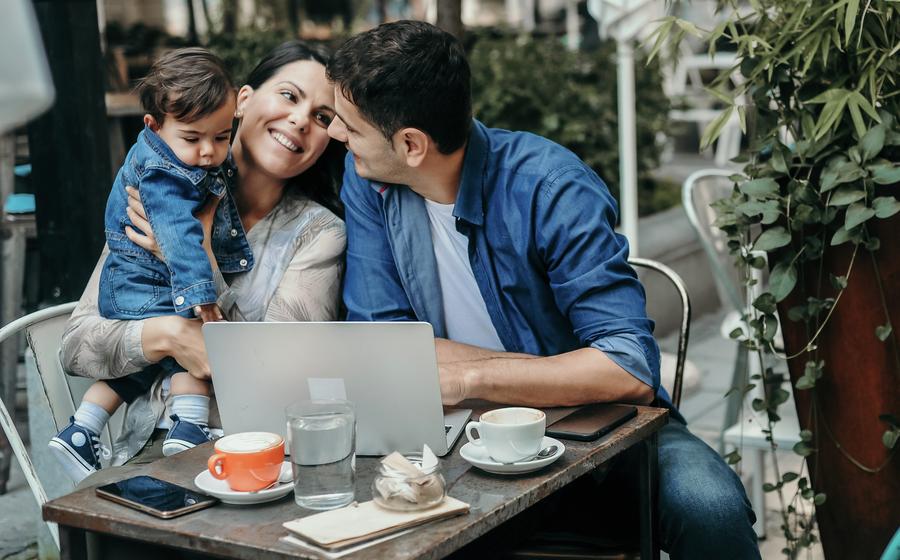 New Home Checklist
Stop Renting and Become a Homeowner
Buying a home is a crucial investment in your future, almost a rite of passage into independence and adulthood. For most people, a home is the biggest purchase they'll ever make and their pride and joy. If you're looking to stop renting, a robust plan charting a path to homeownership can help.

Preparing for the process of buying a home saves you a lot of stress, heartache, and time. Here's our checklist to help you get out of your rental and into your own home.
Decide If You Are Ready to Settle Down
Don't let that title scare you. Settling down does not mean choosing a partner, getting married, and devoting your evenings to soccer practice and homework with the kids. It means being ready to take on extra responsibility and living in the same home for years.

Most experts agree that it takes three to five years to break even on the costs of buying and selling a home. Before leaving your rental, be sure you're ready to settle in and call a new community home for years.
Consider if You Can Take Care of a Home
Once you're a homeowner, you can no longer call your landlord about a leaky faucet or broken heater. You're your landlord now.

New-construction homes are usually easier to take care of and come with a warranty and support from the builder. Still, there are always things that need maintenance. Ask yourself if you're ready for the responsibility. Once you're sure you're ready to settle down and be your landlord, continue with the checklist.
Start Saving Money
Houses are costly. While mortgage financing makes it relatively easy to buy property, you will need cash for a down payment and other closing costs. With excellent credit, you can secure a conventional loan with a 3% downpayment. FHA loan requirements are more relaxed and ask for 3.5% down. Closing costs range from 3% to 6% of the loan amount. Find out how much you plan to put down on your home, keep closing costs in mind and save accordingly.

Tip: LGI Homes offer builder-paid closing costs in select communities if you use our preferred lender.

Keep in mind, you may have other costs when moving - like deposits on your utilities and expenses for moving boxes or a moving company. The sooner you start saving money, the better. Having savings and being prepared for out-of-pocket expenses can help prevent you from accumulating excessive consumer debt, which brings us to the next item on the checklist.
Get Your Finances in Order
Due to the stringent regulations that lenders follow, getting a mortgage is easier said than done. However, getting all essential financial information and documents in order beforehand should make the process smoother. To get your finances in order:
Check your credit report and score


A score of at least 620 should get you a mortgage, but you'll need a score of 700 or more to get the best interest rates. Fix any errors on your credit report and work on improving your credit score if needed.



Have proof of employment ready




Most lenders require two years of steady employment or self-employment before accepting your mortgage application. You'll need copies of your W2s for the last two years, copies of recent pay stubs, bank statements and recent rent payment receipts. Start organizing your financial documents and putting them in a file, so you're not scrambling when approaching a lender.





Pay off or down your debts




Pay off debt, especially credit cards and car and student loans. A side hustle may help you pay off your debt if your income is insufficient. Although you can get a loan with a debt-to-income (DTI) ratio of 50%, lenders prefer a DTI ratio between 36 and 43% (<43%).





See if you qualify for mortgage assistance programs.


Many federal and state programs can help you buy a home if you are a first-time homebuyer. You can also check with the VA or military to see if you meet the eligibility criteria for a VA Home Loan. Suppose you are considering buying a home in a rural community. In that case, you could be eligible for the U.S. Department of Agriculture's (USDA) USDA loan, with downpayments as low as 0%. Some local communities have programs for teachers, first responders and veterans- check around to see if you qualify for any programs. Your bank or lender may also offer assistance programs, be sure to ask.
Get Pre-Approved by a Lender
If your finances are in order and you are looking at homes, make sure to get pre-approved by a lender. Survey your options and talk with multiple lenders to get the best rates.

Getting pre-approved for a mortgage before you begin hunting for a home gives you an edge. It lets you know how much home you can afford, so you are looking at homes that fit your budget. Plus, sellers are more confident in accepting your offer, knowing that you are pre-approved. Remember, spend what you're comfortable spending. You don't have to buy a more expensive home just because you can afford one – a mortgage is both an aid and a liability. Borrow responsibly.
Know What You Want and Need in a Home
Buying the home of your dreams is exciting. If you're like most home buyers, you started browsing listings as soon as you began thinking about purchasing a home. But before you spend too much time, lay out what you want and need in a home.

Think about everything you like and don't like about your current living situation. You'll want to consider what commercial conveniences and facilities you need nearby and what is most important to you in your home and lifestyle.

List and prioritize these requirements so that you know what is necessary and what is open to compromise. Do you want a house in a good school district, or is that not a significant concern? Are green spaces and parks in the vicinity vital to you? Would you prefer an open floor plan? What upgrades do you want? Do you need three bathrooms, or will two do?

Not only will such a list help you search for the right house, but it can also help real estate professionals find you the right home. Prioritizing your needs and wants can also help you effectively compromise if necessary.

Tip: Every LGI home comes with a designer upgrades already included at no extra cost for the homebuyer. Learn about our CompleteHome™ and CompleteHome Plus™ packages.
Shop for Homes
With dozens of online platforms displaying new homes and resale listings, looking for a home can be overwhelming. After getting pre-qualified and creating a list of your wants and needs, you can filter search results and narrow your options.

Compare homes that meet your needs and fit your budget, then tour the homes you like, the community and the surrounding areas. You want to ensure you like your community and have the necessary commercial and medical facilities nearby. Look into things that interest you, such as a nearby freeway, golf course, or hiking and biking trails.

If you're looking at new construction homes, ask about extra costs for options and upgrades to ensure you stay within your budget.

Buying a home is a financial and emotional commitment. If you take the time to save, plan and compare homes, you'll find your dream home.

At LGI Homes, we make it easy to find the perfect home that fits your budget. Our New Home Consultants take you through the home search with transparent pricing and a seamless buying process. We calculate your monthly payment down to the penny, empowering you to make prudent financial decisions.

Let LGI Homes alleviate the stress of saving for closing costs and paying extra for upgrades; schedule a tour at an LGI Homes neighborhood near you today.