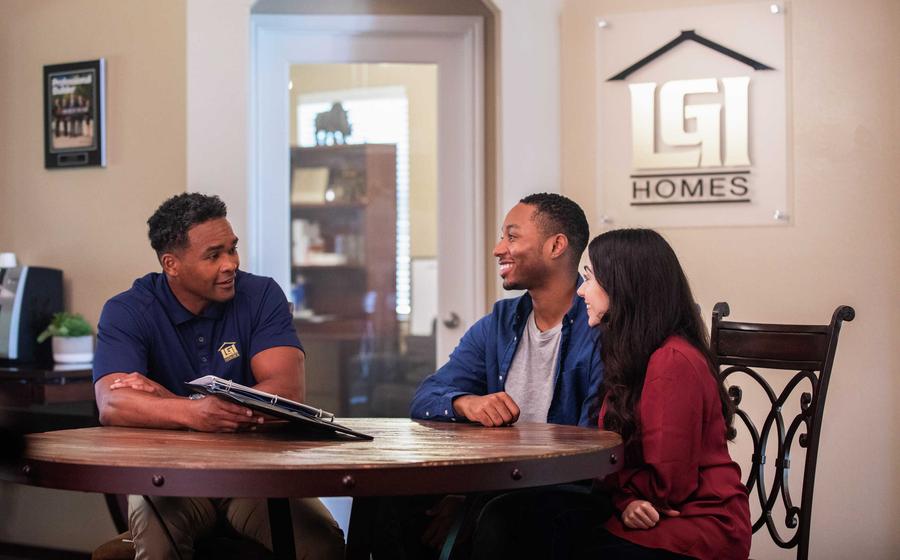 Understanding Closing Costs
on New Construction Homes
Purchasing any new home requires careful planning and consideration of the costs involved. As a new construction buyer, you'll want to know the costs and fees associated with your mortgage and how they are calculated. You'll want to see if you can reduce or negotiate them lower and if there is any way to get out of paying them. Let's look at closing costs associated with buying your new home and if there are ways to spend less on them.
What Are Closing Costs?

The occasion that a homebuyer meets to finalize the purchase of a new home is called "closing the sale" or simply "closing." At the closing, the necessary parties meet to complete the sale of a home by finalizing and signing mortgage documents. At that point, "closing costs" are paid, which are one-time expenses or "settlement fees." These costs compensate parties involved in the transaction, including the lender, title company and others. Closing costs are in addition to the home's purchase price; the homebuilder does not receive these cost payments.
What do closing costs include?
Closing costs can include the following fees:
Origination fee
Appraisal fee
Processing or underwriting fee
Credit report fee
Title search and examination fee
Title insurance
Homeowner's Insurance
Notary fees
Pre-paid interest
Survey
Property taxes
Discount points (buying down the mortgage interest rate)
Lawyer fees
The list above is incomplete and may or may not include all of the closing costs you'll have. Some of the above charges may be optional or unnecessary. An explanation of most of these closing costs is below.
Fees related to the property
include the costs of an appraisal, survey and home inspection. A third-party appraisal management company will professionally examine the property to determine its worth. An assessment is critical because it determines the home's value and sets the amount lenders will let you borrow. Surveys are only sometimes required by the lender and may be optional. If you're not buying a new construction home, your closing costs may include home inspection fees.
These fees vary based on several factors, including the property's age, location and size.
Fees related to the mortgage on the home
- These include the application, origination, credit report and other fees. These fees are standard and associated with the lender's services for obtaining and working on your mortgage. You may sometimes pay for 'points' if you or the lender buy down the interest rate.
Loan origination fees typically cost between .5 and 1%. These fees vary depending on the loan type, lender and other factors. Always be sure to work with a mortgage lender that you trust. Ensure you understand your closing costs and ask for details about service charges that you do not understand.
Example of loan origination fees on a $300,000 home:
(0.5%) 300,000*.005 = $1,500
(1.0%) 300,000*.01 = $3,000
Legal and other fees.
The most common legal fees for obtaining a mortgage are for services associated with the home's title. These fees are usually for the search, insurance and recording (transferring the title to the new owner).
Depending on the property's state, a real estate attorney may need to originate the closing and draw up the paperwork for the new home title. If you purchase a home in a state or jurisdiction that requires an attorney, they may have additional fees - usually charged by the hour. Every situation is unique, be sure to ask if you need help understanding a fee.
How can I calculate closing costs?
It is essential to know that most closing costs depend on several factors and that it may be challenging to calculate them until you get a good-faith estimate from your lender. Most experts and articles say
closing costs range from 2 to 5% of the home's purchase price.
Examples of closing costs on a $300,000 home
(2.0%) 300,000*.02 = $6,000
(3.0%) 300,000*.03 = $9,000
(4.0%) 300,000*.04 = $12,000
Lenders should provide an itemized list of the closing costs associated with your mortgage in a "
good faith estimate
" within three days of your home loan application. Thus, you can sift through the costs and ask questions about them.
If you are buying an LGI home, ask about builder-paid closing costs. You can save thousands of dollars if they're available for the home you want.
Does the homebuyer pay all of the closing costs?
Yes, all closing costs are paid by the homebuyer, but there are homebuyer programs and homebuilder promotions that may offset some or all of your closing costs. Be sure to ask your lender about homebuyer assistance programs in your state and ask your homebuilder if they have closing cost promotions.
Keep in mind that only some builders offer assistance with closing costs, and sometimes state and federal laws limit how much a builder can pay.
How does LGI Homes' buying process help homebuyers?
There's plenty of great news about working with LGI Homes. We have an easy-to-understand and
straightforward homebuying process
and:
We construct spacious quality homes at affordable prices in more than 100 communities throughout the country.
We take the stress out of homebuying with our easy-to-follow process and highly trained New Home Consultants.
Every home we build includes designer upgrades, integrated technology and a chef-ready kitchen at no extra cost to buyers.
Knowing how important home ownership is and how concerned each owner will be with costs and financing, we will work with you to calculate your monthly investment down to the penny.
We sell move-in-ready homes and provide unmatched value and a 10-year structural warranty.
In select communities, we offer builder-paid closing costs.

Closing Thoughts

Closing costs are a necessary cost that homebuyers should plan for when purchasing a home. Closing cost estimates are provided on a good-faith estimate a few days after you apply for a mortgage and vary based on several factors. Some homebuyers can get closing cost assistance from state programs - and some homebuilders offer help. The best thing about closing costs is getting your keys and becoming a homeowner after finishing the paperwork.

If you're interested in buying a home from LGI Homes and want to learn if we can help with builder-paid closing costs, contact us online today.

When you purchase a home from LGI Homes, you reap the rewards of affordability and value while enjoying superior, lasting quality.


Frequently Asked Questions

When are closing costs due?

Closing costs are due when you close your mortgage. The settlement statement or HUD-1 itemizes the closing costs and identifies which party is responsible for each expense. Your closing agent should explain each charge. Most buyers use a certified check or wire transfer to pay closing costs.

How much are closing costs on new construction homes?

Closing costs vary based on several factors. They can range from 2 to 5% of the home's purchase price. Lenders are required to provide you with an itemized list of all charges in their 'good faith estimate.' Remember to ask your homebuilder if they have promotions to help with closing costs and your lender about homebuying assistance programs.

Are closing costs part of your down payment?

No. Closing costs are charges associated with services provided to you when you obtain a mortgage. The down payment is a separate cost paid and reduces the total amount you finance for your home.

Are there homebuyer assistance programs that can help with closing costs?

Yes, some states have programs for homebuyers that can help pay closing costs. Programs can vary from state to state, so it's best to ask an expert for information relevant to you. Remember that restrictions and limitations may exist if your state has a program to help homebuyers with closing costs.

Do I need the services of an attorney when purchasing a house?

Real estate attorneys are only sometimes needed to purchase a home. In most cases, you only need a real estate attorney when your state's laws say you do. Here is a list of states in the U.S. that require an attorney for title services.

Are closing costs flexible?

Yes, closing costs are flexible and may even be negotiable. They can vary for several reasons. It's a good idea to compare closing costs from different lenders and to understand each cost.


Housing completions data: Residential construction news release for January 2023, Census.gov