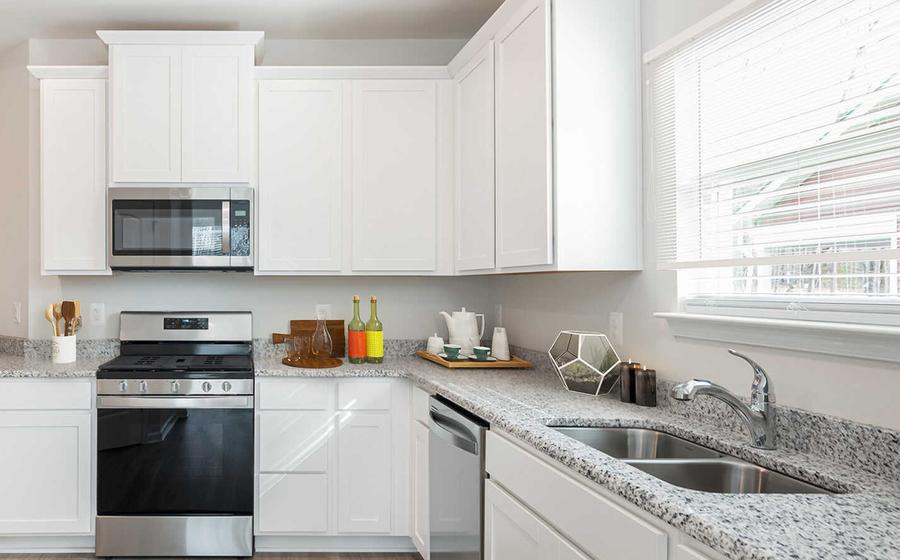 9 Reasons to Buy New Instead of Used
In this article, we'll discuss nine reasons you should consider purchasing a new home and include details about the homes we build.
Clean and new with warranties

Everything in a newly constructed home is new. You'll be the first person to call your house a home while enjoying modern appliances, beautiful floors, freshly painted walls, spotless bathrooms and much more! Plus, you'll live worry-free knowing you have a 10-year structural warranty from LGI Homes and a one-year warranty on most other components.


Buying new is easier

If you are home shopping, you probably know that the process can be frustrating and confusing. You'll come across questions requiring professional advice, and struggling to remember what you like and dislike about certain homes can be difficult. When you purchase from a home builder, their sales specialists can answer any questions, and you can take documents from the sales office with images and details about the home(s) you visited.

Getting a mortgage from a home builder could be easier. Most builders have in-house financing or preferred lenders; in both cases, the home builder has a vested interest in selling you the home and getting the deal done. Additionally, some builders offer incentives when you finance through them or their preferred lender.


You may have more homes to choose from

Buyers are struggling to find the house they want throughout the nation. It's a seller's market now, and many cities' have a low supply of homes. In new communities, home builders consistently build new homes with various floor plans, elevations and specifications. If you buy new, you'll have more options to choose from, which means you'll have a better chance of getting the home you need with the upgrades and features you want.

LGI Homes has move-in-ready or quick move-in homes, so if you like the home you tour, it could be yours as soon as you close on your mortgage. With LGI Homes, you could live in your dream home within a few weeks.


No bidding wars

As mentioned above, it's a seller's market throughout the country, which means the demand for homes exceeds the supply. If you're looking at resale properties and find a home you want, you may end up in a bidding war. Depending on the outcome, you could lose the house and time invested in trying to purchase it or end up paying more than the homeowner's asking price. If you are buying a home from a builder, you won't need to worry about a bidding war or paying more than the asking price; we sell to the first qualified buyer.

New homes are built better

The new home industry has building practices that often improve, meaning that brand-new houses are built to higher standards. Almost every residential home under construction must adhere to building codes and standards governed by nationally recognized model codes that states and local governments adopt; some states make amendments to fit local needs better. These new homebuilding practices result in more efficient homes built to higher standards, especially compared to older resale properties.


More efficient homes

Remember last decade when energy-efficient or 'green homes' were in short supply? Updated building codes and buyer demand helped usher in an era of green homebuilding. Today things are much different. Every home built now is more efficient than homes built several years ago.

LGI Homes has processes and uses materials that exceed industry standards. Inside the home, we include energy-saving features like LED lighting and appliances that require less energy. We include these options and upgrades in every home we build at no extra cost to you.


Lower maintenance costs

As mentioned above, everything in a new house is brand new. That means lower maintenance costs on appliances, plumbing, your heating and cooling system, lights, hardware and more! If you follow best practices and take care of your home and the appliances and systems that help run it, you'll enjoy low maintenance costs for years to come. During the first five to ten years, this could save you thousands of dollars and several headaches.


New neighborhood and homes with curb appeal

New homes have curb appeal and many new neighborhoods look fantastic throughout. Most new residences are inside communities where everything is new, including parks and neighborhood amenities. Homes throughout our communities have brand-new front-yard landscaping and an HOA helping to ensure homes look good for years. A drive through your neighborhood will feature new sidewalks, streetlights, mailboxes, trees, bushes and newly built homes. Your community will visually appeal to you and your guests!


Your floor plan fits your wants

If you purchase an existing house, you may not like the home's floor plan and could settle on a place that doesn't meet your wants or needs. When buying a new home, you pick out the floor plan you love. You won't have to worry about remodeling an outdated floor plan and the extra costs associated with the project.

LGI Homes offers various floor plans for families with different needs and budgets in each of our communities. Our floor plans are open, spacious and designed to accommodate the needs of today's families.


Wrapping things up

New homes offer an opportunity for you to buy the home you want in a pleasant, newly developed subdivision. They can be easier to finance, require less maintenance and come with warranties. When you buy a new home, you're the first owner and do not need to worry about repairs or renovations.

Best of all, when you purchase a move-in-ready home from LGI Homes, upgrades are included at no additional cost, and you can get your keys and move within a few weeks. Explore the communities LGI Homes builds in to find the right home for you.