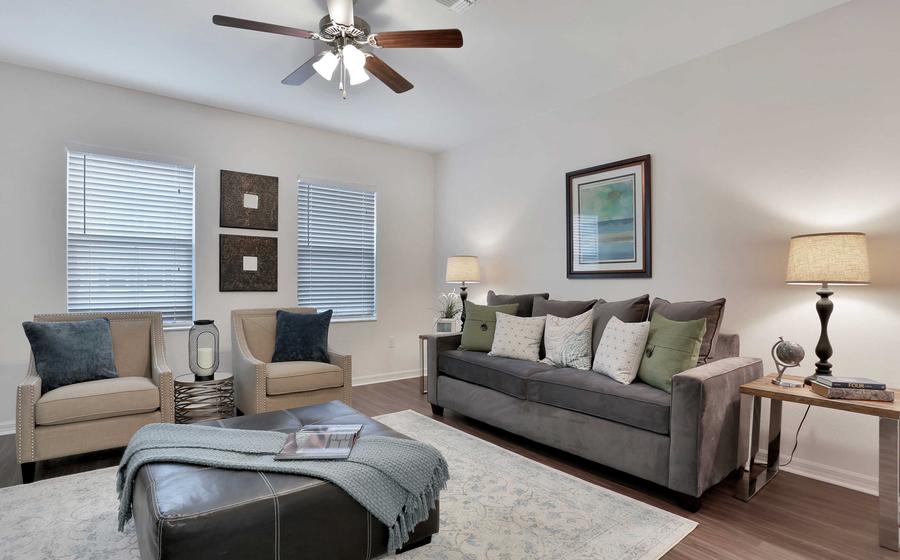 8 Persuasive Reasons to
Buy a New Home Over a Resale
several advantages
over buying a resale home. Besides the comfort of knowing you're the first owner and every appliance and fixture is brand new, new homes generally cost less to maintain, are more energy efficient, and every LGI home comes with designer upgrades, integrated technology and more.
In addition, newly built homes come with a warranty, providing you with the peace of mind that comes with knowing you have coverage from potentially expensive repairs or structural damage.
Get in touch with an LGI Homes representative
where you want to live
to learn more about our new homes and communities.
Continue reading to see many compelling reasons to consider going new when deciding on your next home purchase. Contact us directly if you have questions or want to learn more about homeownership with LGI.
8 Benefits of Going New Over Used When Buying a Home
New homes outshine preowned, resale homes for many reasons- higher construction standards, contemporary style, open spaces and energy efficiency are only a few.
Here are some of the best reasons to buy a new residence over a secondhand property and why an LGI home should be at the top of your shopping list.
#1 Everything is New!
Everything that makes up your new house is new, not remodeled, repainted or fixed. Being the first owner is one of the most compelling aspects of buying a new construction home for most buyers.

Consider that in your new home, you're the first to walk on the carpeting, cook in the kitchen, hang pictures up throughout the house and use the lavatories!

You move into freshly painted walls, matching kitchen appliances, stunning cabinetry and integrated technology- all new and ready to be used by you for the first time. Plus, every door and drawer functions without sticking, squeaking or creaking.
#2 New Homes Come with Warranties
Buying a house that comes with a warranty offers reassurance and protection.

Most readers know from personal experience, or a friend or family member, that when you buy a used house, the adage, "buyer beware," rings true too often, especially considering the sum of money exchanged. When a property transfers to a new owner, they are responsible for repairing it, even if a problem arises a few days after closing.

New homeowners assume less risk. Most new homes have a warranty and a well-known company behind them. When you buy an LGI home, you receive exceptional customer service with all warranty-related issues. Our team is here for you long after you purchase your home.

In case of unforeseen and unexpected issues, every LGI home has a 10-year structural warranty and a one-year workmanship warranty. Appliances come with manufacturer warranties, too.

Instead of handling unforeseen problems alone, purchase an LGI home. With LGI Homes, you can submit a warranty request in a few easy steps online. Within one business day, our team will reply to your request. From there, they will evaluate the situation and set a date for any necessary service or repair work.
#3 Every New LGI home Has Designer Upgrades
Regardless of the new home you buy from LGI, it's guaranteed to have a modern design, curb appeal, and an open and spacious floor plan. Plus, we add unparalleled value at no additional cost with one of two designer upgrade packages.

Both packages include well-appointed flooring and cabinetry, a chef-ready kitchen, integrated technology, and many more upgrades and finishes.

Outside you get front yard landscaping with designer coach lighting. The inside of your home includes granite or quartz countertops, high-end fixtures and appliances, upgraded flooring and spacious wood cabinets with crown molding.

You'll also discover various tech and comfort conveniences throughout your residence, like ceiling fans, a programmable thermostat and a Wi-Fi-connected garage door opener.

Select LGI communities offer our CompleteHome Plus™ package, which offers even more luxurious upgrades! An upgraded front door, 42-inch cabinets with crown molding, Whirlpool® stainless steel appliances and two-tone paint, to name a few.

#4 Energy Efficiency
One of the most significant benefits of owning a new construction home is its energy efficiency. A house that uses less energy has lower utility bills, stays warmer in the winter and cooler in the summer, and leaves a smaller carbon footprint.

Every LGI home is designed and built with energy efficiency in mind. The energy-saving features below are just a few you'll see in every new LGI residence.
Higher-quality construction practices and better-quality, energy-saving materials
Honeywell programmable thermostat with an intuitive touchscreen
Energy-efficient appliances
Low-energy, dual-pane windows with added insulation
LED, ENERGY STAR lights use up to 90% less energy than traditional incandescent bulbs.
#5 Easy Homebuying Process with Financing
LGI Homes offers a simple, easy-to-follow home-buying process. We even simplify the financing process if you use our preferred lender.
With our preferred lender, we handle everything under one roof, offer lending options with competitive rates and can pay closing costs in select communities.

Because we work with our preferred lender across the nation, they know each state's criterion for homebuyer programs. They can help you determine if you qualify for any program.

Some buyers qualify for programs like VA Home Loans with $0 down financing or FHA-secured funding with a down payment as low as 3.5%. Plus, if you use our preferred lender, we can help with your closing costs in choice communities, saving you thousands of dollars.

Ask your new home specialist about working with LGI's preferred lender for a seamless experience backed by LGI's commitment to providing exceptional customer care.

Fewer middlemen and less red tape make for a less stressful buying experience. See how easy it is to become a homeowner by checking out our buying process.

#6 Lower Maintenance Costs
Low maintenance expenses are a significant financial advantage of newer homes. A new house provides you with years of worry-free living thanks to new plumbing, appliances, heating, and air conditioning systems. Integrated technology can help lights last longer and your A/C system run less.

A new residence will need fewer repairs and updates compared to an older home. Most homeowners will enjoy several years of low-maintenance care with fewer unexpected out-of-pocket costs.

#7 Living in an Amenity-filled New Home Community
One more perk of buying an LGI home is the home's gorgeous neighborhood, complete with family-friendly amenities near commercial facilities and conveniences. Many LGI communities have sports courts, a community pool, walking paths, playgrounds, parks and tot-lots; some have a welcoming community center.

What's more, is that like-minded neighbors surround you. If you have kids, they're almost sure to make new friends, and there are often community events where the whole family can enjoy hanging out and getting to know your neighbors.
#8 Move-in When You're Ready
If you're buying a resale house, the seller may have conditions that hold up your move or may need time to make repairs.

Every LGI home is move-in-ready, meaning you can move in when ready. Thanks to our simple buying process, you can move into your home within weeks. With our move-in ready homes, you can take advantage of all the above benefits without waiting.

Buying a new LGI home means your new home is ready for you to move into and comes complete with front-yard landscaping, smart home features and designer upgrades.

Instead of ripping out shag carpeting and flowery wallpaper, as soon as you move in, you'll be able to spend more time entertaining family and friends; while creating memories you'll cherish for a lifetime.

Final Recap
You're more likely to find a floor plan that fits your lifestyle and expectations when shopping for a new home. Plus, building codes on new construction homes are strict and require better building materials- every home we build exceeds the latest standards and offers a suite of designer upgrades.

New systems- appliances, roofing, ductwork and foundation, reduce the likelihood of significant or minor repairs in the first few years of ownership.

Newer homes are more energy-efficient, saving you money on utility bills. Unexpected repairs are nearly nonexistent, though regular home maintenance is necessary.

Your home warranty assures structural soundness and quality construction. According to the Federal Trade Commission, builders typically give one- or two-year guarantees on materials, craftsmanship, plumbing and electrical systems. LGI Homes give buyers a 10-year structural warranty and a one-year craftsmanship warranty. New appliances and HVAC systems come with a manufacturer's warranty.

See what possibilities await you by looking for your new home now.