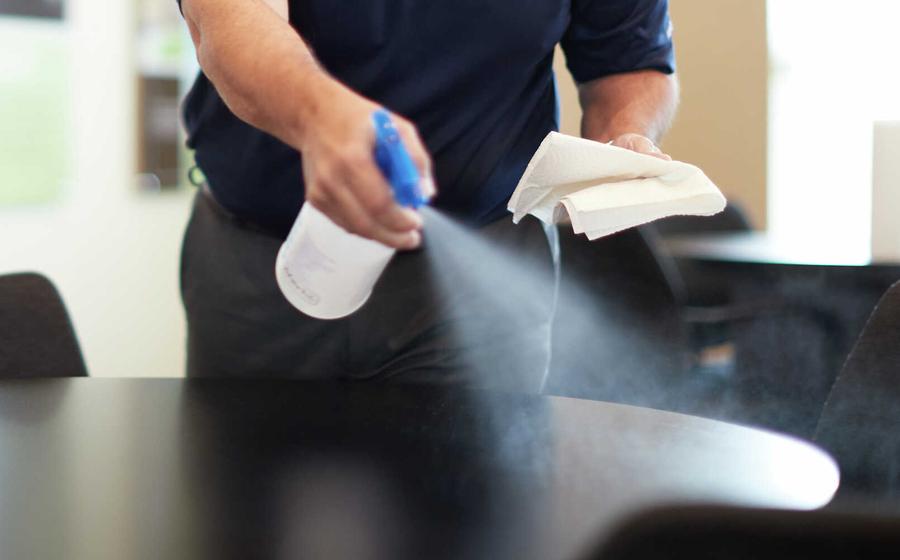 Revitalize Your Home
15 Tasks for Your Spring Cleaning
The arrival of spring ushers in the perfect opportunity to rejuvenate your home with everyone's favorite event, spring cleaning!
As a homeowner, you're likely familiar with the classic tasks to refresh your home and maintain its good condition. But, in this comprehensive guide, we'll go beyond the basics, presenting a mix of tried and tested tasks and lesser-known yet important chores to tackle.
Following this ultimate spring cleaning guide will rejuvenate your living space and improve its efficiency and the safety your home provides for your family and friends.
So, let's dive right in and start refreshing your home.
10 Classic Spring Cleaning Tasks to Get You Off to a Great Start
As you embark on your spring cleaning journey, starting with the fundamentals is essential. These classic tasks form the backbone of any thorough and effective cleaning routine. They will leave your home feeling refreshed and rejuvenated.
1. Declutter Your House
Spring cleaning is only complete with thorough decluttering. Go through every room in your home, sorting items into "keep," "donate," or "discard" piles. While it might be tricky or difficult to let go, try and remove emotion from this process. The more ruthless you are, the more space you will free up, making cleaning more manageable.
2. Deep Clean Carpets and Rugs
Carpets and rugs are a magnet for dirt, dust and germs. Did you know you can have as much as a pound of dirt buried in your carpeted surfaces before it becomes visible, even withregular vacuuming?
One of the first tasks on your spring cleaning checklist should be deep cleaning your carpeted surfaces. If you don't have a carpet cleaner, you can always rent one or hire a professional service to remove the dirt and allergens that build up over time.


3. Clean Windows and Sills
Another tried and tested tip for cleaning your house in the spring is cleaning your windows and sills. Doing this is especially true if you live in a location with harsh winters, where your home's windows can get dirty and dingy after bearing the brunt of the outdoor elements. Using glass cleaner and a microfiber cloth, wipe down your windows (inside and out), and remember to clean window tracks and sills with a gentle cleanser and damp rag.
4. Pull Out and Clean Appliances
Aside from carpets and rugs, appliances are another magnet for dirt and debris. These out-of-sight areas tend to get overlooked when we 'surface clean.' That's why spring is a great time to take the time and effort to clean in and around every appliance.
So pull out your refrigerator, microwave, oven, washer, dryer and any other freestanding appliance and clean in and around each.


5. Test and Maintain Safety Devices
Spring is an excellent time to check your smoke and carbon monoxide detectors and fire extinguishers (if you have any). Replace batteries in smoke and carbon monoxide detectors, and test them to ensure they're working correctly. Check fire extinguishers for expiration dates and replace them if necessary.


6. Wash Walls, Cabinets and Baseboards
Over time, walls, cabinets and baseboards can accumulate marks, stains and grime. Use a gentle cleanser and a damp cloth or sponge to clean these surfaces, paying particular attention to high-traffic areas and spots with noticeable marks and stains.
Use the recommended cleaning solutions for different surfaces.


7. Refresh Your Bedding
That feeling of rejuvenation will be complete once you refresh your bedding. So take the time to launder or dry-clean all aspects of your bedding, including pillows, mattress pads and comforters.
Spring is also a good time annually to flip and rotate your mattress to extend its life.


8. Clean and Organize the Garage
The garage often becomes a catch-all for clutter, which means it should get some focus and attention during spring cleaning. Take the time to sort through items, discarding or donating what you no longer need.
Sweep the floor, dust off surfaces and organize tools and equipment to create a more functional and accessible space.


9. Prepare Your Outdoor Spaces for Summer
Another must-do on your spring cleaning hit list is preparing your outdoor spaces for summer, especially if you experience cold and harsh winters. From cleaning outdoor furniture to pressure-washing and resealing decks and patios, there's plenty of outdoor spring cleaning to get done. When cleaning the outdoors, it's also the time to aerate and fertilize your lawn, overseeding it if necessary.


10. Dust from Top to Bottom
Of course, the task most synonymous with spring cleaning is dusting. Now is the time to wipe all surfaces in your home, including shelves, bedroom ceiling fans, furniture and electronics.
Start from the highest points, like ceiling corners, crown molding and fans. Work your way throughout your home and down to lower surfaces. Use a microfiber cloth or a duster with an extendable handle to efficiently capture and remove dust particles. Remember to change indoor air filters and clean around vents.

5 Lesser-Known Spring Cleaning Tasks That Add Real Value
With the usual chores covered, let's move on to some lesser-known tasks that can enhance the value of your spring cleaning regimen.


1. Clean and Freshen Your Garbage Disposal and Trash Cans
Homeowners often under-appreciate just how dirty and stinky their garbage disposals and trash cans can get, so it pays to give them some attention. Freshen your garbage disposal by running a few lemon or orange peels through it. Follow with a mixture of ice and coarse salt to remove built-up debris. Next, wash your indoor and outdoor trash cans with soap and water. Use a disinfectant to kill bacteria and remove odors.


2. Inspect and Re-Caulk Bathrooms
During the year, the caulk around your bathroom's tub, shower and sinks can crack, allowing moisture to seep in, sometimes creating problems with mold and mildew. Thoroughly check for mold or mildew in your bathroom's caulking. Remove and re-caulk as necessary to prevent water damage and mold growth.


3. Refresh Indoor Plants
While many homeowners use spring to spruce their outdoor gardens, it's also a great time to refresh their indoor plants. Start by removing dead leaves, trimming overgrown foliage and repotting plants that have outgrown their containers. Then move on to fertilizing your plants and rotating them to ensure even growth and exposure to sunlight.


4. Inspect and Touch-Up Interior Paint
While dusting, scrubbing and vacuuming are often the focus of spring cleaning, it's also the time to give your indoor spaces a new lease on life by touching up scuffs, marks and small chips in your paintwork. With that in mind, walk through your home and inspect each room for areas that need attention. Touch up any minor blemishes with matching paint to instantly refresh and revitalize the appearance of your living spaces.


5. Declutter and Organize Digital Devices
While your spring cleaning schedule may focus on physical clutter in and around your home, spring is an excellent time to organize and declutter your digital devices. Take the time to delete unwanted digital files, such as duplicate photos, old documents and downloads. Back up essential files and check your devices to see if any updates are needed.

This digital spring cleaning will improve your devices' performance, protect your data and could save you money on monthly cloud storage plans.


Complete Your Spring Refresh with Both Classic and Less-Typical Tasks
Incorporating a blend of classic and lesser-known spring cleaning tasks into your routine can make the process more exciting and rewarding. It can improve your home and mental well-being. By breaking up the monotony with a few uncommon chores that differ from the tasks you do every year, you'll discover new ways to improve your living space and may enhance the entire experience. Embracing this comprehensive approach to spring cleaning ensures that you leave no stone unturned, ultimately creating a more welcoming and comfortable home for you and your family to enjoy.