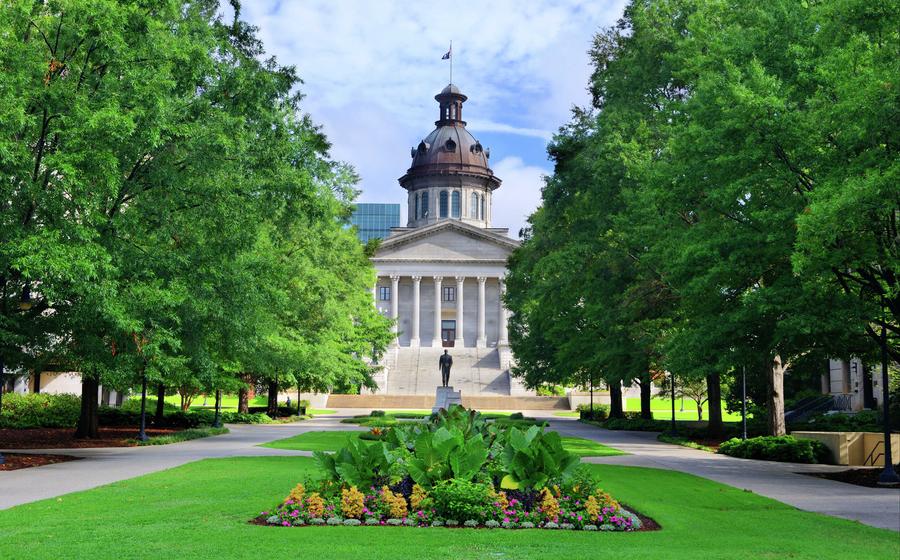 10 Things to Do in Columbia, SC
Enjoy Family-fun at These 10 Columbia, SC Attractions
Columbia, the capital of South Carolina, is the second most populous city in the state. It's located south of Charlotte in the middle of South Carolina and offers entertainment, fun and education for all ages!

Whether you are planning a visit, moving into your brand-new home or you are a local looking for attractions and activities in this vibrant city, check out the ten top things to do in Columbia, South Carolina.
South Carolina State House
The South Carolina State House is one of the most famous places to visit in Columbia. Located in downtown Columbia, the building's construction started in 1851; construction wasn't finished until after the civil war. The building has acted as a state capitol and a political convention center. It's a popular destination for Columbia residents and visitors.

Today, visitors can tour the building's ornate halls and witness firsthand some of the historical moments that have taken place inside. The state house and its grounds have monuments of Revolutionary War Generals, the American Mexican War, President Washington and other pieces of work.

Whether you're a history buff or just looking for an exciting place to visit in Columbia, the South Carolina State House is worth your time.
Columbia Museum of Art
Columbia is home to one of South Carolina's top museums for modern art, the Columbia Museum of Art. The Museum's collection spans from the early 20th century to the present day. It offers a variety of exhibitions and programs throughout the year.

It's in the heart of downtown Columbia, within walking distance of several restaurants and bars. Visitors can enjoy a unique cultural experience by attending one of the Museum's many educational programs.
Hampton-Preston Mansion and Gardens
The Hampton-Preston Mansion and Gardens is a beautiful attraction in Columbia, SC, that has been in the family for many years. It was first built in 1818 by Ainsley Hall, a wealthy merchant of Columbia, and has since passed through many hands. The current owners are the Hampton Family.

The main house, several outbuildings and an extensive garden are part of the Mansion grounds. The main home features high ceilings, marble floors, and stained-glass windows. Several reception rooms include a formal dining room with a carved wood ceiling and fireplace.

The Hampton-Preston Mansion and Gardens are home to various local and international plants. The grounds span four acres, giving visitors plenty of room to explore.
Waverly Historic District
The Waverly Historic District is the first suburb in the Columbia area. The district was founded in 1917 by African Americans looking for a safe place to raise their families and pursue their dreams. Today, the site features restored Victorian homes and churches, a playground, a pool hall and restaurants that reflect the unique cultural history of the community. The district's residents are diverse and comprised of social activists, professionals and artists.
South Carolina Philharmonic Orchestra
If you're in the area and looking for enjoyable music, check out the South Carolina Philharmonic Orchestra! With its richly appointed theater in downtown Columbia, the SC Philharmonic is a popular venue for concerts and other events. Every year it presents a season of captivating performances that will please any guest.

Many famous musicians around the country often appear as guests at Philharmonic Orchestra performances. If you're lucky enough to see such a guest appearance, you'll be glad you made the trip!
EdVenture Children's Museum
The EdVenture Children's Museum is a fun place for kids in Columbia, South Carolina. The entrance features a towering statue of Eddie the mascot, with many interactive activities for children to enjoy. Eddie is an educational tool, so kids can learn about his body from climbing on and inside him!

The Museum has art, science and history exhibits that fascinate young visitors. There are also plenty of activities for kids, like playing games or participating in interactive demonstrations. Plus, the Museum is constantly changing, so there's always something new to explore.

Whether you're a couple, a parent looking for an entertaining afternoon out with your children or a school group planning an educational field trip, the EdVenture Children's Museum is well worth a visit.
Nickelodeon Theater
The Nickelodeon Theater, located in Columbia, often referred to as "The Nick," is a great place to catch indie films. The Nick has a small, intimate setting with only 99 seats showcasing three daily independent screenings.

The Nickelodeon Theater is entirely non-profit and has been since 1978. Located in a trendy area of Columbia, the theater often hosts film festivals that are among the best things to do in the city.
Columbia Canal and Riverfront Park
Columbia Canal and Riverfront Park is a lovely linear urban park that runs along the Columbia Canal and Saluda River. It's 14 acres in size and located in downtown Columbia, designed and built with accessibility in mind.

The path is well-maintained and provides easy walking, wheelchair-pushing, jogging or biking routes; all 2.5 miles of the canal and riverfront offer lovely river views.

Columbia Canal and Riverfront Park is home to a variety of things to do, including a park with a playground and a gym, as well as the town square, where visitors can learn about the city's history.
Melton Memorial Observatory
The University of South Carolina has a planetarium in the heart of downtown Columbia; the Melton Memorial Observatory offers visitors a panoramic view of the city and the surrounding countryside. The observatory has an extensive collection of telescopes, including one of the largest refracting telescopes in North America.

The planetarium is a great place to see the night sky. It has a simple and sophisticated telescope, perfect for anyone interested in astronomy. The planetarium also has several other exhibits and programs that will interest any visitor. Whether you're a student looking for something to do on campus or a resident yearning to learn more about the universe, the University of South Carolina's planetarium is a great place to visit.

The Melton Memorial Observatory is open daily from dawn to dusk. Be sure to check the weather before you head to the observatory. You may not have a good view of the sky if it's cloudy.
South Carolina State Farmers Market
The Columbia-based South Carolina State Farmers Market is worth visiting for its charming atmosphere and an impressive selection of fresh produce. The market is open every Saturday and features a wide variety of fruits, vegetables, meats, cheeses, grains and baking goods.

The market features fresh produce and arts and crafts vendors. In addition to the usual suspects (lettuce, tomatoes, cucumbers), shoppers can find specialty items such as watermelons from Georgia, blueberries from North Carolina and figs from South Carolina. There are local food trucks with tasty food, too.

The harvest calendar, which syncs with Columbia's climate, can help you predict the types of produce will be available at the market. You can check the harvest calendar to understand better what foods will be at the market in the upcoming weeks.

Fun, Education, History and Food, Columbia Has it All

Columbia offers a rich and diverse cultural experience, as well as many activities and opportunities for recreation. There is fun and adventure for everyone in Columbia, from Broadway shows to concerts in the park. There is always something new to explore, too. Whether it's the vibrant nightlife or the vast array of museums, enjoy your time visiting the best places in Columbia.