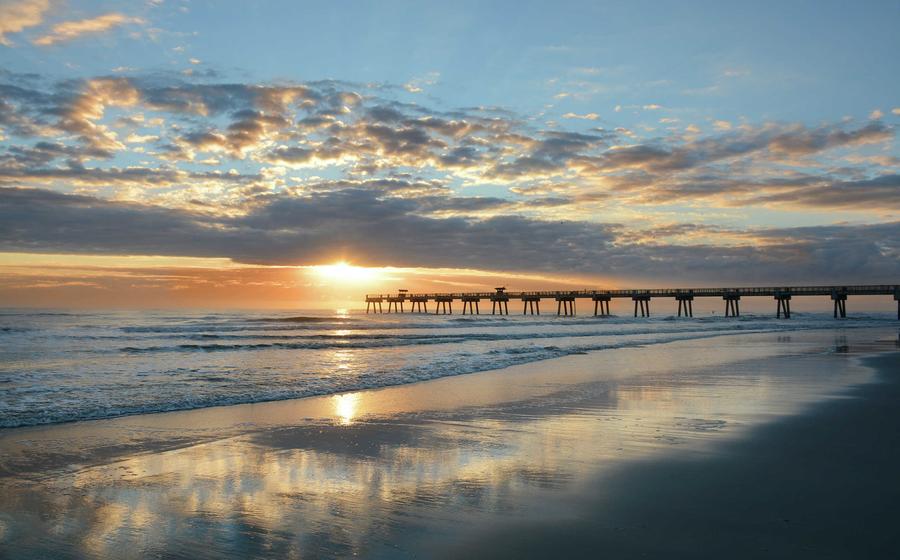 7 Reasons Outdoor Lovers Move to Florida
Why Outdoor Lovers Move to Florida
Did you recently move to Florida, or are you looking for reasons why you should? Over 900 Americans are expected to move to Florida daily over the next three years. Let's look at why the state is popular with outdoor enthusiasts.

Florida is a peninsula, making it ideal for those that enjoy an outdoor lifestyle. It offers excellent weather, beautiful ocean views and various entertainment options for all ages.
Florida has long been a popular destination for tourists. More recently, businesses and new home buyers are moving to the state. More than 100 million tourists visit the state annually to enjoy its beaches, world-class theme parks, sports and entertainment events and local attractions. Hundreds of thousands of people move to Florida yearly, too; between April 2020 and April 2021, Florida had more than 330,000 people move to the state. Keep reading to learn why Florida is one of the best states to live in, especially for outdoor enthusiasts.
Whether you are looking for a day hike, an urban adventure, or a fishing trip, here are seven reasons why outdoor lovers choose Florida as their home.

1. The Wonderful Weather:

The weather in Florida is almost always perfect. Whether hot and sunny or mild and rainy, there's always something to do.

Due to its subtropical and tropical climates, Florida is an excellent place for year-round outdoor activities. The best months for swimming, sunbathing, boating and other water activities are April to October. During the colder months, you can hunt, fish, golf, or enjoy a hike or bike ride. With lows of 57 degrees Fahrenheit and highs of 88 degrees Fahrenheit, it's never too cold or hot to be outside.

Theme parks, festivals and sporting events are available year-round. No matter what time of year, you'll find something to do outside in Florida.

2. The Diversity of Entertainment:

Florida has something for everyone. Whether looking for a day trip to the beach or an all-day hike in the wilderness, you'll find something to do.

Floridians love the outdoors and nature. There's no shortage of fun in the wilderness and along ocean coasts, from hiking and kayaking with alligators to hunting deer and everything in between. Florida facilitates a wide variety of lifestyle options.

For those looking for a day trip, some popular destinations include the beaches of Miami, Orlando theme parks, Fort Lauderdale, Everglades National Park, The Florida Keys or the lush forests of Tallahassee.

3. The Wildlife:

Florida is home to all kinds of wildlife and is one of the most ecologically diverse states in the country. From alligators and bears to manatees, the state has a wide variety of wildlife on land and in swamps, fresh water and the ocean.

Many animals can be seen in the wild while hiking, biking, boating or traveling through the Everglades. This diversity of habitats and animal populations provides opportunities for outdoor adventures that are exciting and educational.

Remember to take along plenty of water, sunscreen, snacks, and a map or GPS device when exploring Florida's vast wilderness areas. And remember your camera! You'll want to capture unforgettable memories of your adventures and the animals you see in Florida's natural landscape.

4. The Sports Teams:

Sports fans will love spending a day at one of Florida's many professional sports stadiums. Florida has several major league sports teams and hosts significant events each year for golf, NASCAR, College Football and more.

MLB: Major league baseball fans can catch a Tampa Bay Rays game at Tropicana Field in St. Petersburg or Marlins Park in Miami.

NFL: The Tampa Bay Buccaneers play professional football at Raymond James Stadium in Tampa. The Miami Dolphins play at Sun Life Stadium in Miami and the Jaguars play at TIAA Bank Field in Jacksonville.

NBA: The NBA's Orlando Magic play at Amway Center, and the Miami Heat play at FTX stadium in Miami.

MLS: Major League Soccer's Inter Miami CF play at Miami Freedom Park and Orlando City SC at Exploria Stadium.

NHL: If you're a hockey fan, check out the Florida Panthers at FLA Live Arena in Sunrise, Florida, and the Tampa Bay Lighting at Amalie Arena in Tampa.

5. The Floridian Lifestyle:

Florida is a lifestyle. From the beaches to the golf courses, there's plenty to do in Florida without ever leaving the state. The options are endless, from zip-lining and fishing in Tampa Bay to enjoying a day at the beach in Miami or a resort in Orlando.

Whether you're looking for a day of relaxation or excitement, the Floridian lifestyle offers everything you need and more. The state's tourism industry only adds to the incredible outdoor adventures that await in the ocean, near the swamp or on land.

6. The Environment:

Florida has a diverse and fantastic environment. It's home to many beautiful landscapes and gorgeous islands and has beaches and oceans on three sides. The state has different distinct domains that are home to ample wildlife and 100 different types of trees, many of which are rare or endangered in other parts of the country.

Floridians have long taken advantage of the abundance and opportunities of the ocean and land, indulging in everything from commerce and entertainment to bird watching, hunting and fishing. Residents enjoy miles of world-famous beaches, extensive swamp lands, riverways, lakes and endless sea.

Check out Florida Natural Areas Inventory (FNAI.org) to learn about some of the state's efforts to conserve nature and keep the state beautiful. You'll discover conservation areas of various sizes in different climates throughout the state. Large wonders like the 1.5 million acres of wetlands in the South to various local preserves on less than an acre can be found.

7. The Friendly Communities:

Although some cities and areas in Florida aren't well known for being friendly, many of the larger towns have some of the nicest people in the US. Southern hospitality accounts for much of the welcoming charm. Still, the enormous hospitality industry and its many employees may be the most significant reason why Florida visitors and residents feel welcome.

According to online sources and annual rankings, tourism-heavy areas of Florida like Orlando are where you'll find the friendliest individuals and most welcoming communities.

Large net migration has led to suburban growth, where brand-new neighborhoods host social gatherings, neighborhood events and family-fun activities.

Key West, Florida, earned recognition from Traveler for being the 6th friendliest city in the nation. On the other hand, Miami regularly ranks as one of the least friendly cities in the country. However, in recent years, its new focus on attracting tech businesses and becoming a crypto hub may change that.


What Are Some Outdoor Activities You Can Only Do in Florida?
Visit Butterfly World in Coconut Creek

If you're looking for an exciting outdoor activity in Florida, consider visiting Butterfly World. This park is home to over 20,000 butterflies of all different colors and sizes and other colorful insects. There are currently over 80 different butterfly species in the park. You can also find a variety of bird species, such as toucans, hummingbirds and other exotic birds, at the park. There is such an extensive collection of hummingbirds that the park is now known as Hummingbird World.

Unwind at the Bok Tower Gardens

Bok Tower Gardens is an oasis of calm in the heart of downtown Gainesville. The gardens are a lush green oasis nestled among towering oak and cypress trees. The majestic Singing Tower, with its 60-bell carillon, is a great place to relax. The Reflection Pool provides a tranquil spot to reflect. You can enjoy several outdoor activities at Bok Tower Gardens during your stay.

Check Out the Vortex Spring

Florida is surrounded by water, so you'll need to be able to swim if you want to have a great time in the state. One unique feature of Florida is The Vortex Spring, which lies beneath the surface of a river. If cave diving is your thing, head to Ponce De Leon, Florida, where you can explore an underwater cavern that leads into a river over 1,600 feet deep.

Visit the Love Trees of St Augustine

If you're looking for a scenic place to take your partner, the Love Trees of St Augustine are a great option. The trees are part of local tradition and supposedly ward off bad luck, so if you and your partner love nature, these are worth checking out. Local tradition states that if two lovers share a kiss beneath the Love Trees, they will be united in love forever.
A Place for Outdoor Enthusiasts Offering Various Unique Experiences
Florida is one of the best states in the country for outdoor activities, no matter what lifestyle you desire. That state has outdoor fun for everyone, from fishing in the crystal clear waters of the Gulf of Mexico and relaxing on the beach to hiking and biking through pristine forests.

Whether you are a nature lover or simply looking for a place with outdoor wonders, Florida has everything you could want. And with year-round sunshine and mild temperatures, there's never a wrong time to visit or decide to pack your bags and move here.