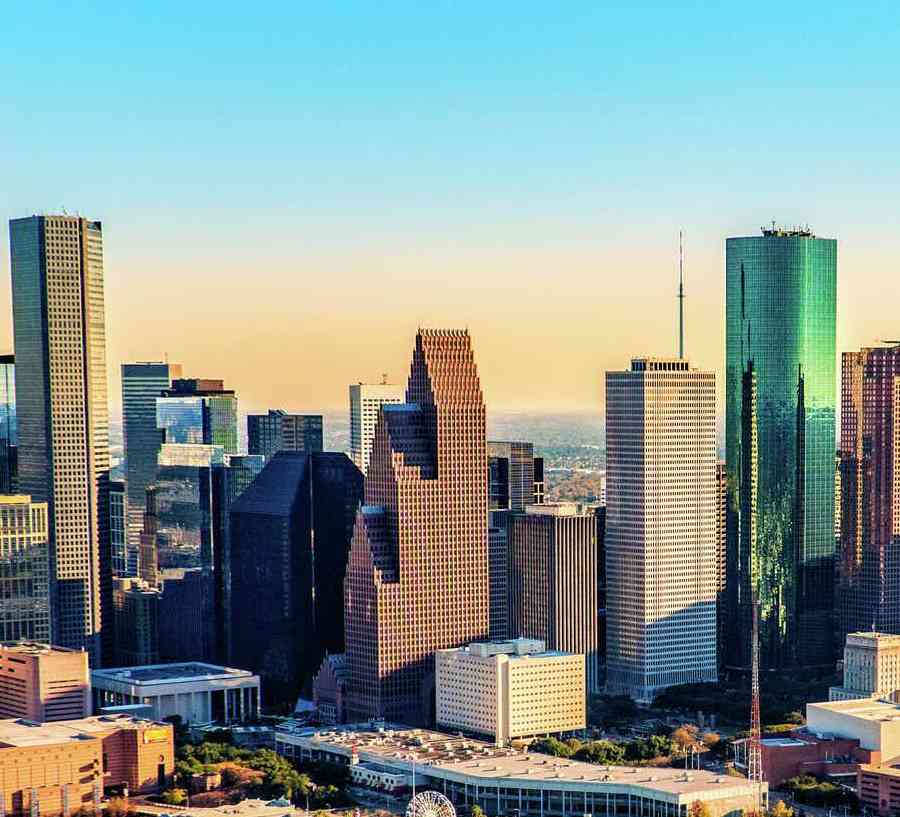 Live Life Bigger
Quality Homes, Superior Building
Houston
Houston is a thriving city with world-class attractions, family-friendly adventures and every big-city convenience. It's a global titan in space research and an international leader in the energy industry and petroleum exploration. Manufacturing, transportation and healthcare also power the city's diverse economy.
Our Houston communities are exceptional and rich in amenities. We build new homes outside the city, where peace is abundant in your affordable home and everything you want is a short drive away. When LGI Homes is your Houston builder, premium add-ons, smart home features and an entire suite of high-end extras are yours on us!
There's More to Houston
#3

'Best Places to Live in Texas in 2021 - 2022'

(US News)
#5 'Top 10 Fastest Growing Metropolitan Areas in the United States from 2010 to 2019' (Statista 2020)
#10

'Top 15 U.S. Cities to Launch Your Career'

(LinkedIn)
Major employers include United Airlines, Shell Oil Co., ExxonMobil, H-E-B, Memorial Hermann, and MD Anderson Cancer Center
Major attractions include Space Center Houston, Houston Zoo, Houston Museum of Natural Science, Hermann Park, Discovery Green
The Port of Houston - #2 largest port in the US (Texas Department of Transportation (TXdot.gov))
Frequently Asked Questions
Continue reading for answers to frequently asked questions about our homes, community and the area.
01
When was Houston founded and how did the city get its name?
According to HoustonTX.gov, Houston was founded by two brothers, J.K. and A.C. Allen, on August 30th in 1836. The brothers founded the city shortly after the Texas War for Independence, naming it after General Sam Houston, a hero of the war.
02
What is the weather like in Houston, Texas?
Wikipedia states that Houston is classified as a subtropical climate, with tropical influences; it's humid. According to Visit Houston, the city allows residents to enjoy an outdoor lifestyle; average temperatures are between 41 degrees Fahrenheit and 94 degrees Fahrenheit. In a sentence, Houston can be described as a city with mild year-round temperatures.
03
What county is Houston a part of?
Houston, the largest city in Texas and the fourth-largest city in the United States is in Harris County, the most populous county in Texas. Small portions of the city extend into Fort Bend and Montgomery counties. Learn more about Harris County by visiting Visit Houston.
04
What are some family-friendly attractions in and around the Houston area?
Houston is home to several attractions that offer fun and entertainment for the entire family. The Houston Zoo, Space Center Houston, Houston Museum of Natural Science, Houston Arboretum and Nature Center, The Chocolate Bar, Discovery Green Park, The Health Museum, Hermann Park and The Galleria are a few of many family-friendly attractions in the Houston area.
05
Is there an international airport in Houston?
According to Skytrax, Houston has two international airports. Both George Bush Intercontinental Airport (IAH), Houston's largest airport, located at 2800 N. Terminal Rd., and William P. Hobby Airport (HOU), located at 7800 Airport Blvd., serve international passengers.
06
What major corporations have headquarters in and around Houston?
Major corporations have made Houston their home, bringing many jobs and economic perks to the city and its residents. According to Forbes, the Houston metropolitan area ranks third among U.S. metropolitan areas with 24 Fortune 500 companies. Phillips 66, Sysco, ConocoPhillips, Plains GP Holdings, Hewlett Packard Enterprise, MRG energy, Waste Management, Halliburton, Westlake Chemical, CenterPoint Energy, Baker Hughes and Targa Resources are some of Houston's Fortune 500 companies. View a list of all 24 Fortune 500 companies in the Houston Metropolitan area.
07
Is Houston, TX a port city?
Houston has the largest port on the Gulf Coast, the Port of Houston. The Port of Houston is one of the largest ports in the country and consists of a 50-mile-long complex of public and private facilities. In terms of foreign tonnage, the Port of Houston is the busiest port in the United States.
08
What nicknames are associated with Houston?
Houston has several nicknames. Bayou City, H-town, Space City and most recently, The Big Heart, earned from the city's response to Hurricane Katrina evacuees.
09
Are there affordable single-family homes for sale in the Houston area?
There are plenty of affordable homes available in the Houston area. LGI takes pride in building affordable homes designed with luxury in mind offering great value. There are homes available in any price range, whether you are choosing a starter home or a second home.
10
Does LGI Homes sell five-bedroom homes in the Houston area?
Yes, several LGI Homes neighborhoods have floor plans with five-bedroom homes in the Houston area. In the Houston area, LGI builds single-family homes with three to five bedrooms.
11
What major league sports teams play in the Houston area?
Houston is home to five major league sports teams, including the Houston Astros (MLB), Houston Rockets (NBA), Houston Texans (NFL), Houston Dynamo FC (MLS) and Houston Dash (NWSL).
12
Is it a good time to purchase a new home in Houston?
Houston is a lively city year-round with world-class entertainment and a strong economy. It is home to both city dwellers and suburban settlers; the population grows each day. Most experts agree that it's a good time to purchase a home if you are ready, you can afford it and you plan to stay in the home for several years. It's always best to check with your financial advisor or a real estate professional about your unique situation.
13
How much are new LGI homes in the Houston, TX area?
New LGI homes in the Houston area are priced from the $200s to the $400s; most of their new homes are priced in the $200s and $300s. Pricing and availability may change at any time without notice. Please check for the most up-to-date pricing by visiting each community on LGIHomes.com
REQUEST INFO