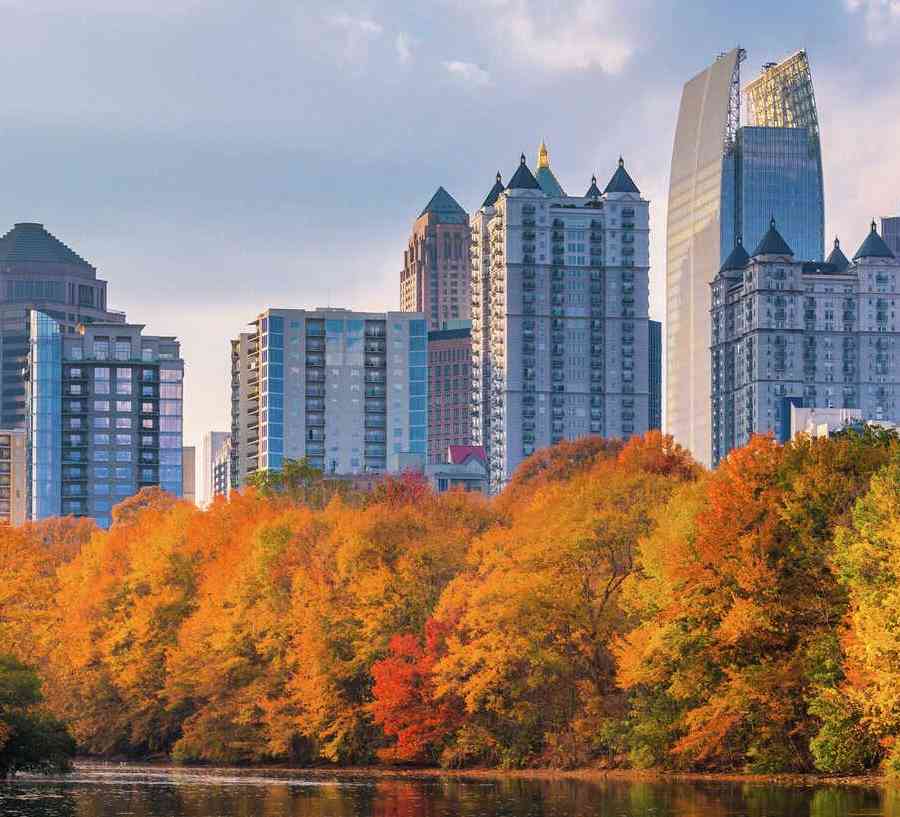 Feel Right at Home
Find Your New Home in Atlanta
Atlanta
Moving to Atlanta makes sense. This city has it all – a rich history, phenomenal music scene, pro sports teams, incredible foods, craft beer and more. Gorgeous landscapes make Georgia the #1 filming location in the world, mostly in Atlanta. Residents love the culture. Pockets of people from all around the world are eager to showcase their culture. Yet, Atlanta retains its southern charm.
In the Atlanta area, LGI Homes have exceptional neighborhoods, each with various floor plans. At no extra cost, every new home includes a suite of interior and exterior upgrades. Discover the best in value and quality; visit us today.
The Heart of the South
#9 'The Top U.S. Cities for Job Seekers in 2021' (MoneyGeek)
#18 '2022 Best Cities for Young Professionals in America' (Niche)
#20 'America's Best Places to Live in 2022' (Bankrate)

Corporate headquarters for Delta Air Lines, The Home Depot, UPS, Cox Enterprises & The Coca-Cola Company

Professional sports in NFL, MLB, NBA, MLS, NHL & WNBA

Home of the College Football Hall of Fame and the

National Center for Civil and Human Rights

The largest aquarium in North America: the Georgia Aquarium is home to more than 100,000 animals of varying species
Frequently Asked Questions
Continue reading for answers to frequently asked questions about our homes, community and the area.
01
Where is Atlanta, Georgia?
Atlanta is in the foothills of the Blue Ridge Mountains in the Northwestern part of the state and southeast of the Chattahoochee River in Georgia.
02
Whom are significant employers located in the Atlanta area?
According to Indeed.com, 40 notable corporations have headquarters in the Atlanta area; each company employs thousands of Atlanta area individuals. These nine companies employ more than 10,000 Atlanta area employees: Coca-Cola, Home Depot, UPS, Delta, AT&T, Newell Brands, NCR, Southern Company and Equifax.
03
What county is Atlanta, Georgia, located in?
Atlanta, Georgia's capital city, is part of Fulton County but has territory in both Fulton and DeKalb counties. Fulton is the most populous county in Georgia; Atlanta is the seat of Fulton County.
04
What is Atlanta known for?
According to AtlanticStation.com, Atlanta is famous or well-known for five reasons; several other online sources offered the sixth reason.
History - Atlanta was the final stop of the Western Atlantic railroad. The city is home to historic residences and museums and played a role in the Civil War as the Confederate Army's center of military operations.
Shopping - Atlanta's Atlantic Station has everything you want, including special events, dining and theatres.
Sports - Atlanta is home to five professional teams. The Atlanta Braves (MLB), the Atlanta Falcons (NFL), the Atlanta Hawks (NBA), the Atlanta Dream (WNBA) and the Atlanta United FC (MLS). Additionally, Atlanta is home to the College Football Hall of Fame, an exhibit with multiple floors, interactive exhibitions and museums showcasing hall of fame inductees and the history of College football.
Coffee Shops - Atlanta has award-winning coffee shops throughout the city, including Land of a Thousand Hills, a "mission-minded coffee shop" working to help less fortunate communities worldwide.
Street Art - More recently, Atlanta is becoming well-known for street artists and their fantastic work telling stories through murals in various neighborhoods throughout Atlanta.
Civil Rights Movement - As the birthplace of Martin Luther King Jr., Atlanta played a leading role in the United States civil rights movement. Today, the city is known as the cradle of the civil rights movement.
05
What is the nickname of Atlanta?
Like many cities with a long colorful history, Atlanta has many nicknames. According to Wikipedia, early nicknames dating back to 1859 include "a city among the hills" and "the city in the woods." Some famous names from more recent history include "The Big Peach," "The Big A," "A-Town," "Dogwood City" and the "New York of the South."
06
What programs are available for homebuyers in Atlanta and surrounding cities?
According to InvestAtlanta, several homebuyer assistance programs exist for Atlanta new home buyers. Programs relevant to homebuyers of new construction homes include the HOME Atlanta 4.0 Program, Atlanta Affordable Homeownership Program (AAHOP) and the Intown Mortgage Assistance Program (IMAP). HOME Atlanta 4.0 consists of an FHA or VA mortgage and a 3.5% grant to help with down payment and closing costs. The Atlanta Affordable Homeownership Program (AAHOP) gives qualifying homebuyers up to $20,000 towards the down payment and/or closing costs; after living in your home for 5 or 10 years, they forgive the money. The Intown Mortgage Assistance Program (IMAP) gives home buyers $10,000 for the down payment and closing costs; this loan may be forgiven after you live in the home for 5 years. Programs are for homebuyers that meet income and other requirements. These programs can end at any time. Please visit InvestAtlanta.com for more information about each program.
07
What are the benefits of getting an FHA loan?
FHA loans offer homebuyers home financing options with lower down payments, lower closing costs and lower interest rates. Credit score requirements are also lower. Check out our Welcome Home Blog to learn more about FHA loan requirements, including eligibility details.
08
What is the weather like in Atlanta, GA?
According to WeatherSpark, Atlanta's summers are hot and muggy, and the city's winters are short, wet and cold. Throughout the year, the temperatures in Atlanta vary from 35 degrees Fahrenheit and 89 degrees Fahrenheit.
09
What type of residences does LGI Homes build in the Atlanta area?
New LGI residences in the Atlanta area are one and two-story single-family detached homes with three, four and five-bedroom open-concept floor plans.
10
Will LGI Homes pay my closing costs when I purchase a new LGI home in the Atlanta area?
In many Atlanta area communities, we offer builder-paid closing costs when homebuyers use our preferred lender. Ask your LGI Homes New Home Specialist for more details and to see if builder-paid closing costs are available on the home you love.
11
Why are new LGI homes in Atlanta so affordable?
LGI homes are affordable and offer unparalleled value and quality due to our unique homebuilding and homebuying processes. Every home we sell is move-in-ready and includes a suite of designer upgrades and integrated technology. Because we build move-in-ready homes and know which upgrades each home gets before they start construction, we can optimize our construction schedule and buy in bulk. These practices help save us money, which means we can pass the savings on to you. Learn about the quality of every new LGI home.
12
Does LGI Homes have move-in-ready homes for sale in Atlanta?
Yes, we do! Every new LGI home for sale in Atlanta is a move-in-ready home. If you're ready to move quickly, we can get you into your new home in 30 - 45 days. Our move-in-ready homes include designer upgrades and integrated technology at no extra cost for homebuyers.
13
Does LGI Homes have new homes in Atlanta under $400K?
We have multiple new homes for sale in the Atlanta area priced under $400,000. Our new home floor plans have spacious open rooms with three, four, and five bedrooms. Visit the webpages of our available communities or contact a New Home Consultant for the most up-to-date pricing.
14
Does LGI Homes offer new home financing in Atlanta?
Yes, qualified homebuyers can use our preferred lender when financing their new home in the Atlanta area. Be sure to ask our New Home Consultants about promotions available to homebuyers who choose to finance the purchase of their new home with our preferred lender.
15
What amenities do LGI Homes' Atlanta area communities offer?
LGI Homes communities in the Atlanta area offer multiple amenities in each community. In most Atlanta neighborhoods, residents will enjoy picnic areas, children's playgrounds and green spaces; each community is different with unique amenities. View each community for more details. Contact an LGI Homes New Home Consultant for more information.
16
Are new LGI homes in the Atlanta area energy efficient?
Every LGI home in the Atlanta area is built with energy-efficient materials and processes. Our new homes include energy-efficient appliances, LED lighting and integrated technology that can help improve your home's energy efficiency.
REQUEST INFO