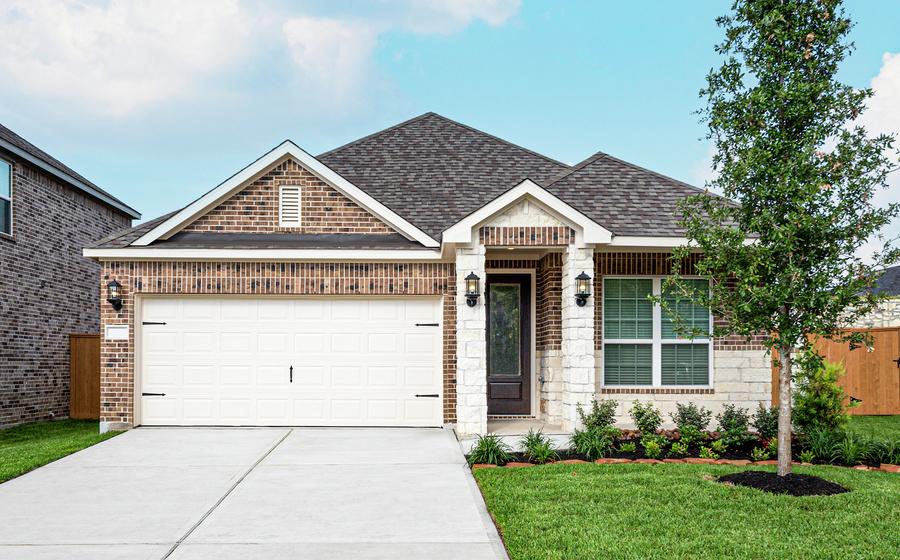 FHA Loan Requirements & How to Apply
Navigating the landscape of homeownership can be complex, especially when you're a first-time homebuyer looking to purchase a new construction home.

However, with FHA loans, this journey can become significantly more manageable.

Developed by the Federal Housing Administration (FHA), these loans have given prospective homeowners an accessible and affordable path to owning a home since 1934. They work by insuring mortgages from FHA-approved lenders, thereby reducing the lender's risk and making it easier for borrowers to secure a loan.

FHA loans are renowned for their comparatively relaxed qualification requirements and lower down payment options, opening the door to homeownership for a broader audience. They can particularly appeal to first-time homebuyers or those with less-than-stellar credit scores.

FHA loans can be a viable and beneficial route for many looking to step onto the property ladder.

So, with that in mind, let's explain what FHA loans are, examine their key benefits, review the eligibility requirements for 2023 and briefly discuss the steps for applying.
What Are FHA Home Loans?
FHA home loans, endorsed by the Federal Housing Administration, are a form of government-backed mortgage that allows borrowers to purchase homes without needing a substantial down payment or a perfect credit score.

But it's important to note that the FHA does not lend the money directly. Instead, they guarantee or insure the loan, reducing the risk for the lender and making it more likely they'll approve a loan for less established borrowers.

Key features of FHA home loans include:
Lower down payments: Typically, these loans require a minimum down payment of just 3.5%, making them more accessible to potential homeowners.
More lenient credit score requirements: Unlike conventional loans, FHA home loans don't require an excellent credit score; in 2023, borrowers can secure financing with a 580 credit score*
More flexibility with debt-to-income ratio: The FHA is often more accommodating towards those with a higher debt-to-income percentage, alleviating another barrier for some homebuyers.
Competitive interest rates: Because of the government's backing, FHA loans typically come with lower interest rates than conventional loans, thus reducing the overall cost of borrowing.
These elements make FHA loans desirable for first-time buyers, those who may not qualify for conventional home loans and many other buyers.

But to better understand these benefits and how they can make homeownership more accessible, let's dive deeper into the unique advantages of FHA home loans.

*Homebuyers with a credit score between 500 and 579 may get approved for an FHA loan, but they'll be required to put down 10%. Keep in mind that final approval is always up to the lender.


3 Key Benefits of FHA-Backed Mortgages
There are many benefits for borrowers who get approved for an FHA loan.
#1 Low Down Payment
One of the most appealing advantages of FHA loans is their lower down payment requirements. Unlike conventional loans, which typically require a 20% down payment, FHA loans allow for a significantly smaller upfront investment.

In fact, with an FHA loan, you could secure your dream home with a down payment as low as 3.5% of the home's purchase price. Low down payment loans from the FHA are outstanding for first-time homebuyers and individuals that need more time to save for a larger down payment.

The FHA also has down payment assistance programs and grants. Visit HUD's grant resources page to learn more.
#2 No-Closing-Cost Mortgage
FHA home loans allow homebuyers to roll some closing costs into their mortgage. By rolling closing costs into a mortgage, homebuyers save out-of-pocket money and may end up being able to buy their homes earlier.

Three things to consider about closing costs:
FHA closing costs generally range from three to six percent of the transaction price.
Sellers may pay up to 6% of a buyer's closing fees.
States with higher tax rates have higher closing costs.
Closing costs may be more with an FHA loan because the mortgage insurance premium (MIP), 1.75% of the purchase price, is due at closing. Your annual mortgage insurance premium costs are divided and added to your monthly mortgage payment.
Adding closing costs into your mortgage will make your monthly payment more, plus you're paying interest on the closing costs throughout the life of your loan.


When buying a new home, your builder can help reduce or pay for some or all of your closing costs. Ask LGI Homes how we can help with your closing costs when buying a new LGI home.

#3 Low Credit Score Qualification
A key advantage of FHA loans lies in their more lenient credit requirements. While conventional loans often require borrowers to have excellent credit scores, FHA loans are accessible to those with less than stellar credit.

A credit score of 580 or higher can qualify you for the 3.5% down payment option. Lower credit score requirements make FHA loans a lifeline for individuals rebuilding their credit or those with limited credit history.

The FHA may insure a borrower's loan with credit scores as low as 500, but they must put down 10%. Remember that individual lenders will make the final decision.
#4 Lower Interest Rates
FHA loans offer lenient lending rules to assist borrowers who don't qualify for a traditional loan. FHA interest rates are generally among the most affordable, but an FHA loan doesn't mean you're getting reduced interest rates.

FHA rates are usually cheaper than conventional rates for customers with a credit score of less than 680. The influence of credit score on mortgage rates is greater than the impact of loan type.

These preferential rates can mean substantial savings over the life of your loan, which can make a difference in your long-term financial planning. Remember, even a slight reduction in interest can amount to thousands of dollars saved over a 30-year mortgage.


FHA Home Loan Requirements
Now that you understand the benefits of FHA loans, it's time to explore the 2023 requirements to help you gauge if you qualify for this advantageous mortgage type.


2023 Requirements for FHA Home Loans
To acquire an FHA mortgage loan, lenders require the following:
Your credit score has to be at least 580 to get a 3.5 percent down payment option.
Your credit score has to be at least 500 - 579 to get a loan with a 10 percent down payment.
Borrowers need to have a mortgage insurance premium (MIP). 1.75% is due at closing, and annual MIP payments are divided and paid on top of each mortgage payment.
Borrowers must have a debt-to-income (DTI) ratio of 50% or less with a credit score of 580 or more.
Although options are limited, some borrowers may have a DTI as high as 56.9% if they meet other compensating factors.

Compensating factors include cash reserves, residual income, high credit score, steady employment and minimal payment shock. Ask your lender about these compensating factors if you have a high DTI ratio.

The house must be the borrower's primary residence.
Borrowers must have a consistent source of income and confirmation of employment.
The maximum FHA loan amount for high-cost metropolitan areas is $1,089, 300
The maximum FHA loan amount in areas with lower housing costs is $472,030
FHA loans are only available on 1 - 4 unit properties
How to Apply for an FHA Loan
If you meet the criteria above for an FHA mortgage, you can start searching for a lender.

Go to HUD Lender List Search to find a company near you.

Although each lender's process may differ slightly, most FHA loan applicants go through these steps:
Get pre-approved for the loan.
Complete Form 1003.
Obtain an appraisal of the property.
Wait for the underwriting process to finalize.
Get final approval from the FHA.

15 FHA Loan FAQs
Below is a list of the most frequently asked questions about FHA-backed mortgages. If you don't see the answer to your question, please get in touch with an LGI Homes real estate professional for further assistance.
#1: How do FHA Loans Compare to Conventional Loans?
An FHA loan has fewer requirements than a conventional loan, which the government does not guarantee. In most cases, you'll need a better credit score, a lower debt-to-income (DTI) ratio and a larger down payment to qualify for a conventional loan.

Because the lender takes on greater risk, a conventional mortgage typically requires a credit score of 580 - 620 or above. With a credit score as low as 500, you may qualify for an FHA home loan, but you're down payment will be 10% of the home's purchase price.
#2: What are the 2023 Limits of an FHA loan?
In terms of property value, FHA loan limits fluctuate by county. For 2023, these generally cap at $472,030 for single-family residences in more affordable regions and can go up to $1,089,300 in areas with a higher cost of living. These amounts limit how much borrowers may qualify for when applying for a federal loan program before it is labeled a jumbo loan. Visit HUD's FHA Mortgage Limits page to see the maximum loan amounts where you want to live.
#3: Where do Borrowers Apply for an FHA Loan?
Borrowers who meet the qualifications must find an FHA-approved lender to apply for an FHA loan. Our preferred lender, LGI Mortgage Solutions, is an FHA-approved lender. Visit HUD Lender List Search to conduct a search of lenders in your area.


#4: What is the Minimum Credit Score Required to Obtain an FHA Loan?
Applicants' FHA loan credit score needs to be 500-plus.

Most conventional lenders want a score of 620 or higher, especially in recent years. Some lenders will go down to 580, but most look for buyers with a score of at least 620. If your credit score is between 500 and 579, you may be able to find financing, but you'll need to put down at least 10% of the home's purchase price.
#5: Does the FHA Back Loans for People with Bad Credit?
Yes, The FHA lets borrowers show proof of compensating factors to prove they are creditworthy. Compensating factors strengthen their applications. (see #4 above for more details)
Compensating factors include:
Cash reserves
Residual income
Non-taxable income
A minimal rise in housing payments
Total debt
Increased earning power
#6: What do FHA Closing Costs Entail?
When paying closing costs on an FHA-insured mortgage, borrowers who put less than 20 percent down must pay mortgage insurance premiums (MIP); 1.75 percent of the loan principal is due at closing, and annual MIP costs are divided and paid monthly on top of your mortgage payments.

Additionally, closing costs go toward lender's fees, third-party expenses and prepaid items. Learn more about closing costs on new construction homes.

#7: If I have Already Purchased a Home, Can I Qualify for an FHA Home Loan?
You can still qualify for an FHA home loan if you have previously purchased a home. This type of loan is not limited to first-time homebuyers. However, you must meet the FHA loan requirements, and the home must be your primary residence.

#8: How Much is Required as a Down Payment for an FHA Loan?
The minimum down payment requirement for an FHA loan is typically 3.5% of the home's purchase price, provided your credit score is 580 or higher. If your credit score ranges between 500-579, a 10% down payment is usually required.

These are general guidelines, and specific requirements may vary based on lenders and other factors.

#9: Can I get an FHA Loan as a First-Time Home Buyer?
Yes, FHA loans are an excellent option for first-time homebuyers. They offer competitive rates, lower down payment requirements and more flexible credit score requirements, making it easier for first-time buyers to qualify for home financing.

#10: Can I Refinance my Existing Mortgage into an FHA Loan?
Yes, you can refinance an existing mortgage into an FHA loan. Refinancing to an FHA loan is typically done to take advantage of the benefits offered by FHA loans, such as lower interest rates or to consolidate a first and second mortgage into a single loan.

#11 How Does Bankruptcy or Foreclosure Affect My Ability to Get an FHA Loan?
Bankruptcy or foreclosure can impact your ability to secure an FHA loan, but it doesn't rule it out entirely.

Generally, you must wait at least two years after bankruptcy and three years after foreclosure to qualify for an FHA loan. Other conditions may apply, and lenders will consider your bankruptcy or foreclosure circumstances.

#12: What Types of Properties are Eligible for FHA Loans?
You can get an FHA loan for various property types, including single-family homes, multi-family homes (up to four units) and certain manufactured homes. The property must be the borrower's primary residence.

#13: Do FHA Loans Require Mortgage Insurance, and if so, How Much?
Yes, FHA loans do require mortgage insurance premiums (MIP). 1.75% is due at closing, and annual MIP costs are paid monthly along with your mortgage.

#14: Are FHA Loans Assumable?
Yes, FHA loans are assumable. If you sell your home, the buyer may be able to take over your mortgage with the same terms, keeping the same interest rate, repayment period, and loan balance. The new buyer must undergo a credit check and qualify for an FHA loan through your mortgage lender.

#15: How Much Money Do You Need to Make to Qualify for an FHA Loan?
While the FHA doesn't explicitly stipulate a minimum income level for loan qualification, it does establish standards for your debt-to-income (DTI) ratio. Your income must be enough to manage your current debt obligations and the additional mortgage payments associated with your new home. Generally, your debt-to-income should be less than or equal to 50%. However, some lenders offer more leeway depending on various factors.


Major Takeaways: FHA Loans for New Construction Homes
The path to owning a home may sometimes seem daunting, especially when faced with the challenges of saving for a sizable down payment or overcoming less-than-perfect credit. However, with FHA loans, the dream of home ownership becomes more accessible and achievable.
Remember these key points if you're interested in an FHA loan.
Flexible Down Payments: With FHA loans, it's possible to make a down payment as low as 3.5%, a game-changer for many prospective homeowners.
Adaptable Credit Score Requirements: You don't need a perfect credit score to secure an FHA loan. Even those with a credit score as low as 500 may qualify, albeit with a slightly higher down payment. These loans are also more flexible on debt-to-income ratios.
Affordable Closing Costs and Interest Rates: FHA loans often have lower closing costs and interest rates than conventional loans because FHA loans allow buyers to roll their closing costs into their loan amount.
Of course, FHA loans come with specific prerequisites, like all financial products. Yet, they are relatively straightforward: the borrower must intend to live in the purchased residence, be in a financial position to afford the mortgage payments and be able to provide proof of steady income or employment. Remember, you're not alone when you're ready to buy a home. To learn more about the FHA loan process and how it applies to purchasing a new home from LGI Homes, please visit the sales office at any of our communities or contact us directly.
Home is Just a Few Clicks Away.
Ready to move into your perfect new home? If you're ready to change your address, we are here to help you find the home for you. Click the button below to start your journey today!
Find a Home