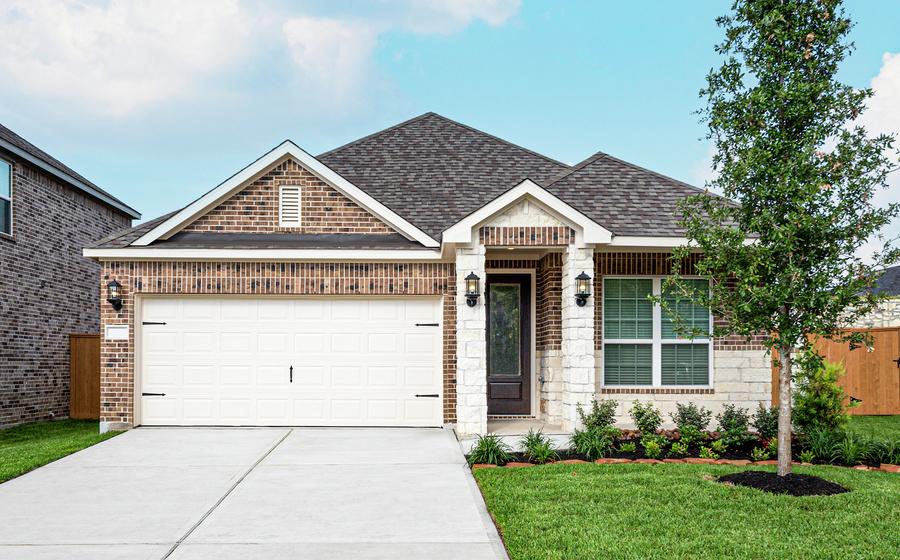 FHA Loan Requirements & How to Apply
The Federal Housing Administration (FHA), which is part of the Department of Housing and Urban Development (HUD), insures home loans, decreasing a lender's risk so that a lender can give the borrower better mortgage rates.
FHA loans feature:
Lower down payments (as low as 3.5 percent of the purchase amount)
Lower closing costs
Lower credit score qualification
Lower interest rates
FHA loans are a good alternative if a borrower doesn't have enough savings to make a sizeable down payment or their credit isn't very good.
4 Key Benefits of FHA-Backed Mortgages
There are many benefits for borrowers who get approved for an FHA loan.
#1 Low Down Payment
Homebuyers can secure an FHA-backed loan with as little as a 3.5 percent down payment. The down payment is based on the home's purchase price and can be used for mortgages involving 1 - 4 units.
Low down payment loans from the FHA are outstanding for first-time homebuyers, second-time buyers and individuals who haven't had time to save up for a larger down payment.
The FHA has down payment assistance programs and grants. Visit HUD's grant resources page to learn more.
#2 Low Closing Costs
Closing costs on FHA loans are fees levied by the mortgage lender and other parties involved in the loan process. When someone applies for a mortgage, the lender provides an estimate with closing cost fees.
Three things to consider about closing costs:
FHA closing costs generally range from two to six percent of the transaction price.
Sellers may pay up to six percent of a buyer's closing fees.
States with higher tax rates have higher closing costs.
The seller's decision to approve a buyer's concession relies on the local housing market, the number of other prospective bidders, and other criteria. If a seller has multiple bids, there is less motivation to pay part of the expenses.
Ask LGI Homes how we can help with your closing costs when
buying a new LGI home.
#3 Low Credit Score Qualification
Many people get an FHA loan because the credit requirements aren't as strict as for a traditional loan. It's one of the easiest loans to get, even for homebuyers with lower credit scores.
People who have bad credit should keep in mind that the FHA interest rate is almost always lower than the interest rate for a conventional loan.
Borrowers with a credit score of 500 to 579 have to pay 10 percent down.
Borrowers with credit scores 580 and above can pay as little as 3.5 percent down.

#4 Low-Interest Rates

FHA loans offer lenient lending rules to assist borrowers who don't qualify for a traditional loan. In general, FHA rates of interest are among the most affordable, but they don't always have reduced interest rates.

For customers with a credit score of less than 680, FHA rates are usually cheaper than conventional rates. The influence of credit score on mortgage rates is greater than the impact of loan type.


2022 Requirements for FHA Home Loans

To acquire an FHA mortgage loan, lenders require the following:
FICO® score has to be at least 500.
FICO® score has to be at least 580 to get a 3.5 percent down payment option.
Borrowers need to have mortgage insurance (MIP).
Borrowers are required to have a debt-to-income ratio of less than 43 percent.
The house must be the borrower's primary residence.
Borrowers must have a consistent source of income and confirmation of employment.
How to Apply for an FHA Loan
If you meet the criteria above for an FHA mortgage, you can start searching for a lender.
Go to
HUD Lender List Search
to find a company near you.
Although each lender's process may differ slightly, most FHA loan applicants go through these steps:
Get preapproved for the loan.
Complete Form 1003.
Obtain an appraisal of the property.
Wait for the underwriting process to finalize.
Get final approval from the FHA.
6 FHA Loan FAQs
Below is a list of the most frequently asked FHA-backed mortgage questions borrowers ask. If you don't see the answer to your question,
please reach out
to an LGI Homes real estate professional for further assistance.
#1 How do FHA loans compare to conventional loans?
Compared to a conventional loan, one that the government does not guarantee, an FHA loan has fewer requirements. You'll need a better credit score, a lower debt-to-income (DTI) ratio and a larger down payment to qualify for a traditional loan.
Because the lender takes on greater risk, a conventional mortgage typically requires a credit score of 620 or above.
With a credit score as low as 500, you may qualify for an FHA home loan with restrictions.
#2 What are the limits of an FHA loan?
As of 2022, in a low-cost county, the maximum loan amount for an FHA loan on a single-family house is $420,680, but in a high-cost county, the maximum loan amount is $970,800.
Visit
HUD's FHA Mortgage Limits page
to see the maximum loan amounts where you want to live.
These amounts limit how much borrowers may qualify for when applying for a federal loan program before it is labeled a
jumbo loan
.
#3 Where do borrowers apply for an FHA loan?
Borrowers that meet the qualifications must first find a lender to apply for an FHA loan. Visit
HUD Lender List Search
to conduct a search of lenders in your area.
After connecting with a lender, the following steps are to get preapproved for the loan, complete government Form 1003, get an appraisal of the property, wait for underwriting, then get final FHA approval or denial.
#4 What does my credit score need to be to obtain an FHA mortgage?
Applicants' FHA loan credit score needs to be 500-plus.
Most conventional lenders want a score of 620 or higher, especially in recent years. Some lenders will go down to 580, but most look for buyers with a score of at least 620.
#5 Does the FHA back loans for people with bad credit?
Yes (see #4 above).
The FHA lets borrowers show proof of compensating factors to show that they are creditworthy and strengthen their applications.
Compensating factors include:
Cash reserves
Residual income
Non-taxable income
Minimal rise in housing payments
Total debt
Increased earning power
#6 What do FHA closing costs entail?
When paying closing costs on an FHA-insured mortgage, borrowers who put less than 20 percent down have to pay mortgage insurance premiums (MIP),
1.75 percent of the loan principal.
Additionally, closing costs go towards lender's fees, third-party expenses and prepaid items.
Prepaid items are expenditures paid ahead of time, with some being divided between buyer and seller. Tax and insurance escrow deposits, flood and hazard insurance premiums, and
per-diem interest
are examples of prepaid items included in closing costs.
Key Takeaways
An FHA loan is an excellent tool for people who want to enjoy home ownership but don't have great credit or a significant sum of money saved up for making a down payment.
The best features of a government-backed home loan from the FHA include lower down payments, closing costs, credit score qualifications and interest rates.
To qualify for an FHA loan, borrowers must have a credit score of at least 500 with 10 percent down or 580-plus to pay just 3.5 percent down. Furthermore, borrowers must have a debt-to-income ratio of 43 percent or lower, and those who put less than 20 percent down must obtain mortgage insurance. The final stipulations are that the applicant must live in the residence they're purchasing with the FHA mortgage, make enough money to pay the mortgage payments and have proof of employment/income.
When ready to apply, borrowers need to connect with a third-party lender that offers FHA loan options.
To learn more about the FHA loan process and how it applies to buying a new home from LGI Homes, please visit the sales office at any of our communities or contact us directly.