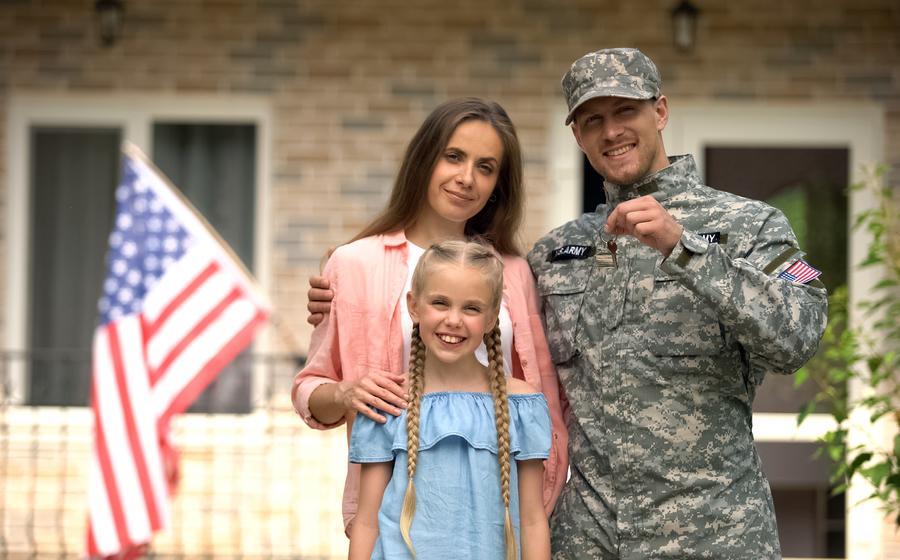 Veterans' Advantage:
The Comprehensive Guide to VA Loans for First-Time Buyers
Perhaps you've heard of
VA home loans
but aren't sure what they entail or how they can help you. In a world of often complicated financial jargon and numerous loan types, the VA home loan stands out as an extraordinary benefit explicitly tailored for service members like you.
Imagine owning a home, a space entirely yours, without the stress of high interest rates or a down payment requirement. Picture what it would be like to enter the housing market with backing from the
Department of Veterans Affairs
and distinct financial advantages over conventional loans.
With a VA home loan, this could be your reality.
But before diving in, it's essential to fully understand what a VA home loan is, why it might be the right choice for you and how you can take advantage of it to own your first home.
What is a VA Home Loan?
A VA home loan is a mortgage loan available to American veterans, active-duty service members and select military spouses. These
loans are guaranteed by the U.S. Department of Veterans Affairs (VA).
They were introduced as part of the G.I. Bill in 1944 to help returning service members purchase homes without needing a down payment or excellent credit. Unlike traditional home loans, VA home loans carry a VA guarantee on a portion of the loan, effectively reducing the risk for lenders.
The VA guarantee gives VA-approved lenders the confidence to lend to qualifying individuals without requiring a down payment or private mortgage insurance (PMI). These features are typically mandatory for borrowers who need help or decide not to make a 20% down payment.
VA home loans come in different forms. Eligible individuals and families can use a VA loan to buy a new construction home, resale residence, build a house or even refinance an existing mortgage.
Securing a VA home loan involves several steps. While the
VA home loan program offers many advantages
, it also has specific eligibility requirements and limits, which we will explore later in this article.
So why might you want to pursue this loan as a first-time home buyer?
Benefits of a VA Home Loan for First-Time Home Buyers
No Down Payment
One of the most significant benefits of VA home loans is that they often require no down payment. In the realm of home financing, this is a rarity - even
FHA loans
require a down payment. Most loan types demand a sizeable down payment, typically around 20% of the home's value. Large down payments can be a substantial barrier to homeownership for many.
But with a VA home loan, you could finance 100% of the home's value, allowing you to move into your dream home without spending years saving for a down payment.
No Private Mortgage Insurance (PMI)
If you purchase a home without a 20% down payment, lenders typically require you to pay for
private mortgage insurance (PMI)
. This insurance protects the lender if you default on the loan. If you purchase a new home with a VA home loan, you do not need PMI insurance because the government guarantees a portion of VA home loans. Eliminating PMI can save you hundreds of dollars each month, significantly lowering your monthly mortgage cost.
More Lenient Qualification Standards
VA home loans often have more forgiving qualification standards compared to conventional loans. The VA doesn't require a minimum credit score for a VA loan, and many lenders have relaxed standards compared to typical loans, making it easier for individuals with lower credit scores to qualify. The VA also allows higher debt-to-income ratios and considers the unique financial situation of each borrower.

Competitive Interest Rates
Interest rates on VA loans are typically lower than rates on conventional loans. Since the VA guarantees a portion of the loan, lenders can offer more favorable terms, which can lead to significant savings over the life of the loan.

No Prepayment Penalties
VA loans do not have a prepayment penalty. If you can pay off your VA loan beforehand, you can do so without incurring extra charges. In contrast, some conventional loans can penalize you for paying off your mortgage early. As you can see, VA home loans offer several benefits over other loan types and lower the cost of buying and owning a home. These benefits can make homeownership a reality for veterans and other qualifying individuals.

What Are the Eligibility Requirements for a VA Home Loan?
To take advantage of the benefits provided by a VA home loan, you need to meet specific eligibility requirements. The VA has established guidelines based on service type and duration. Here's a brief overview:
Service Type: VA home loans are available to active duty service members, veterans, National Guard members and reservists. Certain surviving spouses of service members who died in the line of duty or due to a service-related disability may also qualify.
Service Duration: The specific duration of service required varies depending on when and where you served. Generally, you should be eligible if you've done 90 consecutive days of active duty. Continuous service of 24 months guarantees your eligibility.
Credit and Income: While the VA does not impose a minimum credit score or income threshold, lenders issuing the loans have their standards. They'll examine your credit score, income and overall financial situation to determine whether you can comfortably repay the loan.
Certificate of Eligibility (COE): You'll need to obtain a Certificate of Eligibility from the VA. This document proves to lenders that you meet the basic service requirements for a VA loan.
Primary Residence: VA home loans are for properties that will be your primary residence. You cannot use a VA loan to purchase a vacation home or investment property.

Suitable Property: The property you're purchasing must meet the VA's Minimum Property Requirements, ensuring it's safe, sound and sanitary.
Remember, each application is unique, and your circumstances may affect your eligibility. Consult with a VA loan specialist or your lender to clarify these requirements.
How to Get a VA Home Loan: Step-by-Step
Step 1: Apply for a Certificate of Eligibility (COE)
Securing a VA home loan starts with obtaining a Certificate of Eligibility (COE). The COE is an official document from the Department of Veterans Affairs verifying that you meet the basic service requirements for a VA loan.

The easiest and fastest way to apply is online through the VA's eBenefits portal. You can also use the mail service with VA Form 26-1880. Sometimes, your lender can obtain your COE through the Web LGY system.

Remember, having a COE doesn't mean you qualify for a home loan. It means you are eligible to obtain a VA home loan; this is simply the first step in the process.
Step 2: Review Your Finances
Once you have your COE, the next step is thoroughly reviewing your financial situation.

Start by checking your credit score, as lenders typically require a credit score of at least 620 for VA loans. Next, evaluate your income, monthly expenses and overall debt. Keep an eye on your debt-to-income (DTI) ratio; while the VA doesn't set a limit, many lenders prefer a DTI of 41% or less. Include potential closing costs and the VA funding fee in your financial calculations.

Setting a budget is also crucial during this step. Determine how much home you can afford and how much you feel comfortable paying for your mortgage every month. Remember, your mortgage payment includes not just the principal and interest, but also elements like homeowners insurance, property taxes and possibly homeowners association fees.

Lastly, consider VA loan limits and the VA funding fee in your calculations. VA home loan limits are the same as those of the Federal Housing Finance Agency (FHFA). These are the conforming loan limits, and they may change each year. You can check the current figures here.
Step 3: Choose a Lender
While the VA backs your loan, it doesn't lend you the money – that's where the lender comes in. You can choose to work with any lender who offers VA loans. As lenders' terms, interest rates and fees vary, shopping around can help you find the best deal.

Take your time to compare offers from different lenders. While the VA limits certain closing costs, some fees aren't capped, such as the loan origination fee, which could be up to 1% of the loan amount.
Step 4: Choose a Real Estate Agent
Selecting the right real estate agent can make your home-buying process smoother. Ideally, you'll want to work with someone familiar with VA loan processes and the local real estate market.

Ask for recommendations from friends, family or your lender. Interview potential agents to ensure they understand the VA's Minimum Property Requirements, which homes must meet to qualify for a VA loan. Read all agreements before signing to understand any charges, fees or obligations.
Step 5: Shop for a Home
Finally, it's time for the exciting part – house hunting! With your pre-approval letter, start looking for homes within your price range. Consider factors like location, condition of the house, distance to work or school and overall neighborhood safety and ambiance.

When you find a home that ticks all the boxes, your real estate agent can help you draft an offer, including a VA option clause to protect your earnest money if the home doesn't appraise for the purchase price or if the deal falls through for a VA-specific reason.

Getting a VA home loan might seem daunting, but taking it one step at a time allows you to navigate the process confidently. And always remember: you've earned this benefit by serving your country – don't hesitate to make the most of it.
Taking the Next Step with VA Home Loans: Let's Get You Home
Embarking on the journey to homeownership may seem daunting, especially when navigating the world of home loans. However, VA home loans can open the door to homeownership with incredible benefits for qualifying individuals. But, like all good things, understanding the process is vital.

From assessing eligibility to securing the COE to traversing the path to your new front door, each step of obtaining a VA home loan matters. While it might seem complicated, having the right partner can simplify the process significantly.

At LGI Homes, we're proud to work with lenders specializing in VA home loans, including our preferred lender, LGI Mortgage Solutions. The team there can help you explore your options, demystify the process, and guide you from your first inquiry to the day you turn the key and walk into your new home.

So let LGI Homes and LGI Mortgage Solutions help you make the most of your VA benefits. After all, you've earned it. Let's welcome you home.
Home is Just a Few Clicks Away.
Ready to move into your perfect new home? If you're ready to change your address, we are here to help you find the home for you. Click the button below to start your journey today!
Find a Home