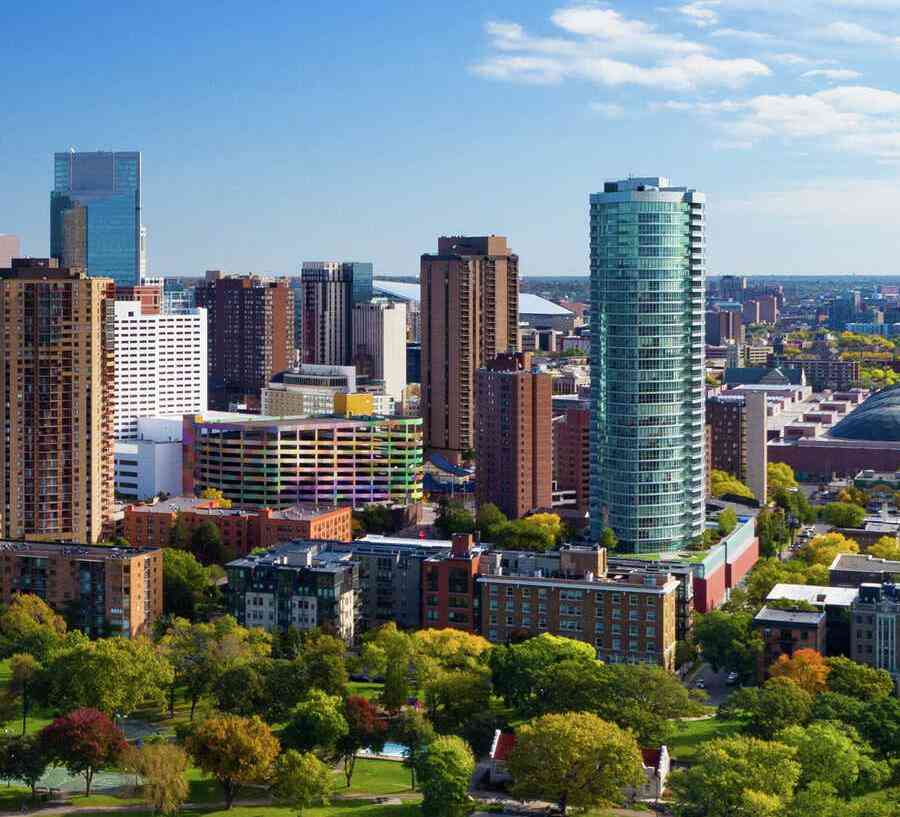 A City Like No Other
Find Your New Home Today
Minneapolis
What could be better than 200 parks, 5 pro sports teams and 1 amazing music scene? Well, the Mall of America, of course! Minneapolis has a high quality of life, which isn't just because of the craft beers from local breweries. Home to 22 natural lakes, the Vikings (NFL) and the Twins (MLB), Minneapolis residents benefit from living in a hub for corporate headquarters and a business-friendly atmosphere.
At LGI Homes, we're your partner in buying a new construction home. You'll receive superior quality, unbeatable value and top-notch service. Choose from innovative designs with luxury features. You get the quality of a custom-built home with energy efficient appliances, a spacious master retreat and other premium upgrades without the wait.
An Exciting Place To Call Home
Home to over 15 Fortune 500 companies
#3 'The 50 Friendliest Cities in America 2019' (Big 7 Travel)
#6 'Here are the Top Cities for Young Professionals Looking to Move' (CNBC, 2022)
#8 'America's Best Places to Live in 2022' (Bankrate)
Great sports town, with professional teams in MLB, the NFL, the NHL, the NBA & the WNBA
Home to the Mall of America, America's Largest Mall
Major industries for employment include commerce, finance, trucking and rail services & healthcare
Frequently Asked Questions
Continue reading for answers to frequently asked questions about our homes, community and the area.
01
Where is Minneapolis located in Minnesota?
Minneapolis is the largest city in Minnesota, located on the west bank of the Mississippi River.
02
When was Minneapolis founded?
Minneapolis, Minnesota, was founded in 1867 and officially incorporated as a city.
03
What is the population of Minneapolis?
As the largest city in Minnesota and the 46th most populous city in the United States, Minneapolis had a population of 429,954 as of the 2020 census. The city has a population density of 8,225 persons per square mile, growing annually at 1.08%.
04
What is the weather like in Minneapolis?
The weather in Minneapolis is generally mild, with four distinct seasons. Summers are warm and humid, while winters are cold and snowy. Spring and fall bring comfortable temperatures and beautiful colors. On average, the hottest month in Minneapolis is July, with highs of 83 degrees Fahrenheit; the coldest month is January, with average lows of 10 degrees Fahrenheit.
05
What is Minneapolis known for?
Minneapolis has a reputation for being an artistic and vibrant city, with plenty of theaters, comedy clubs and live music venues. It's also known for its chain of lakes, many parks, hockey, The Mall of America and being home to the famous musician Prince. Minneapolis is also one half of the Twin Cities - the other city being St. Paul.
06
What are some great family activities in Minneapolis?
If you're looking for family-friendly activities in Minneapolis, there's no shortage of options! Some well-known family activities include The Mall of America, the Sculpture Garden, the Minneapolis Institute of Art, Stone Arch Bridge, Mill City Farmer's Market, Minnehaha Falls and the Midtown Global Market. View more inexpensive family activities in the city by visiting Minneapolis.org.
07
Who are the major employers in the Minneapolis area?
Minneapolis is home to several significant employers; if you include nearby St. Paul, there are even more options for homebuyers looking for a new job or career. A few of the most notable include Ameriprise Financial, 3M Company, Siemens, Target Corporation, U.S. Bancorp, Best Buy, Xcel Energy, General Mills, Cargill, United Health, C.H. Robinson and Land O'Lakes.
08
What is the job market like in Minneapolis?
The job market in Minneapolis is varied and ever-expanding. The city consistently ranks high on various lists of top cities for job seekers, due to the abundance of large companies in multiple industries. The job market can change, so research before making a purchase decision.
09
What cities are near Minneapolis?
Some of the nearest cities are Albertville (30 miles), Farmington (30 miles), East Bethel (30 miles), Forest Lake (30 miles), Saint Michael (30 miles), Hanover (29 miles), Delano (29 miles) and Hugo (28 miles).
10
What large populous cities are near Minneapolis?
According to travelmath, cities with a large population near Minneapolis include Saint Paul, MN (9 miles), Madison, WI (230 miles), Omaha, NE (288 miles), Milwaukee, WI (294 miles), Lincoln, NE (333 miles), Chicago, IL (349 miles), Winnipeg, Canada (389 miles), Kansas City, MO (411 miles) and Saint Louis, MO (464 miles).
11
Is Minneapolis a safe city to live in?
Although Minneapolis has a slightly higher crime rate than the national average, it is generally as safe as the average American city. U.S. News & World Report gives the crime rate as 323.1 incidents per 100,000 people, which is lower than the average for similarly populous cities. Suburbs around Minneapolis, where new home construction is active, enjoy much lower crime rates.
12
Why was Minneapolis considered the best place to live in 2022?
Minneapolis has excellent scores for its quality of life, with high marks for safety, affordability and access to cultural amenities. The city has top-notch schools, parks, restaurants and nightlife opportunities. It has a strong economy with numerous large companies.
13
What types of homes does LGI Homes offer in Minneapolis?
LGI Homes offers one and two-story single-family residences in the Minneapolis area. Every LGI home is affordable, move-in-ready and includes designer upgrades inside and out at no extra cost to the buyer.
14
How can I schedule a tour of an LGI community or home?
You can schedule a tour of an LGI community or home by requesting information online or calling the community directly. Each community has contact information in the top right of the community page.
15
How can I finance a new LGI home?
Homebuyers can obtain a mortgage from any lending institution they choose. We have a preferred lender that works with our team closely and is familiar with our process and homes. Our preferred lender provides competitive lending rates and can help you finance your home with popular programs like VA Home Loans, FHA Home Loans and USDA Home Loans.
REQUEST INFO