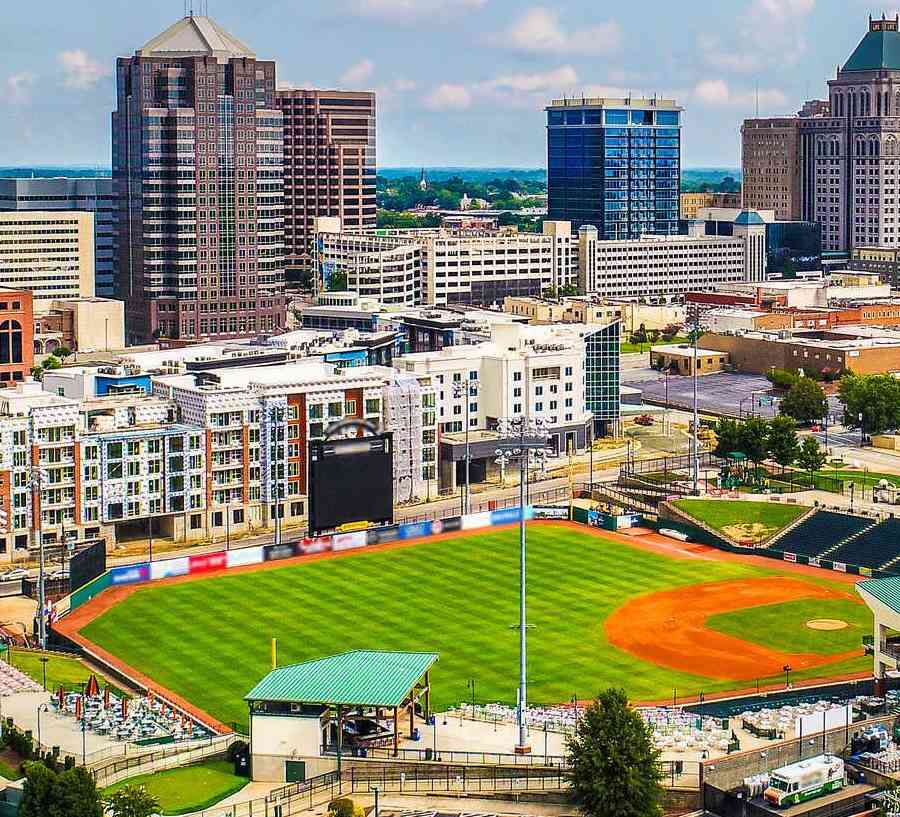 Everything You Need
New Construction Homes in an Incredible Location
Greensboro
"The Gate City," as it is commonly referred to, is an outdoor enthusiasts playground, thanks to kayaking at Lake Brandt, exploration at the Greensboro Science Center and hiking at the Guilford Courthouse National Military Park. Greensboro is as rich a city in American history as any. With a history that dates back to the late 1700s, when its early settlers helped thwart an invasion by 1,900 British Army redcoats during the American Revolution. Today, Greensboro is the perfect place to raise your family and make your own history.

With LGI Homes as your building partner, you can be confident you receive a superior quality home at a great value. Explore our charming, amenity-packed neighborhoods, and our open-concept, affordable new homes equipped with smart features and designer finishes at no extra cost to you!
Discover Greensboro
#6 'Best Places to Live in North Carolina in 2021-2022' (US News)
#5 '10 Affordable Places to Live in North Carolina, 2022' (Apartment List)
#10 '10 Essential Civil Rights Sites to Visit in the United States' (History Hit, 2021)
#12 '20 Best Places to Visit in the Carolinas' (US News, 2022)
Leading industries include education, healthcare, municipal, manufacturing, finance, technology, insurance, and government
International Civil Rights Center & Museum, Greensboro Science Center, Greensboro Symphony, and Greensboro Children's Museum are among the area's top visitor attractions
Frequently Asked Questions
Continue reading for answers to frequently asked questions about our homes, community and the area.
01
What county is Greensboro a part of?
Greensboro is in Guilford County, the third-largest county in North Carolina. The city is the county seat of Guilford County.
02
How far is Greensboro, NC from the beach?
Greensboro has a lot to offer residents in and around the city. The Atlantic Ocean has several beautiful beaches within driving distance; the closest beach (Carolina Beach) is about 200 miles away.
03
What are the major cities near Greensboro?
Greensboro is in north-central North Carolina. According to TravelMath.com, Greensboro is near several major cities in North Carolina, Virginia and Maryland, including Durham (50), Raleigh (68), Charlotte (83), Chesapeake (201), Norfolk (203), Virginia Beach (220), Washington D.C. (249) and Baltimore (285).
04
How did Greensboro, NC get its name?
Greensboro was named in honor of Major General Nathanael Greene, a hero of the American Revolution. General Greene played a significant role in the Southern campaign of the Revolution.

In recognition of his contributions to the cause of American independence, the North Carolina General Assembly established Greensborough in his honor in 1808.
05
What's the weather like in Greensboro, North Carolina?
Greensboro has a humid subtropical climate with four seasons. The summers are hot and humid, with occasional thunderstorms; high temperatures in the upper 80s (F). Winter is chilly with periodic ice or snow storms; temperatures are mid-to-high 40s (F). Spring has mild temperatures in the high 60s to low 70s (F). Fall temperatures are mild, with cooler nights; high temperatures range from the upper 60s to the low 70s (F).
06
Where is Greensboro located?
Greensboro is in the southeastern region of the United States, in the north-central area of North Carolina near the Piedmont region. It's west of Raleigh, the state's capital. Greensboro is near several major freeways and the Piedmont Triad International Airport. Longitude: 79.7920° W, Latitude: 36.0726° N.
07
Can homebuyers find affordable housing in Greensboro?
Home prices have increased over the past few years. However, homebuyers can still find affordable housing in Greensboro—online publications like ApartmentList.com say the city is one of the least expensive places to live in North Carolina.
08
Who are the largest employers in the Greensboro area?
According to CityTownInfo.com, some of the largest employers in the Greensboro area are Volvo Trucks North America, Bank of America, United Parcel Service (UPS), American Express, Moses H. Cone Health System & Affiliates, Guilford County Public Schools, U.S. Postal Service, Coca-Cola Bottling Co., Mid-Atlantic Freight, No Nonsense, Columbia Forest Products and International Textile Group.
09
What industries make up a significant part of Greensboro's economy?
Greensboro has a diverse economy and is the region's retail, business and financial hub. Significant industries in Greensboro include agriculture (tobacco), finance, transportation, education, healthcare, textiles, manufacturing, hospitality and professional services.
10
Is Greensboro part of the Piedmont Triad?
Greensboro is part of the Piedmont Triad, a metropolitan area in North Carolina. Three cities comprise the Piedmont Triad, Greensboro, High Point and Winston-Salem; the towns combine to make up the Greensboro-Winston-Salem-High Point combined statistical area.
11
What family attractions are in the Greensboro area?
Greensboro offers many family-friendly activities. Some of the most popular attractions include LeBauer Park, International Civil Rights Center & Museum, Tanger Family Bicentennial Garden, The Bog Garden at Benjamin Park, Guilford Courthouse National Military Park and Greensboro Science Center.
12
What major companies have headquarters in Greensboro?
Significant companies with headquarters in the Greensboro area include Lorillard Tobacco Company, Honda Aircraft Company, VF Corporation, International Textile Group, New Bridge Bank and Mack Trucks.
REQUEST INFO