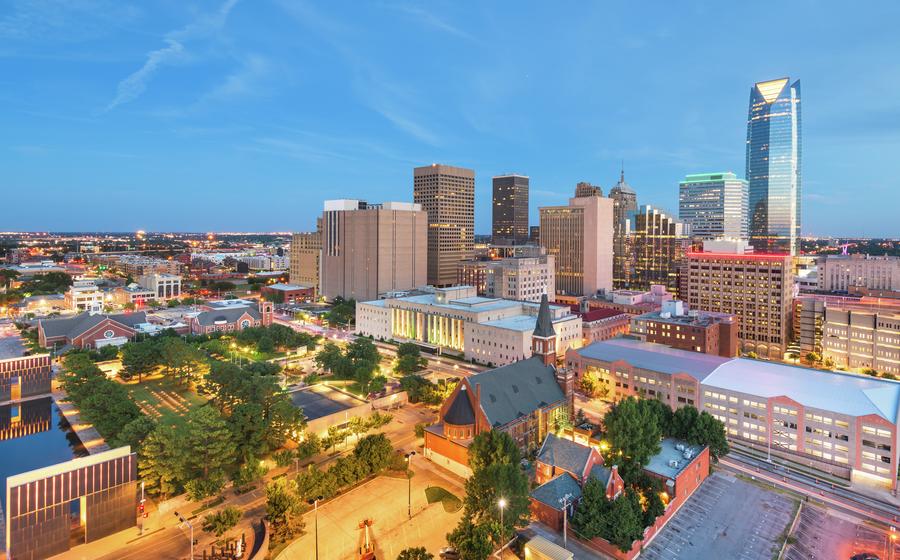 Right Where You Want To Be
Incredible New Homes Available in OKC
Oklahoma City
With a relaxed lifestyle in the heart of the midwest, Oklahoma City is a family-friendly town with big-city conveniences. Some areas still have that "cowboy" feel from the good ole' days, offering a moment of nostalgia. Pro sports and college rivalries keep sports fans content and foodies love the local restaurants. Additionally, the costs of living and housing, in general, are lower than national averages and the city has a diverse, robust economy. OKC is undoubtedly a fantastic place to call home.
Our new home communities in Oklahoma City are exceptional, with attractive amenities and various floor plans. We believe in providing value, which is why every home we build includes high-end upgrades and designer finishes at no extra cost to you. Visit us today and discover why thousands of homebuyers each year choose to make LGI Homes their home builder!
There's a Lot to Love About OKC
#4 'America's Best Places to Live in 2022' (Bankrate)
#14 'The Top U.S. Cities for Job Seekers in 2021' (MoneyGeek)
#22 '2022 Best Cities to Buy a House in America' (Niche)
Gaylord Family Oklahoma Memorial Stadium home of the Oklahoma Sooners
Major industries include healthcare, aerospace, the federal government, higher education and the military
Major companies based in Oklahoma City include BancFirst, Chesapeake Energy, Devon Energy, INTEGRIS Health, Hobby Lobby Stores Inc, Paycom and Sonic Corp
Frequently Asked Questions
Continue reading for answers to frequently asked questions about our homes, community and the area.
01
Where is Oklahoma City located in Oklahoma?
Oklahoma City, or OKC, is in central Oklahoma, approximately 100 miles southwest of Tulsa, 187 miles north of Fort Worth and 190 miles northwest of Dallas- a three-hour drive from the Dallas-Fort Worth Metropolitan area. It sits along a vital corridor to Texas and Mexico.
02
When was Oklahoma City founded?
According to the Oklahoma Historical Society, Oklahoma City was incorporated on May 2, 1890, when Congress passed the Organic Act. However, the area was settled on April 22, 1889, during the Land Rush of 1889, when thousands of settlers claimed land in the regions known as Unassigned Lands.
03
What is the population of Oklahoma City, Oklahoma?
According to estimates from the U.S. Census Bureau, Oklahoma City's population on July 1, 2021 was 687,725.
04
How long will it take to complete construction on my new home in Oklahoma City?
Homebuyers usually move in when financing is complete. Since we have finished homes in many of our open communities, almost every home we sell can be ready for you in 30 to 45 days.
05
What highways are near Oklahoma City?
Oklahoma City is a vital center point for many cross-country travels; two primary interstates, I-35 and I-40, cross. Interstate 44 offers travelers easy access to Tulsa, St. Louis and other cities along the route.
06
What's the weather like in Oklahoma City?
Wikipedia describes OKC as having a temperate humid subtropical climate, mentioning that weather varies daily, except during the summer. Summers in the city are hot; some days reach 100 degrees Fahrenheit / 37.8 degrees Celsius, but most summer days exceed 90 degrees Fahrenheit / 37.8 degrees Celsius.

Approximately sixty-five percent of the year, the sky is clear or partly sunny, with an average temperature hovering around 60 degrees Fahrenheit / 16 degrees Celsius. OKC has an average rainfall of 33.6 inches / 85.3 centimeters and an average snowfall of 9.7 inches / 24.6 centimeters per year.
07
What family attractions are in Oklahoma City?
Tripadvisor.com provides a great list of popular things to do in OKC, including several museums. Popular attractions include the Oklahoma City National Memorial & Museum, National Cowboy & Western Heritage Museum, Museum of Osteology (skeletons), Science Museum Oklahoma, 45th Infantry Division Museum, and Oklahoma Firefighters Museum. Other popular attractions are Bricktown, Frontier City (Six Flags), National Stockyard Exchange, Hefner Lake & Park, Martin Park Nature Center and Will Rogers Park.
08
Who are the largest employers in Oklahoma City?
According to Greater Oklahoma City Economic Development, many of the city's largest employers are Tinker Air Force Base, The State of Oklahoma, Oklahoma State University, Hobby Lobby Stores, University of Oklahoma, INTEGRIS Health, Mercy Hospital, MidFirst Bank, AT&T, Amazon, and FAA Mike Monroney Aeronautical Center. View a longer list of the city's largest employers on greateroklahomacity.com.
09
What is the cost of living in Oklahoma City?
The cost of living can vary depending on individual lifestyles and needs. According to SoFi, the cost of living in Oklahoma is the third lowest in the country. Regarding Oklahoma City, living costs are slightly more. Oklahoma City's living cost is noticeably lower than the national average. According to Numbeo, OKC has a cost of living index of 65.54, lower than the national average of 100.
New homes in Oklahoma City are lower than the national average.
10
What are cities near Oklahoma City?
Nearby cities include Del City (6.1 mi), Midwest City (7.9 mi), The Village (9.5 mi,) Warr Acres (11.2 mi), Bethany (11.8 mi), Moore (11.0 mi), Edmond (14.3 mi) and Mustang (17.7 mi).
Large cities near Oklahoma City include Tulsa (98 miles), Wichita (154 miles), Plano (175 miles), Garland (183 miles), Fort Worth (188 miles), Arlington (190 miles) and Lubbock (277 miles).
11
How can I schedule a tour of an LGI community or home?
You can schedule a tour of LGI communities in Oklahoma City in two ways. You can visit the community's webpage on our website and request information or call the phone number on the community's web page. Our team will contact you quickly and happily arrange a time for you to visit the community and see the available homes.
REQUEST INFO