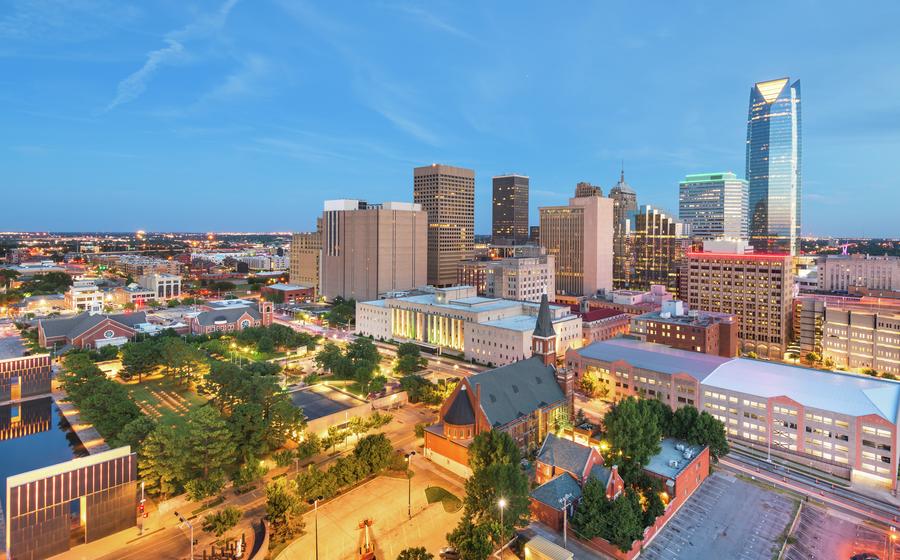 Right Where You Want To Be
Incredible New Homes Available in OKC
Oklahoma City
With a relaxed lifestyle in the heart of the midwest, Oklahoma City is a family-friendly town with big-city conveniences. Some areas still have that "cowboy" feel from the good ole' days, offering a moment of nostalgia. Pro sports and college rivalries keep sports fans content and foodies love the local restaurants. Additionally, the costs of living and housing, in general, are lower than national averages and the city has a diverse, robust economy. OKC is undoubtedly a fantastic place to call home.
Our new home communities in Oklahoma City are exceptional, with attractive amenities and various floor plans. We believe in providing value, which is why every home we build includes high-end upgrades and designer finishes at no extra cost to you. Visit us today and discover why thousands of homebuyers each year choose to make LGI Homes their home builder!
There's a Lot to Love About OKC
#4 'America's Best Places to Live in 2022' (Bankrate)
#14 'The Top U.S. Cities for Job Seekers in 2021' (MoneyGeek)
#22 '2022 Best Cities to Buy a House in America' (Niche)
Gaylord Family Oklahoma Memorial Stadium home of the Oklahoma Sooners
Major industries include healthcare, aerospace, the federal government, higher education and the military
Major companies based in Oklahoma City include BancFirst, Chesapeake Energy, Devon Energy, INTEGRIS Health, Hobby Lobby Stores Inc, Paycom and Sonic Corp
Frequently Asked Questions
Continue reading for answers to frequently asked questions about our homes, community and the area.
01
What's in the CompleteHome™ and CompleteHome Plus™ upgrade packages?
The CompleteHome™ program includes a designer kitchen with granite upgraded countertops, a deep kitchen sink, Moen® faucets with Power Clean™ spray technology, modern wood cabinets with crown molding and sleek Whirlpool® appliances.
CompleteHome™ homeowners also enjoy all of today's modern conveniences. LGI prioritizes aesthetics and utility in new homes and includes a programmable thermostat, USB kitchen outlet, and Wi-Fi garage door opener.
Every CompleteHome™ package includes energy-efficient, low-E windows plus enhanced lighting.
View all of the CompleteHome™ features.
LGI's CompleteHome Plus™ package includes everything mentioned above and way more! CompleteHome Plus™ upgrades include more luxury and style. 42-inch cabinets, stainless steel Whirlpool® appliances and a side-by-side refrigerator are in the kitchen.
Learn more about CompleteHome Plus™ upgrades here
02
Is Oklahoma City a good place to live?
The city enjoys 30 neighboring lakes, countless outdoor activities, including kayaking, whitewater rafting, fishing and hiking, and roughly 235 days of sunshine yearly.

Big employers, like Integris Health, Hobby Lobby, Boeing and Paycom, and Oklahoma City's low unemployment rate, have helped OKC land itself at the number four spot on Bankrate's 'America's best places to live in 2022' report.

OKC's population has been rapidly expanding; many expect the metro region will have more than two million people who call it home by 2040.
03
What is the homebuying process for a new home in Oklahoma City?
Buying an LGI home in Oklahoma City is simple. We build move-in-ready homes. There's no waiting on construction. Everything needed to complete the homebuying process is under one roof. We have an easy-to-follow homebuying guide; you can find details about our hassle-free and convenient homebuying process here.
04
How long will it take to complete construction on my new home in Oklahoma City?
Homebuyers usually move in when financing is complete. Since we have finished homes in many of our open communities, almost every home we sell can be ready for you in 30 to 45 days.
05
Does LGI Homes provide chef-ready kitchens in every Oklahoma City new home they build?
Yep! We know the kitchen is the center of your home, which is why each LGI Homes residence comes with beautiful cabinetry and granite countertops. A functional sink for cooking and cleaning, modern Moen® faucets with Power Clean™ tech and tall wood cabinets adorned with crown molding can also be found in the kitchen.

Our homes come with Whirlpool® appliances – refrigerator with ice maker, hydro jet-powered dishwasher, 30-inch electric range with ceramic glass cooktop and matching microwave.

Many floor plans come with large kitchen islands, perfect for entertaining guests and family members during holidays, special occasions and dinner parties.
06
What industries help fuel Oklahoma City's economy?
Oklahoma City is an excellent place to look for your dream job. The city has a wide range of industries and a growing number of companies. Major Oklahoma City industries include aviation and aerospace, biosciences, energy, healthcare, transportation & logistics, business services, weather, telecommunications, hospitality and entertainment and government.

Significant employers in Oklahoma City include Chesapeake Energy, Tinker Air Force Base, INTEGRIS Health, Boeing, Love's Travel Stops & Country Stores, Paycom and Continental Resources.
07
What makes Oklahoma City unique?
Oklahoma City is a unique place. Here are several things that only OKC can boast:
Oklahoma City is the fourth largest city in the lower 48 by land area, behind Butte, Anaconda and Jacksonville.
The only capital building in the country with functioning oil wells on its property is in Oklahoma City.
The city came together in one day after homesteaders raced to claim free land on the 22nd of April in 1889.
The world's horse show capital is Oklahoma City.
Residents of Oklahoma City approved a one-cent sales tax measure, bringing more than $5 billion in public and private investment to the city since 1993. Thanks to this program, the Metropolitan Area Projects (MAPS) program is working on its third MAPS project.
The National Stock Yards in Stockyard City is the world's biggest feeder and stocker cattle market.
REQUEST INFO