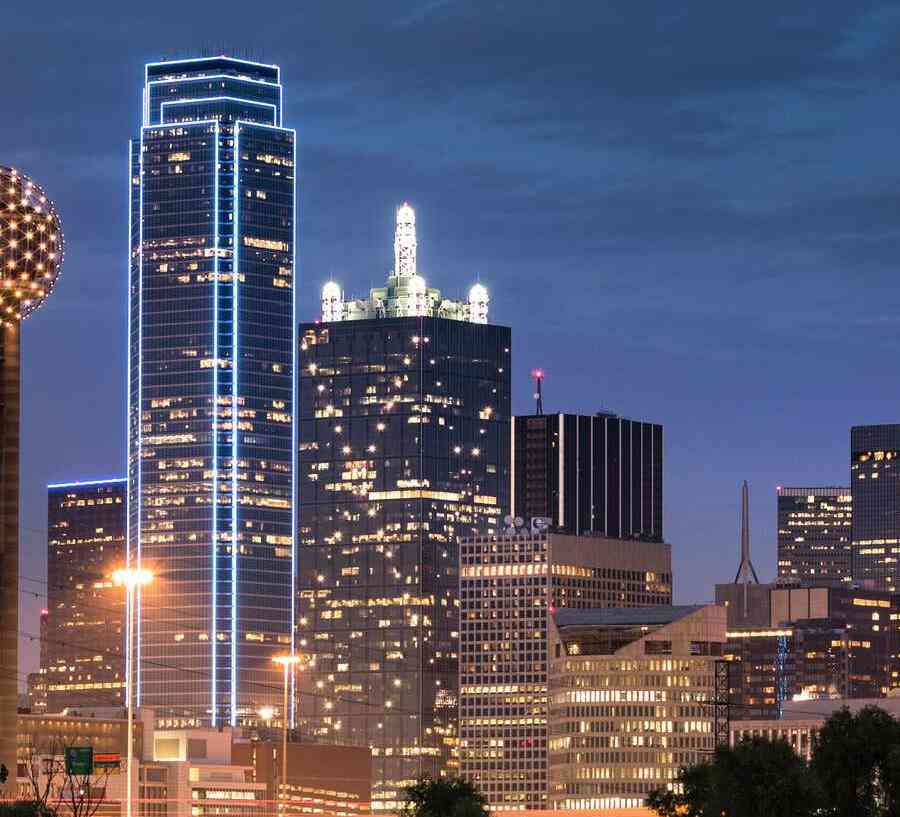 Enjoy Living Life
Find Your New Home in Dallas-Fort Worth
Dallas-Fort Worth
In the heart of North Texas is the Dallas-Fort Worth area, one of the largest metropolitan areas in the U.S., home to Dallas and Fort Worth, two of the largest cities in Texas. Here, you'll find quiet suburbs and vibrant cities. A life of exciting opportunities awaits, with noteworthy attractions, a thriving arts district, music venues, sporting events and various career opportunities. It's a growing area, with home builders developing new home communities for families big and small; claim yours today.

LGI Homes has new home neighborhoods throughout the Dallas-Fort Worth area with family-friendly amenities and beautiful move-in-ready homes. Each home has a suite of designer upgrades at no additional cost to homebuyers. Enjoy a chef-ready kitchen, open-concept floor plans and a well-appointed master retreat with low monthly payments when you choose LGI Homes as your Dallas-Fort Worth home builder. Take advantage of your opportunity at homeownership by scheduling an appointment today.
Move. Live. Retire. A Top Metroplex
#1 Dallas, TX - '10 Best Cities to Retire in Texas in 2023' (Retirable, Dallas, TX)

#3 '10 Best Places to Live in Texas in 2023 - 2024' (U.S. News)

#3 'Best Real Estate Markets to Buy a Home in 2023' (CNBC)

#3 'Top 20 Best Tech Cities for IT Jobs' (CompTIA, 2022)

#9 Fort Worth, TX - '2023's Best Large Cities to Start a Business' (WalletHub)
Major attractions include The Dallas Arboretum and Botanical Garden, The Sixth Floor Museum at Dealey Plaza, Six Flags Over Texas, Klyde Warren Park, AT&T Stadium, Children's Aquarium at Fair Park
24 Fortune 500 companies have headquarters in the DFW metroplex
Major industries include defense, financial services, information technology and data, semiconductors, telecommunications, transportation, processing, life sciences
Frequently Asked Questions
Continue reading for answers to frequently asked questions about our homes, community and the area.
01
What cities are in the Dallas-Fort Worth Area?
The Dallas-Fort Worth area is one of the fastest-growing metropolitan areas in the country. The metro area encompasses burgeoning towns and growing cities, including Plano, Garland, Irving, Mckinney, Frisco, Arlington and many more. Homebuyers can find LGI new homes for sale in many of the surrounding areas.
02
How many people move to the Dallas-Fort Worth (DFW) area each year?
The Dallas-Fort Worth area, or DFW, gets tens of thousands of new residents yearly. According to the U.S. Census Bureau, DFW gained an average of 39,378 residents annually from 2015 to 2019, ranking number 3 behind the Inland Empire and Phoenix. Growth is picking up. From July 2020 to July 2021, Dallas-Fort Worth was the third-fastest-growing metropolitan area in the nation, with 54,319 new residents.
Dallas is in north Texas near Fort Worth. It is 198 miles from Austin, 225 miles from Houston and 206 miles from Oklahoma City. It's the hub of one of the nation's largest and most populous metro areas.
04
What are some of the best attractions in the Dallas area?
Some of the most visited places in Dallas include the Reunion Tower, The Sixth Floor Museum at Dealey Plaza, the Perot Museum of Nature and Science, the Dallas Zoo, the Dallas Museum of Art, the Bishop Arts District and the John F. Kennedy Memorial Plaza. Dallas hosts live events throughout the year, including sporting events for MLB, NBA, MLS, NHL, WNBA and colleges.
05
What is Dallas famous for?
Dallas is known for cowboys and the city's time as an early center of trade. It's best known, however, as the city where the assassination of President John F. Kennedy took place on November 22, 1963.
06
What county is Dallas in?
The city of Dallas is in Dallas County, the third-most populous county in the state of Texas. Dallas is the county seat of Dallas County.
07
Is the Dallas-Fort Worth Metropolitan area part of the Metroplex Region of Texas?
Yes, it is. According to Texas.gov, the Metroplex Region is about 15,600 square miles in northern Texas. Within the Metroplex are 19 counties and two metropolitan statistical areas (MSAs); Sherman-Denison MSA and the Dallas-Fort Worth-Arlington MSA. The latter MSA, Dallas-Fort Worth-Arlington, includes the Dallas-Fort Worth Metropolitan area.
08
What is the climate like in the Dallas-Fort Worth area?
The weather in the Dallas- Fort Worth area varies with highs in the high 90s to the low 100s Fahrenheit and lows from the high 40s to mid-50s Fahrenheit; temperatures can drop below freezing in the winter. It has a humid subtropical climate with hot, humid summers and mild winters. Weather.gov mentions that the metropolitan area gets most of its rainfall from thunderstorms that occur more frequently in the spring.
09
Is there public transportation available between Fort Worth and Dallas?
Individuals have access to public transportation. There are train and bus routes between Dallas and Fort Worth. According to Visit Fort Worth, rail service is the least expensive and has service every day except Sunday.
10
Who are the largest employers in the Dallas-Fort Worth area?
DFW is known for having a solid economy and job market. 43 Fortune 1000 companies and 22 Fortune 500 companies call DFW home. The largest employers are American Airlines, AT&T, Bank of America, Baylor Scott & White, HCA North Texas, JP Morgan Chase, Kroger, Lockheed Martin and Medical City are the ten largest employers in the Dallas-Fort Worth area, according to the
Dallas Chamber
.
11
How far is Fort Worth from Dallas?
Dallas made the
Forbes list
of best places to retire in 2020; it's just as attractive today. The climate, cost of living, culture, availability of
retirement-friendly communities
, tax benefits and good healthcare all entice retirees.
12
What county is Fort Worth in?
Fort Worth, Texas, is in Texas' fifth most populous county, Tarrant County. Fort Worth serves as the seat of Tarrant County.
13
What are the major attractions in the Fort Worth area?
Fort Worth has a lot to offer residents and visitors. The fifth-largest city in Texas has more to offer than proximity to Dallas. Some of the most popular places in Fort Worth include the Stockyards National Historic District, Fort Worth Zoo, Fort Worth Botanic Garden, John Wayne: An American Experience Museum, Amon Carter Museum of American Art, the Texas Motor Speedway, the National Cowgirl Museum, the Texas Cowboy Hall of Fame and many other museums and entertainment venues. The Downtown Sundance Square has plenty to do if you're looking for nightlife fun.
14
What kind of homes does LGI Homes have in the DFW?
LGI Homes has one- and two-story single-family homes for sale. Our homes are affordable and move-in-ready. They include energy-efficient features, a chef-ready kitchen, integrated technology and designer upgrades at no extra cost.
15
What is buying a new home in the Dallas-Fort Worth area like?
Our homebuying process is simple. Our highly trained New Home Consultants are available to answer your questions and walk you through each step of the buying process. Best of all, everything you need is in one place, including new home financing.
16
Does LGI Homes have affordable homes in a community in Dallas or nearby cities?
LGI Homes has several Dallas area neighborhoods with affordable new construction homes. Our Dallas area new homes start in the high $200s; they all include designer upgrades, integrated technology, high-end finishes, energy-efficient appliances, gorgeous curb appeal and much more at no additional cost to you.
17
Are there five-bedroom homes for sale in Fort Worth?
LGI Homes has multiple neighborhoods in the Fort Worth area with spacious five-bedroom homes. These single-family residences include unparalleled value, superior quality and a 10-year structural warranty. They're in communities with splash pads, playgrounds, sports courts and other attractive amenities.
18
How has Dallas's median home sale price changed over the last few years?
From October 2020 to August 2023, the median sale price in Dallas increased by $55,562, just shy of 13.1%,
according to Orchard.com
. The median sale price of all homes in Dallas has grown with several ups and downs over the last three years. In October 2020, the median sale price was $369,826. During this time, the lowest median sale price was $331,350 in January 2021; the three-year high of $480,495 was in May 2022. In August 2023, the median sale price of houses in Dallas was $425,388.
18
How has the median sale price of homes in Fort Worth changed over the last five years?
The median sale price of homes in Fort Worth has increased by approximately 54.68% in the last five years, according to Orchard.com.
In October 2018, the median sales price of houses in Fort Worth was $209,456. Almost four years later, the Fort Worth real estate market saw an all-time median sale price high of $350,400 in May 2022. As of August 2023, the median sale price of homes in Fort Worth was $323,989, representing an increase of $114,533 or roughly 54.68% from October 2018.
REQUEST INFO