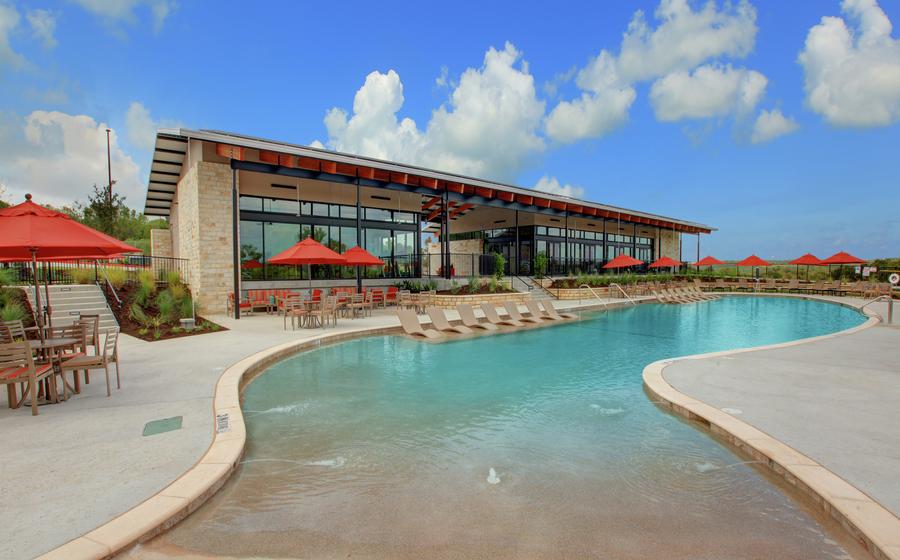 Whisper Valley
A Master-Planned Community
If you're searching for a community that combines luxury, convenience and sustainability, look no further than Whisper Valley.

This master-planned community, located just east of Austin, offers a unique blend of modern living and eco-friendly design. With various single-family homes built by Terrata Homes and other new home builders, Whisper Valley is a testament to the future of sustainable living.

Situated conveniently off Highway 130, Whisper Valley is less than 20 miles from downtown Austin, providing residents easy access to the city's vibrant business, dining and entertainment hubs.

Despite its proximity to the city, Whisper Valley offers a serene retreat with unmatched access to nature, boasting over 700 acres of open green space. The community also has a resort-style swimming pool, multiple playgrounds, a fitness center and miles of scenic trails for hiking, jogging and biking.

Terrata residences at Whisper Valley are as impressive as the community itself. Each comes with forward-thinking, cutting-edge features included as standard. These attributes and the community's dedication to green living make Whisper Valley a place residents can be proud to call home.

Discovering the Luxury of Terrata Homes at Whisper Valley: A Blend of Comfort, Modernity and Green Living
Whisper Valley is not just another new construction neighborhood; it's a commitment to a new way of living. Terrata homes in Whisper Valley perfectly blend comfort, luxury and forward-thinking modernity.

Homes are zero-energy capable, EcoSmart certified and equipped with renewable geothermal energy and solar panels. Buyers can choose from several floor plans with 3, 4 or 5 bedrooms and 1,403 to 2,821 square feet of ultra-modern living space.

Every home includes designer upgrades and finishes and is prewired for Google Fiber. Enjoy chef-ready kitchens with sprawling countertops, sleek custom cabinetry, upgraded flooring, integrated technology, expansive living rooms perfect for family gatherings and much more, all included at no extra cost for homebuyers.

As of late 2023, prices for these homes start from the $430s, offering incredible value for the luxurious and eco-friendly features included.

Embracing Green Living in Whisper Valley: A Sustainable Future Starts Here
Whisper Valley is more than just a community; it's a beacon of sustainable living built for tomorrow. This master-planned development is deeply rooted in conservation, efficiency and harmony with nature.
EcoSmart Homes: The Future of Sustainable Living
Whisper Valley homes are EcoSmart certified, a testament to their commitment to sustainability. These homes are energy efficient, leveraging renewable geothermal energy and solar power to minimize their environmental impact.
Zero Energy Capable Living
One of the most remarkable features of Whisper Valley is its commitment to zero-energy-capable living. With advanced technology harnessing renewable geothermal and solar energy, homes can generate as much power as they use.

These installations result in a low Home Energy Rating System (HERS) score, making these homes 75-80% more energy-efficient than standard new construction residences.
Organic Farms and Gardens: A Taste of Nature
Whisper Valley is deeply rooted in healthy, organic living. The community features organic farms and gardens that yield fresh, nutritious produce.

These community gardens, planned and supervised by expert growers, allow residents to volunteer, participate and learn about sustainable living. Meanwhile, the periodic Harvest Table dinners bring the farm-to-table concept to life.
A Community Powered by the GeoGrid™
An innovative geothermal loop field connects Whisper Valley. Known as the GeoGrid™, it is a community-wide network of vertical and horizontal piping that draws on the clean thermal energy of the Earth to provide heating, cooling and hot water while reducing energy consumption by up to 70%.

Every Whisper Valley home is connected to this system through an EcoSmart-certified heat pump, which reduces heating and cooling costs by more than 50% and provides homeowners with a tax credit (ITC) of 30%.
Affordable Sustainability
Despite all these advanced features and amenities, Whisper Valley remains surprisingly affordable. Homes start in the low $400s, making zero energy capable living attainable for a broad spectrum of homebuyers.
A World of Amenities at Whisper Valley
Whisper Valley is not just a residential community; it's a lifestyle. With a comprehensive suite of amenities contributing to a high quality of life, residents can enjoy various activities without straying far from their doorstep.

The community features a resort-style swimming pool perfect for relaxation and recreation. Whether you want to take a refreshing dip on a hot summer day or lounge poolside with a good book, the pool area allows residents to unwind in a relaxing environment.

Staying fit and active is easy at Whisper Valley, thanks to the well-equipped fitness center. The center features a range of exercise equipment to cater to different workout routines. Whether you prefer cardio workouts, strength training or yoga, you'll enjoy the neighborhood's fitness center.

Families with children will appreciate the playgrounds scattered throughout the community. These safe, well-maintained play areas provide a space for children to play, socialize and enjoy the outdoors. Pet owners, conversely, can take advantage of the expansive dog park, where their furry friends can run and play freely.

The Discovery Center is a hub of activity in Whisper Valley. It hosts a variety of classes and events, including yoga and cooking classes. It's a great place to learn something new, meet your neighbors and engage with the community.

With 700 acres of open green space, Whisper Valley offers plenty of room to roam and enjoy nature. Miles of hiking and biking trails crisscross the community, providing residents ample opportunities to explore the area's natural beauty, exercise or enjoy a leisurely walk.
Whisper Valley Offers Proximity to Schools and Austin Attractions
Whisper Valley's location in Manor, TX, offers residents the best of both worlds: the tranquility of a master-planned community and the convenience of proximity to major employers, quality schools and the vibrant city of Austin.
Near Major Employers
Whisper Valley is strategically located off State Highway 130, making commuting a breeze. The community is a mere 7-minute drive from Tesla's new Gigafactory and 10 minutes from the Dell and Samsung corporate campuses. Other major employers, such as Google and Applied Materials, are within a short drive, making Whisper Valley an ideal home for professionals.
Quality Schools in the Vicinity
Whisper Valley is part of the Del Valle Independent School District, home to several highly-rated schools. These include Joseph Gilbert Elementary School, Dailey Middle School and Del Valle High School, all of which uphold high academic standards and focus on student success. The community is also near several charter and private schools, providing families with various educational options.
Minutes from the Vibrant City of Austin
Living in Whisper Valley means being just 20 minutes from downtown Austin. Known for its lively music scene, diverse culinary offerings and numerous cultural attractions, Austin offers many entertainment and recreational opportunities. Whether you're looking to explore the city's renowned parks, catch a live music performance or dine at a top-rated restaurant, Austin has something for everyone.
Accessibility and Convenience
Whisper Valley's location along State Highway 130 provides residents quick access to Austin-Bergstrom International Airport, just 10 minutes away, and a range of other arterial routes in Central Texas, including I-35. The community's strategic location ensures that local attractions, shopping centers and other points of interest are always close.
A Sustainable Lifestyle Awaits You at Whisper Valley
Whisper Valley is a master-planned community that offers a unique blend of sustainable living, modern conveniences and an active lifestyle. With its eco-conscious homes, world-class amenities and desirable location, Whisper Valley is truly a community like no other.

If you're interested in experiencing the Whisper Valley lifestyle, consider booking a tour of the Terrata Homes community. Visiting the community will allow you to explore model homes, check out the amenities and get a feel for this next-generation neighborhood. It's a great way to see first-hand what life in Whisper Valley has to offer.

Schedule a viewing with one of our New Home Consultants today.