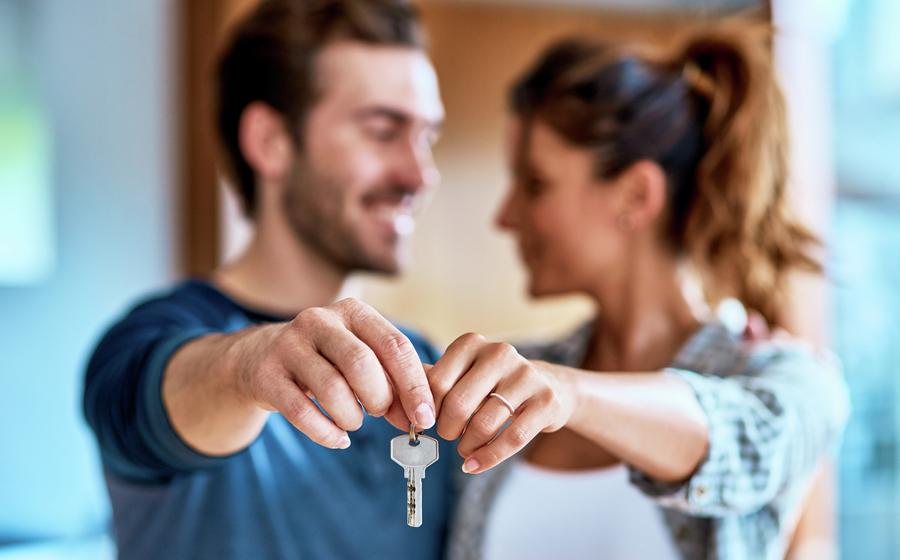 Home Loans for First-Time Buyers
Purchasing a home can be both exhilarating and daunting, especially for those looking to purchase their first home. With countless options available, finding the right mortgage that suits your unique financial situation and goals is essential. You could save thousands of dollars by taking the time to find the right home loan for you. With that in mind, this article will walk you through various loan options available on new homes, demystify the requirements and equip you with valuable insights to help you make informed decisions. Let's dive right in.
FHA Loans
FHA or Federal Housing Administration loans are government-backed mortgages available to homebuyers since 1934. Congress created the FHA to insure home mortgages issued by banks and private lenders, decreasing risks and encouraging lenders to originate more home loans to homebuyers.

As of 2020, the Federal Housing Administration insured over 8 million single-family mortgages. Today, FHA loans are designed to help lower-income and first-time home buyers qualify for and obtain a mortgage. They work by providing lenders with mortgage insurance, reducing risks for lenders and allowing them to offer more flexible lending terms.

Homebuyers that utilize an FHA loan can benefit from lower down payments (some buyers may be able to put down as little as 3.5%) and qualify for a home loan even if they have less-than-perfect credit. FHA loans also allow a higher debt-to-income (DTI) ratio than conventional loans, meaning homebuyers can have more outstanding debt relative to their income and qualify for an FHA home loan.

While these loans are advantageous in many ways, they require borrowers to pay upfront mortgage insurance premiums (UFMIP) equal to 1.75% of the total loan value and monthly private mortgage insurance (PMI) (to protect the lender against defaults. Location-dependent loan limits restrict loans to low- and moderate-income borrowers.

For 2023, the maximum single-family FHA loan amount for high-cost metropolitan areas sits at $1,089,300, dropping to $472,030 in areas with lower housing costs. You can check what loan limits are in your area using the U.S. Department of Housing and Urban Development's FHA loan limit tool.
VA Mortgage or VA Home Loans
VA Home Loans are home loans backed by the U.S. Department of Veterans Affairs (VA). They help eligible veterans, active-duty service members, qualified national guard members and their spouses finance the purchase of new construction homes and resale homes.

VA Home Loans provide several unique benefits for buyers when they purchase a new home. First, the VA does not require a down payment, but you may be required to pay a one-time funding fee based on the loan amount and the type of loan you get; lenders can only charge 1% for origination fees. You do not have to pay private mortgage insurance (PMI). Interest rates are usually very competitive since the VA guarantees the loan, reducing risk for lenders.

A few additional requirements are needed to access these benefits. The home must be owner-occupied and your primary residence. You must obtain a Certificate of Eligibility (COE). Although the VA doesn't have credit score requirements, your lender may; lenders usually require scores between 580 - 620.

If you're buying a new construction home, the builder must register with the VA and have a VA Builder ID number. The lending process is usually smoother if you purchase a move-in-ready home.

A VA Home Loan is different from a VA Construction Loan.

USDA Rural Development Loans
While you traditionally associate the U.S. Department of Agriculture with farming, the USDA's Rural Development Program provides home loans to low and moderate-income Americans in designated rural areas.
There are several loan options from the USDA. Still, the most popular is the Section 502 Guaranteed Loan Program or Single Family Housing Guaranteed Loan Program.

These loans offer a range of benefits, including 100% financing (no down payment), lower PMI premiums and competitive interest rates (due to the government guarantee, the lender's risks are lower). Credit requirements also tend to be more lenient because the USDA has no minimum credit score requirement. Still, approved USDA loan lenders typically require a credit score of 640. However, homebuyers with a lower score may still get approved.

While these loans are an excellent option, they have strict eligibility requirements. The purchased home must be your primary residence and reside in a designated rural area defined by the USDA. There are specific gross income limits based on the median income in your area (you can't earn more than 115% of the local median income).

These limits ensure that the program serves its target audience of low-to-moderate-income homebuyers.
Bond Loans (HFA Loans)
Bond loans, mortgage revenue bond loans or housing finance agency (HFA) loans are state-sponsored mortgage programs aimed at helping low-to-moderate-income homebuyers achieve homeownership. State and local housing finance agencies offer these loans. They can vary widely in terms and requirements depending on the issuing agency.

These loans are an option for first-time homebuyers, with assistance to help with down payments and closing costs. These loans also tend to offer below-market interest rates, providing better monthly payments for the borrower. You can also (usually) cancel PMI payments after a couple of years.

Like USDA loans and FHA loans, these loans have income and purchase price limits, with specifics depending on the state. You might also have to complete a homebuyer education course to be eligible for HFA or bond loans.

Lastly, only specific types of homes qualify (e.g., single-family units, condos, townhouses, etc.), so it's essential to check with your local bond loan program to confirm eligibility and learn about available programs.
Conventional Loans
A conventional loan may be the best option if you do not meet the criteria for any of the above loan programs for first-time buyers. These are mortgage products that are not part of any government program. Banks, credit unions and other private lenders are the leading institutions offering conventional loans.

For this type of loan, you'll typically need a down payment of 5% to 20% of the home's purchase price. The higher the down payment, the better the loan terms. If you put less than 20% down, you'll need to make PMI payments on top of your monthly mortgage until your home earns a certain amount of equity. When you have enough equity, your private mortgage insurance is no longer needed; you can cancel it and lower your monthly payments.

Your credit score will play a big part in getting approved for a conventional loan, so it must be in good shape. The same is true for your debt-to-income (DTI) ratio. You'll usually receive better offers if you have a lower DTI ratio. Still, many lenders look at your entire credit profile, so a positive aspect within your profile can offset a high DTI and improve your creditworthiness in the eyes of a lender.

There are two types of conventional loans. They are conforming and non-conforming. Conforming conventional loans adhere to loan limits set by Fannie Mae and Freddie Mac, which vary by location and property type. Non-conforming loans are less standardized and have requirements and features that may vary significantly from lender to lender.

Lastly, conventional loans have numerous options and come in several varieties. There are loans for individuals with excellent credit and loans for buyers with bad credit, loans that allow interest-only payments, adjustable-rate mortgages (ARMS) and loans with various repayment terms, such as 15-year, 20-year, or 30-year fixed-rate mortgages, giving you flexibility to choose a home loan that best fits your needs.

Be sure to shop around and ask questions regardless of the loan you get. If you need help understanding something, ask for help and clarification.
Speak to LGI Homes Today to Find the Perfect Home Loan for You
When purchasing your first home, many loan options are available to you. While FHA loans, VA loans, USDA loans and state bond loans have their benefits, they also come with specific eligibility requirements and limitations.

It's essential to do your research and understand the pros and cons of each loan option before making a decision. Consider factors such as income limits, your credit score, your down payment amount and your property location when choosing the loan option best for you and your situation.

Speaking with a member of our knowledgeable team at LGI Homes can help you navigate the complex world of home loans and find the best option for your unique situation. Many of our new homes meet the requirements of government-backed and state-sponsored loan programs, and we would be happy to discuss those options with you.

Visit the sales office at any of our communities or contact us directly via our website to request more information regarding financing your home purchase.