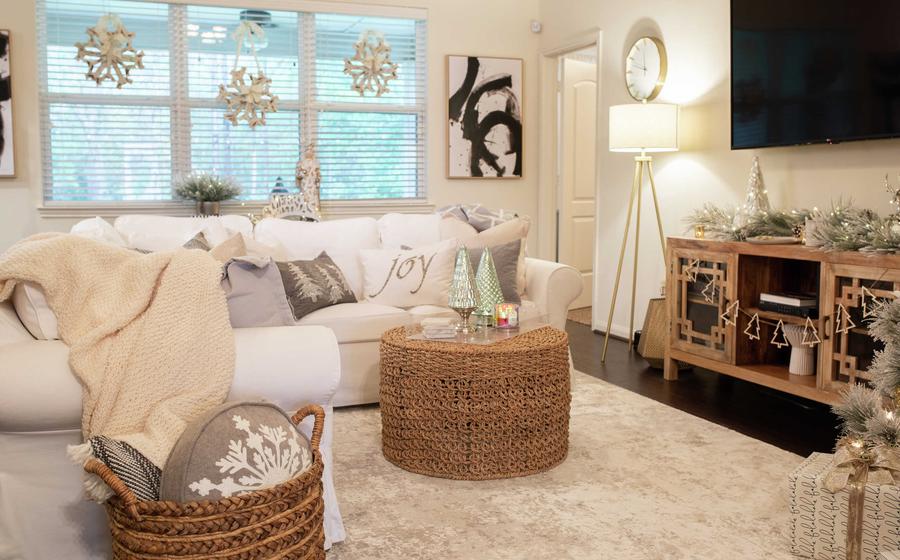 Holiday Home Prep:
Transform Your Space for Seasonal Festivities
The holiday season is just around the corner, and it's time to start preparing your home to welcome friends and family for festive gatherings. With a little planning and organization, you can transform your living space into a warm and inviting haven overflowing with holiday spirit. Whether you're hosting family gatherings, dinner parties, or simply want to create a cozy atmosphere, we've got you covered. In this blog post, we will explore five tips and ideas to help you prep your home for the holidays, ensuring a memorable and enjoyable time for everyone.
Tidy Up and Declutter

Start by decluttering your home and clearing out any unnecessary items to make space for the holiday magic. This will make your home look tidier and more welcoming for all of your holiday guests. Once you've decluttered, give your home a thorough cleaning, paying special attention to high-traffic areas and commonly used spaces like the kitchen and bathroom. A clean home sets the stage for a stress-free and enjoyable holiday experience.

Deck the Halls

Bring out the holiday decorations to fill your home with a joyful ambiance. Dust off the twinkling lights, hang up colorful ornaments, and don't forget seasonal staples such as classic wreaths and stockings. Add touches of holiday spirit throughout your home with garlands, candles, and festive artwork.

Guest-Ready Guestrooms

If you're expecting overnight guests, ensure that your guestrooms are ready to provide comfort and coziness. Start by giving the guestrooms a thorough cleaning. Fresh linens and towels, fluffy pillows, and extra blankets will make their stay enjoyable. Remember to check that all necessary amenities are in place. Adding thoughtful touches like travel-sized toiletries, locally sourced snacks and a beautiful candle will make guests feel extra special.

Create an Inviting Entertainment Area

The holidays are all about coming together, so now is the perfect time to spruce up your entertainment area! Rearrange furniture to create a comfortable seating arrangement, allowing for easy conversation and socializing. Provide plenty of seating options and cozy cushions for added comfort. You can even set up a bar cart or designated beverage station stocked with holiday-themed drinks, glasses, and garnishes. Go above and beyond by arranging a festive backdrop for memorable holiday photos.

Time to Plan Your Feast

Food is the heart and soul of the holidays, so start planning your menu well in advance. Make a detailed shopping list and stock your pantry with all the necessary ingredients. Consider prepping and freezing some dishes ahead of time to save on last-minute cooking stress. Don't forget to make sure that you have enough dinnerware, glasses, and serving utensils to accommodate everyone.
Prepping your home for the holidays can be both exciting and rewarding. With a little bit of planning, cleaning, and some festive touches, your home will become a warm and inviting backdrop for joyful celebrations. Remember, the real joy lies in spending quality time with loved ones, so make sure to relax and enjoy the holiday season in your beautifully prepped home! Still in the market for a new home? Find yours today.