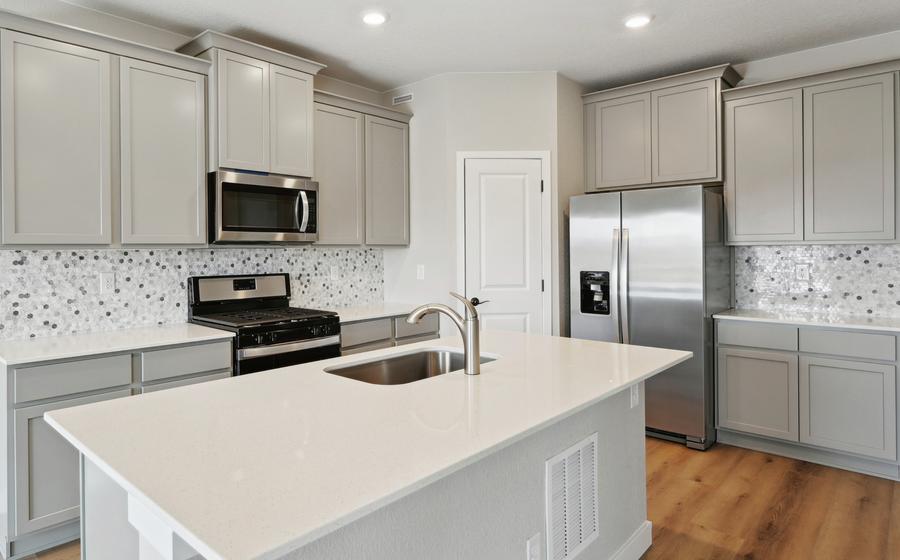 Affordable Communities in Colorado
Experience the Best of Colorado Living
new construction homes
in affordable communities here.Whether you're already living in Colorado or considering it for the next chapter in your life, let's explore more of the state's beauty and magnificence, then look at various new home communities offering superior quality, unmatched value, style and a suite of upgrades included in every residence at no extra cost.
Discover the Perfect Lifestyle for Homebuyers in Colorado
Only so many locations have as much to offer as Colorado. Dominated by the natural beauty of the Rocky Mountain landscape, this state provides an undying list of activities for outdoor enthusiasts.

It doesn't matter whether you're a young professional couple or a family. Each season has something to offer. World-class ski resorts, hundreds of miles of hiking and biking trails, rock climbing and white-water rafting are some of the more popular pursuits.

But it's not just the state's incredible natural playground that makes it a fantastic place to live. As mentioned above, ample employment opportunities exist, particularly in the state's burgeoning tech sector. The state boasts an unemployment rate of just 2.8% at the time of writing and the country's fourth-highest labor force participation rate. Healthcare and educational institutions are top-notch, with Colorado ranked fourth nationally for quality education.
Explore Affordable Colorado Neighborhoods
As the demand for relocation to this state grows, so does the need for housing, especially new construction homes. LGI Homes builds properties that are move-in-ready and designed with modern couples and families in mind, offering open-concept floor plans, integrated smart home tech and enhanced energy-efficient features.

The communities they come in are also a boon for homeowners. With LGI Homes building homes often accompanied by community centers, fitness facilities, sports courts, picnic areas, parks, hiking trails and more, there's no better place to enjoy the high quality of life Colorado offers its residents.

So, with that in mind, let's look at the best new home communities in the Centennial State, starting with those close to the mile-high city of Denver.
Cottonwood Greens (Denver)
Cottonwood Greens is a new home community located in the charming town of Fort Lupton, about 30 minutes from Downtown Denver.

The community offers five different home options, one and two-story floorplans with three to five bedrooms, and all come with the coveted CompleteHome™ package at no extra cost and builder-paid closing costs. Think vinyl plank flooring in all the right places, upgraded countertops, recessed lighting, spacious wood cabinetry with crown molding and a full suite of Whirlpool® kitchen appliances integrated and ready-to-go.

Cottonwood Greens is chock-full of community amenities, with multiple parks, picnic areas and direct trailhead access to paths running alongside the nearby Coyote Creek. There's also easy access to the nearby 18-hole Coyote Creek golf course. With monthly community events and excellent access to job opportunities, this is a perfect family-friendly place to live.
Hidden Creek (Denver)
Just seconds away from I-25, Hidden Creek is truly a "hidden gem" found in Frederick, CO. Boasting mountain views and fast access to outdoor recreation opportunities, this is a perfect spot for adventure-loving families and couples.

Most homes in this community are two-story. Three-, four- and five-bedroom floor plans are available with stunning curb appeal. All homes feature upgrades included as standard, integrated technology, a double-car garage and builder-paid closing costs—unmatched value backed by a 10-year structural warranty.

Residents here enjoy access to two separate community parks, miles of walking trails, and shopping and dining establishments right on the doorstep, including Larkridge Shopping Center. Everything you could need is within reach at Hidden Creek.
Second Creek Farm (Denver)
Suppose Colorado is the state that offers the best of both worlds. In that case, Second Creek Farm represents the perfect microcosm of Colorado living. Located in Commerce City, CO, not only do outdoor adventures await, but grocery stores, top-notch restaurants and entertainment are merely minutes away.

This community boasts eight stunning open-concept floor plans across a range of single and double-story home designs. Each comes with LGI's CompleteHome Plus™ package of designer upgrades at no extra cost. You can expect granite countertops, 42" custom wood cabinetry with crown molding, stainless steel Whirlpool® kitchen appliances, faux wood blinds, designer light fixtures and integrated technology. The homes are all topped off with manicured front yard landscapes, delivering unmatched curb appeal.

Second Creek Farm offers its residents a community park with miles of walking paths, and the Rocky Mountain Arsenal National Park (one of the largest urban parks in the country) is right on the doorstep. This neighborhood might be your place if you're seeking the perfect blend of Colorado living.
Pierson Park (Denver)
At the edge of Brighton, CO, Pierson Park is a new home community defining modern family living. With major employers, shopping, dining and entertainment options just a short drive away, this neighborhood provides everything you need.

Seven-floor plans are available across a range of single and double-story homes. These residences all feature integrated smart home technology (including smart thermostats you can control with your phone), USB outlets in the chef-ready kitchen and designer upgrades throughout each energy-efficient home.

The community itself is bursting with amenities. You can play pickup basketball with neighbors at the private basketball court, host friends at one of the many picnic areas, or enjoy sunny days in the community park. There's something for everyone here.
Wolf Creek Run (Denver)
LGI Homes' newest community, Wolf Creek Run, offers residents the perfect family life in the quaint town of Strasburg, CO.

Here, you can choose from a range of high-quality but affordable homes with two to three-bedroom floor plans, making them a perfect option for individuals and families. Every LGI residence includes designer features, including white wood cabinetry, Whirlpool® appliances, wood-effect flooring and quartz countertops. The stunning open-plan living spaces are enough to make anyone jealous of your new home.

As if the homes weren't enticing enough, the community boasts many family-friendly amenities, including a new nine-hole disc golf course, children's playgrounds, outdoor fitness equipment and sports courts. Wolf Creek Run residents will never be bored.
Hidden Valley Farm (Fort Collins)
North of Denver and just 10 miles from Fort Collins, Hidden Valley Farm is a community in Severance, CO, offering a peaceful retreat from the hustle and bustle of the nearby city without compromising access to amenities.

Once again, this community offers a broad spectrum of open-concept floor plans, including features such as flex rooms. Homes here have three, four, or five bedrooms and single or double-story layouts. Granite countertops, spacious custom cabinets with crown molding, a full suite of kitchen appliances, designer upgrades and integrated technology are only a few upgrades standard in every home.

The community features numerous children's playgrounds, picnic spots, and easy access to nearby parks and lakes. Well-regarded Weld RE-4 schools are also just a stone's throw away and can be reached on foot – perfect for busy families.
Find Your Dream Home in One of Colorado's Premier Communities
Irrespective of whether you're a young family looking to relocate, a young professional financing your first home, or ready for retirement, Colorado is no doubt one of the best places to live in the country.

With communities developed by LGI Homes, a strong economy, first-rate attractions and amenities and outdoor adventures in the Rocky Mountains, Colorado is a terrific place to call home.

So, if you're ready to move into an affordable new home with upgrades included as standard, integrated smart home technology, and, in some cases, builder-paid closing costs, don't hesitate to reach out and request more information regarding your favored community.
Home is Just a Few Clicks Away.
Ready to move into your perfect new home? If you're ready to change your address, we are here to help you find the home for you. Click the button below to start your journey today!
Find a Home