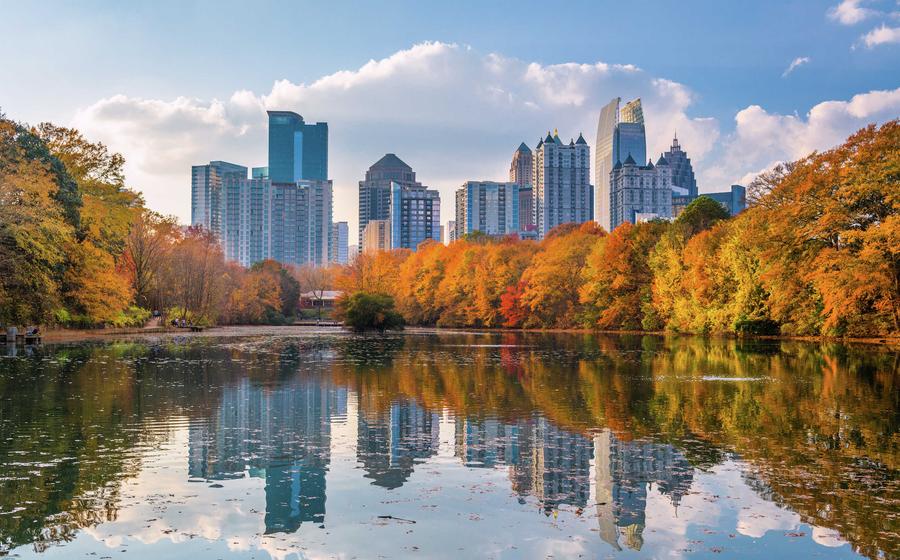 10 Things to Do
for New Families in Atlanta
Building itself up from the ashes after being burnt to the ground in 1864, Atlanta is now known for more than its role in the Civil War. From its phenomenal music scene (bringing to the fore musicians like Ludacris and John Mayer) to being the most heavily forested urban area in the US and having the world's busiest airport, Atlanta is as dynamic as it is historical.
Suppose you are a new family in Atlanta. In that case, there is a lot you can do after settling into your new construction home that will help you become acquainted with the city.
Whether you want a wholesome fun time with your family or a productive learning experience, here are ten (10) things you must try as a newcomer to Atlanta.
Step into different epochs in history at Atlanta's museums
From the times of the dinosaurs to a few decades ago, Atlanta's museums display countless relics from times past.
If you are a history enthusiast, start your journey from the Atlanta History Center, which houses nine permanent exhibitions and specific temporary and traveling exhibitions. The permanent category includes, among others, exhibits on the Olympics and Paralympics, American railroads, and Native lands. Its most distinguishing feature, however, is that it holds one of the largest collections of artifacts from the Civil War.
After exploring history across the centuries at the history center, you can head to the National Center for Civil and Human Rights. The three permanent exhibitions at this museum contain personal effects belonging to Martin Luther King Jr., an interactive gallery on the Civil Rights movement and an exhibit on the global human rights movement.
Visit the homes of some of the most impactful people in history
Get inside the rooms where Martin Luther King Jr. may have dreamed that the US would be "transformed into an oasis of freedom and justice," and Woodrow Wilson developed his passion for political science and history.
Steeped in historical importance, Atlanta is the site of the childhood homes of multiple individuals who have left indelible marks on the American nation and the world.
The most celebrated of these is MLK Jr., arguably the most prominent leader of the American Civil Rights Movement, and Woodrow Wilson, the 28th President of the United States and creator of the 14 points for peace after World War I.
Immerse in nature at Atlanta's beautiful parks and gardens
While the historical importance of Atlanta is indisputable, it offers much more for visitors and new families. Atlanta's beautiful green spaces deliver a relaxing retreat from city life.
The Atlanta Botanical Garden, for instance, is a gorgeous, well-kept, 30-acre botanical garden that maintains collections of various plants, including roses, conifers and herbs. The Dorothy Chapman Fuqua Conservatory within the garden houses rare endangered tropical and desert plants.
In addition to its plant collections, the award-winning Children's Garden, the scenic Storza Woods and the delightful Skyline Garden make the Atlanta Botanical Garden a treat for family members of all ages and preferences.
Adjacent to the botanical garden lies Atlanta's famous 200-acre Piedmont Park, which hosts many annual celebrations, including the Atlanta Jazz Festival and Music Midtown.
Other scenic green spaces worth visiting include Atlanta's oldest public park, the Oakland Cemetery and the serene Freedom Park.
Partake in exciting outdoor adventures for all ages
If your family is feeling adventurous, Atlanta and its surroundings offer many enjoyable outdoor activities.
Located just 15 miles from downtown Atlanta, the Sweetwater Creek State Park is a favorite for campers. The park comprises 2,500 acres of lush green forests, a boulder-filled creek, a clear, picturesque lake, and gushing waterfalls. As a result, it is frequented by scores of Atlanta residents who enjoy hiking, camping, fishing and simply being outdoors.
For those who like a bit of an ''out-of-the-box'' adventure, the Treetop Quest Dunwoody's aerial adventure park offers an exciting challenge – participants must go from tree to tree through obstacles and zip lines. From beginner courses for kids to Level 4 difficulty that tests your strength and balance, the park lets you challenge yourself just enough to have fun while doing it.
Take a wild ride across the Atlanta Skyline on a Biplane
If camping and treetop trekking is not enough to quench your quest for adventure, a biplane ride could do the trick.
Multiple companies offer biplane rides in Atlanta, taking you over the city in an old-fashioned biplane, sometimes with an open cockpit. You can admire the city from a bird's eye view while distinguishing east from west and see many vital areas such as the downtown, different parks and perhaps even your home from the sky!
Explore the character of the city through its street art
From once being considered a form of vandalism, street art is now a way of self-expression for individuals and cities. Atlanta takes pride in its street art, holding three annual festivals to celebrate its public artists – for a good reason!
The vibrant street art in Atlanta is not limited to downtown Atlanta: instead, bright, eye-catching murals adorn walls and underpasses, crosswalks and buildings across neighborhoods.
Take a stroll along the Atlanta Beltline's Eastside Trail to catch sight of murals from renowned artists like HENSE and Peter Ferrari or go to the Old Fourth Ward for its vivid, trippy murals.
Other sites to explore for street art include:
Midtown
Cabbagetown and Inman Park
Little Five Points
East Atlanta Village
South Downtown and Castleberry Hill
Go underwater with Georgia Aquarium
Go cage diving with terrifying sharks and feed a friendly dolphin at America's largest aquarium. Starting as the first aquarium to house whale sharks outside of Asia, Georgia Aquarium is now home to thousands of species, such as manta rays, dolphins, beluga whales and sharks.
In addition to its role as an attraction, the aquarium focuses on research and conservation efforts to help save endangered marine species through its partnerships with universities.
Feed a panda at Zoo Atlanta
With one of the world's largest collections of marine animals, Atlanta is also home to many land animals. From the African Savanna to the Giant Panda Conservation Center, Zoo Atlanta comprises eight distinct habitats housing hundreds of animal species.
The zoo offers many exciting experiences for children and adults alike. Children can pet farm animals at the petting zoo, get blown away at a magic show, listen to a story or partake in a kid version of a treetop trail. Both children and adults can have face-to-face encounters with animals like a vast Aldabra tortoise, majestic elephant or cuddly panda.

Get your adrenaline pumping at Six Flags
Fly like a bat over Atlanta, soar to extreme heights and scream your lungs out all at Six Flags over Georgia. Opening in the 60s, Six Flags has since added more thrilling rides and roller coasters to make it one of the most exhilarating experiences in the state.
If you're not a thrill-seeker, there is still plenty to do at Six Flags. Hop on one of the family rides, click a picture with your favorite Looney Tunes character, sing along at a concert or explore one of the many other entertaining experiences offered at the park.
Finish your day with a delicious meal at one of the many restaurants at the park and a mandatory visit to the gift shop.
Tantalize your taste buds in a walking food tour
Southern food is associated with warmth and comfort, so what is better than taking a food tour in Atlanta to make it feel like home? Peach cobbler may certainly ''take the cake'' for being the most popular food item from Georgia. Still, there is a lot more on the menu.
You can take a few walking food tours to try delectable food at some of the best restaurants in Atlanta while also learning about the city and its rich history.
Food tour options include:
Atlanta Food Walks' Downtown Southern Food Tour: 15 Southern food tastings, from contemporary barbecue to Creole-style candies, at seven famous restaurants in downtown Atlanta
Inman Park Food Tour: a delicious lesson in Inman Park architecture, history and culture with six food tastings along a 2.5-mile walk
Atlanta Food Walks' Grant Park Past and Future Food Walk: a light discussion on the history and future of food in Atlanta with 12 modern and Southern fusion tastings