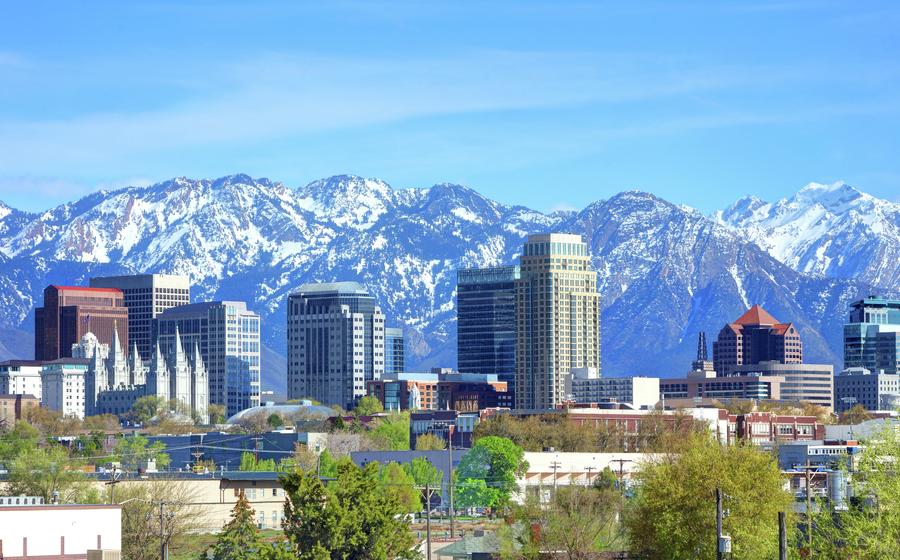 Find Your New Home
in Salt Lake City
Salt Lake City
Salt Lake City is known for world-class ski resorts, the 2002 Winter Olympics and the Sundance Film Festival. It's the capital of Utah and a metropolis near beautiful towns, growing suburbs and outdoor adventure. Salt Lake City is the economic center of Utah, with job opportunities in finance, manufacturing, technology, healthcare and the government. The city's downtown area offers entertainment, fine dining and shopping. Residents can spot free-roaming bison and ski, hike, or bike any day of the week.
In Salt Lake City, LGI Homes has several new home designs and floor plans for families with different styles and needs. Our gorgeous homes have designer upgrades, smart home features, a chef-ready kitchen and curb appeal. Visit our new homes today to discover the LGI difference.
Discover
The Crossroads of the West
Home to the largest salt lake in the Western Hemisphere
The Wasatch Mountains are known for the "Greatest Snow on Earth"
#1 'The Best Large Cities in the United States for Skiers' (UnofficialNetworks, 2019)

#5 Healthiest City in the U.S. (WalletHub, 2023)

#6 'Best Places to Live Near the Mountains in 2023' (Extra Space Storage)
#23 'Best Places to Live in the U.S. in 2022-2023' (U.S. News & World Report)
Large employers include Super Value, Intermountain Healthcare, State of Utah, University of Utah, Smith's Food & Drug, Brigham Young University, Wal-Mart, Hill Air Force Base and EnerBank USA
Frequently Asked Questions
Continue reading for answers to frequently asked questions about our homes, community and the area.
01
What is the homebuying process like with LGI Homes?
At LGI Homes, our homebuying process is simple. We have transparent pricing and all the resources you need under our roof. Homebuyers can move into their new LGI home in 30 to 45 days.
02
Where is Salt Lake City?
Salt Lake City, Utah, or Salt Lake, is in the north-central area of the state near Wyoming and Idaho. The city is near the Great Salt Lake and beautiful smaller towns like Park City, Provo, Ogden, and Evanston.
03
What are the major cities near Salt Lake City?
Salt Lake City is in a great location near many cities worth visiting: Boise (300 miles), Las Vegas (360 miles), Denver (368 miles), Albuquerque (479 miles), Phoenix (663 miles) and San Francisco (752 miles).
04
What significant industries make up Salt Lake City's economy?
Salt Lake City has the largest economy in Utah. The city's economy is diverse, with job opportunities in healthcare, education, technology, finance, manufacturing and government job opportunities.
05
What outdoor activities can families do in Salt Lake City?
Salt Lake City residents live near fantastic outdoor adventures, including world-class ski resorts. Families can enjoy fishing, walking, rock climbing, hiking, biking, skiing and snowboarding in and around Salt Lake.
06
What are some of the most popular attractions in Salt Lake City?
Salt Lake City is the home of the Church of Jesus Christ of Latter-Day Saints (LDS) religion and many other attractions. Temple Square, home of the Salt Lake Temple, gets millions of visitors yearly. Other popular interests include the Natural History Museum of Utah, Red Butte Garden and Arboretum, Big Cottonwood Canyon, Utah State Capitol, Cathedral of the Madeleine and City Creek Center.
07
What's the weather like in Salt Lake City?
Salt Lake City has a semi-arid climate with four distinct seasons. The summers are hot and dry, with average temperatures in the high 80s to low 90s. The winters are cold and snowy, with average temperatures in the 30s to the mid-40s. Spring and fall are mild and pleasant, with temperatures ranging from the 50s to the 70s.
08
When was Salt Lake City established?
Mormon pioneers established Salt Lake City on July 24, 1847. According to VisitSaltLake.com, the City was initially named Great Salt Lake City and was renamed Salt Lake City in 1856.
09
What are a couple of notable things about Salt Lake City, UT?
Salt Lake City is the headquarters of The Church of Jesus Christ of Latter-Day Saints (LDS) and the religion's largest temple. The city is near Salt Lake, the largest saltwater lake in the Western Hemisphere, and world-renowned ski resorts. Salt Lake City also hosted the 2002 Winter Olympics.
10
How does the job market in Salt Lake City compare to other cities?
The job market in Salt Lake City is relatively strong compared to many other cities in the United States. According to the U.S. Bureau of Labor Statistics, as of December 2021, the unemployment rate in the Salt Lake City metropolitan area was 2.4%, significantly lower than the national average of 4.2%.
11
What is a move-in-ready or quick move-in home?
In new home construction, a move-in-ready home is ready for a homeowner. At LGI Homes, every home we sell is move-in-ready and includes designer finishes and upgrades. You can move into your new LGI home in as little as 30 - 45 days.
Our new homes are energy efficient, include a 10-year structural warranty, and exceed construction standards the homebuilding industry sets. In every home, we include designer upgrades and finishes, a chef-ready kitchen, integrated technology and many more popular features at no additional cost for the homebuyer. View our move-in-ready homes in Salt Lake City by scheduling a tour.
12
What is the difference between a new construction home and a resale home?
New construction homes are brand-new; you buy the house from a homebuilder and get the added peace of mind of knowing that the homebuilder's support team is a phone call away. Additionally, when you purchase a new home, you do a final walk-thru, where you can point out issues that may need a fix, including minor things like paint issues or scratches on walls. When you buy a resale house, you purchase a family's old home. Resale homes usually come as they are; minor problems are yours. See more benefits of buying a new home by visiting our Welcome Home Blog.
13
How can I schedule a tour of an LGI community or home?
You can schedule a tour of an LGI neighborhood or home by requesting information on our website or by contacting the community and scheduling a time. Every community has its phone number at the top of the community's webpage. Our neighborhoods are open between 8 A.M. and 8 P.M.
REQUEST INFO