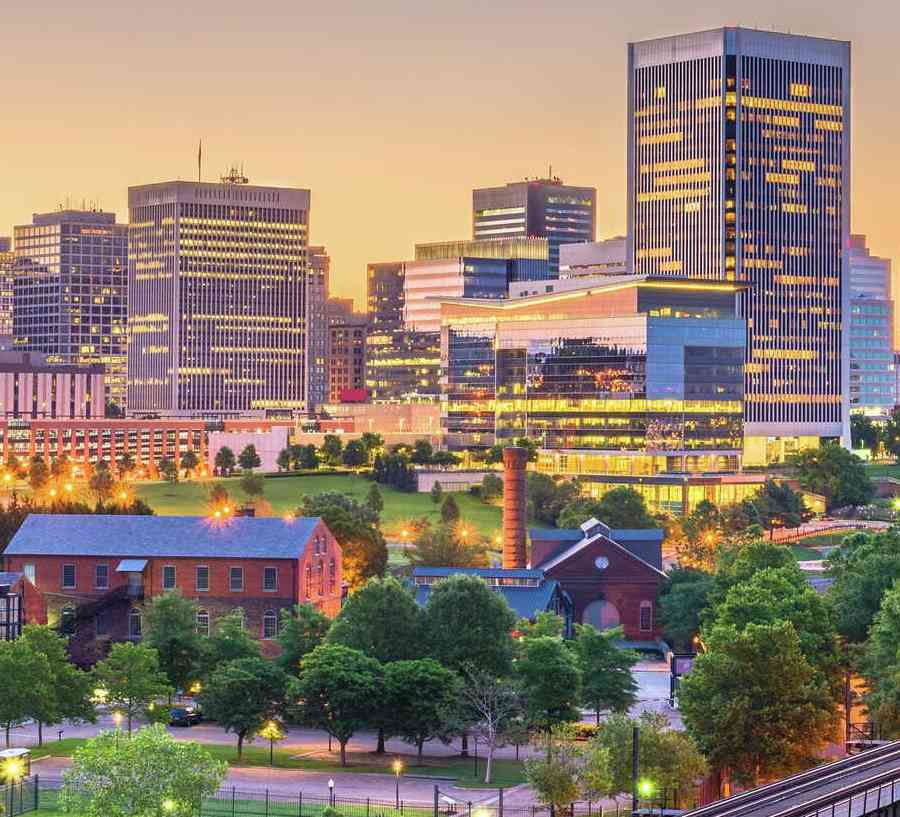 Amenity Rich Homes
In The Growing City of Richmond
Richmond
Wining. Dining. Enjoy the good things in life. Richmond is second to none with dozens of craft breweries, wineries, cideries and hundreds of exceptionally delicious family-run restaurants. Attend regular arts and crafts festivals in this vibrant and growing city with a whole lot of small-town charm. Home to Virginia Commonwealth University and University of Richmond, the energy of Richmond overflows!

In the Richmond area, LGI Homes, single-family communities have homes for families of every size. Located just outside the city, each community has easy access to the freeways. Plus, enjoy a brand-new home with a chef-ready kitchen, stunning master and low monthly payments with LGI Homes as your Richmond homebuilder.
An Exciting Place To Live
#1 'Top 5 Real Estate Investment Markets in Virginia' (Clever, 2022)
#1 'Fastest Growing Real Estate Markets in Virginia (Aceable, 2021)
#7 'The Best Places to Live in Virginia in 2022' (Apartment Guide)
#9 'The Best Places to Live on the East Coast 2021 - 2022' (US News)
Richmond is in the '10 Cities to Watch in 2020' (Worth)
Top employers are Capital One Financial Corp., Virginia Commonwealth University Health System, HCA Virginia Health System, Dominion Virginia Power, SunTrust Banks Inc., Altria Group Inc., Amazon, Wells Fargo, Dupont & Anthem Blue Cross Blue Shield
Top Richmond attractions include Maymont, Virginia Museum of Fine Arts, The American Civil War Museum, Lewis Ginter Botanical Garden, Kings Dominion, Carytown, Richmond Breweries & Virginia State Capitol.
Frequently Asked Questions
Continue reading for answers to frequently asked questions about our homes, community and the area.
01
When was Richmond, VA, established?
Richmond, VA, was established on May 14, 1607, when the English explorer Christopher Newport and his crew arrived at what is now Richmond while exploring the James River.
02
Where is Richmond located in Virginia?
Richmond is in the central part of Virginia, in the eastern region of the United States. It's on the banks of the James River, which flows through the city. Richmond is approximately 100 miles south of Washington, D.C., and about 70 miles west of Virginia Beach.
03
What are some major industries in Richmond?
Richmond's diverse economy has several major industries contributing to its growth and development, including healthcare, knowledge-based services, biotechnology, finance, manufacturing, government and education.
04
What are some high-ranking school districts in Richmond?
According to Niche.com's 2023 rankings of the best school districts in the Richmond, VA area, Goochland County Public Schools earned the #1 spot with Powhatan County Public Schools, Chesterfield County Public Schools, The Henrico County Public Schools and Colonial Heights City Public Schools ranking 2nd, 3rd, 4th and 5th respectively.
05
Are there any family-friendly attractions in Richmond?
Richmond has a variety of attractions that are kid-friendly, educational and fun for families. The Virginia Museum of History and Culture, Lewis Ginter Botanical Garden, G-Force Carts, Black History Museum and Cultural Center, William Byrd Park and The Science Museum of Virginia are a handful of family-friendly attractions in the Richmond area. Additionally, several outdoor activities can be enjoyed, such as kayaking on the James River, visiting one of the city's many parks and The Belle Isle.
06
What is Richmond known for?
Richmond is one of the oldest cities in America and has a long-storied past. Aside from being the capital of Virginia, Richmond was the capital of the Confederacy during the civil war and is home to many historical buildings, impressive cathedrals and churches and landmarks, including the Virginia War Memorial, Hollywood Cemetry and the Fan - an old neighborhood complete with historic homes and mansions from the 19th and 20th centuries.
07
Who are the largest employers in Richmond?
Richmond is home to a diverse range of businesses. Some of the largest employers in the area include VCU Health System, Capital One Financial, HCA Virginia Health System, Bon Secours Richmond, Virginia Commonwealth University, Dominion Energy, Truist, Amazon, Altria Group and Federal Reserve Bank Richmond.
08
What's the weather like in Richmond, Virginia, year-round?
Richmond, Virginia, has a humid subtropical climate characterized by hot, humid summers and mild winters. It doesn't get past 90 degrees (F) in the summer, and winter nights can get as low as 28 degrees (F).
09
What is the average cost of living like in Richmond?
According to the Greater Richmond Partnership's official website, the cost of living in the Greater Richmond area in 2022 was over 3 percent below the national average. Housing costs were around 12 percent lower in Richmond than the national average.
10
What is the population of Richmond, VA?
According to the United States Census Bureau, the estimated population of Richmond, VA, as of 2021, was 226,604. The population has been growing steadily over the past decade, especially in the Greater Richmond Area, which had a 2022 population of 1.128 M. This represented an increase of just under 1% compared to 2021. Richmond is Virginia's fourth most populous city, after Virginia Beach, Norfolk and Chesapeake.
11
What types of homes does LGI Homes offer in Richmond, VA?
LGI Homes offers a variety of new home options with different floor plans and exterior styles in the Richmond area. LGI residences in the Richmond area are one and two-story single-family residences in beautiful new communities. Every home includes designer upgrades, integrated technology and a chef-ready kitchen at no additional cost.
12
How can I schedule a tour of an LGI community or home?
You can schedule a tour of an LGI community or move-in-ready home by using our website to request information or by calling the community you want to visit using their phone number in the top right of every community page.
REQUEST INFO