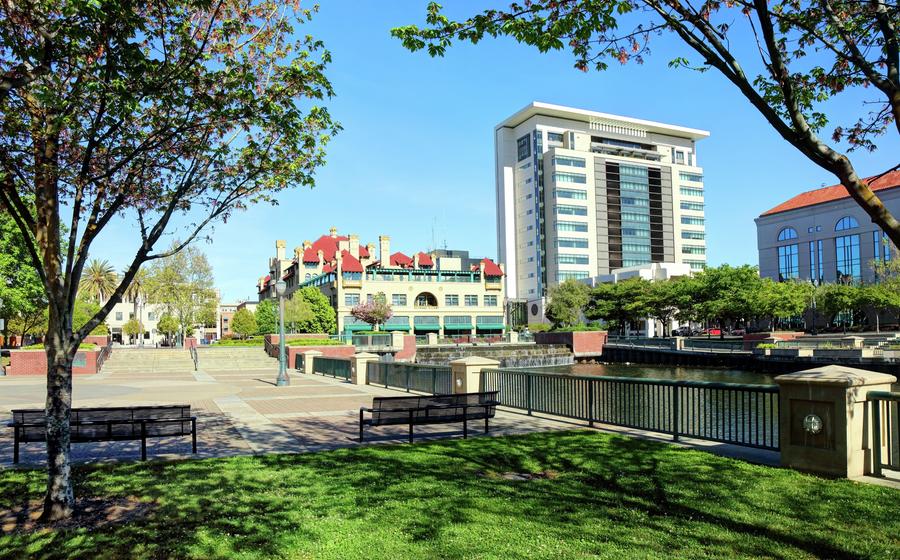 Entertainment Around Every Corner
Find Your New Construction Home in Stockton
Stockton
Ideally located in the heart of California, is the rich, diverse city of Stockton. Stockton is the County Seat of San Joaquin County and is one of California's fastest growing cities. Enjoy a fun-filled day at a popular farmer's market, visit one of the city's top attractions like Haggin Museum or the historic Bob Hope Theatre, or take a boat ride out on the California Delta and enjoy a day of fishing; the options for family fun are endless in Stockton! In addition, one of the many reasons homebuyers flock to Stockton is that it is centrally located between an abundance of great destinations. Sacramento, San Francisco, Yosemite and the popular beaches of Santa Cruz are within driving distance!
Experience adventure and the exciting lifestyle that awaits you in Stockton. LGI Homes offers a variety of new construction homes with spacious layouts and designer upgrades in premier locations. Visit an LGI Homes community today to learn more about our superior-quality craftsmanship and how every new home comes with a host of impressive upgrades, all included at no extra cost to you.
Discover This Waterfront City
#2 '10 Affordable Places to Live in California' (UpNest, 2022)
#5 'California's 11 Most Affordable Places to Live' (California.com, 2021)
#8 '2022's Most Diverse Cities in America' (Niche)
#14 'Fastest Growing Cities in California' (Stacker, 2021)
Top attractions include Haggin Museum, Historic Bob Hope Theatre, Stockton Arena, University of the Pacific, Micke Grove Zoo, Miracle Mile and Banner Island Ballpark.
Top employers include O.G. Packing & Cold Storage Company, University of the Pacific, ApexCare, Herrick and Rabobank N.A.
Major industries include healthcare, agriculture, construction, government, finance, insurance and education.
Frequently Asked Questions
Continue reading for answers to frequently asked questions about our homes, community and the area.
01
Where is Stockton situated in California?
Stockton is situated in the Central Valley of California, roughly 83 miles east of the San Francisco
Bay Area
and 48 miles south of
Sacramento
. Conveniently located along major driving routes, including I-5 and Highway 99, it provides easy access to the bustling Bay Area and the state capital.
02
When was Stockton officially founded?
Stockton was officially incorporated as a city in California in July 1850, receiving its official charter from the State of California in 1851.
03
What is the current population of Stockton?
According to the US Census Bureau, Stockton's population in 2022 was 321,819, with the Stockton metro area containing over 790,000 residents.
04
What are the biggest industries in Stockton?
Stockton's economy thrives on several sectors, including healthcare, with major employers including St. Joseph's Medical Center and Dameron Hospital; agriculture, represented by companies like Hormel Foods and Foster Farms; construction, with new home builders and commercial contractors playing a significant role and transportation and logistics, with Amazon operating a large fulfillment center in the city. Retail, manufacturing, government and finance also play a prominent role in Stockton's economy.
05
How affordable is Stockton compared to other California cities?
Stockton is a more affordable city than San Francisco, Los Angeles, Sacramento and Oakland. According to Rentcafe.com, the cost of living in Stockton is 12% lower than the state average.
06
Is Stockton known for anything?
Stockton is renowned for its vibrant Waterfront District and various waterways; it's the home of the University of the Pacific, California's oldest university (established in 1851). The city has the largest inland port in the country, several impressive museums and entertainment venues. Stockton is the asparagus capital of the world, hosting the annual Asparagus Festival.
07
What's the weather like in Stockton?
Stockton enjoys a Mediterranean climate, characterized by hot, dry summers with average highs in the 90s°F and mild, wet winters with lows in the 40s°F. The city sees plenty of sunshine, with an average of around 260 sunny days per year.
08
Does Stockton have an airport?
Yes, Stockton has an airport, Stockton Metropolitan Airport (SCK), providing regional services. For more extensive domestic and international flights, Oakland International Airport (OAK) and Sacramento International Airport (SMF) are approximately one hour away by car. San Francisco International Airport (SFO) is roughly a 75-minute drive.
09
What outdoor activities and events are available in Stockton?
Stockton is a haven for outdoor enthusiasts, with its parks and nature trails ideal for hiking and biking. The city is a gateway to the San Joaquin Delta, perfect for boating and fishing. Finally, it has several golf courses and sports complexes. Discover more information about the city online at Visit Stockton.
10
Why is it a good time to buy a home in Stockton?
With the city's ongoing growth, increasing home values and the availability of quality homes from builders like LGI Homes, it presents an excellent opportunity for first-time and seasoned buyers to move to Stockton. Unlike a short time ago, you won't have to settle on a home because it is 'available' and you're unlikely to get into a bidding war.
11
Are there any spacious 5-bedroom homes available in Stockton?
As a city, Stockton offers a range of home sizes to meet various family needs, including spacious 5-bedroom homes. LGI Homes have a selection of large family-friendly homes in Stockton. These homes and communities are well-planned, emphasizing comfort, utility, aesthetic appeal and affordability.
12
What features differentiate LGI Homes from other new homes in Stockton?
LGI Homes stands out in Stockton with several differentiating features. We offer move-in-ready 3 to 5-bedroom homes with chef-ready kitchens, upgraded Whirlpool® appliances, designer finishes, solar panels, integrated technology and more included at no extra cost for homebuyers. LGI Homes also provide a 10-year structural warranty for peace of mind and builder-paid closing costs.
13
What financing support is available to purchase an LGI home in Stockton?
You can finance your new home in Stockton with any lender you choose. LGI Homes' preferred lender is familiar with our homes and processes, which can make the procedure more manageable for you. Our preferred lender offers competitive rates and loan options, including FHA and VA home loans. Ask your sales associate about the benefits of financing your home with LGI's preferred lender.
REQUEST INFO