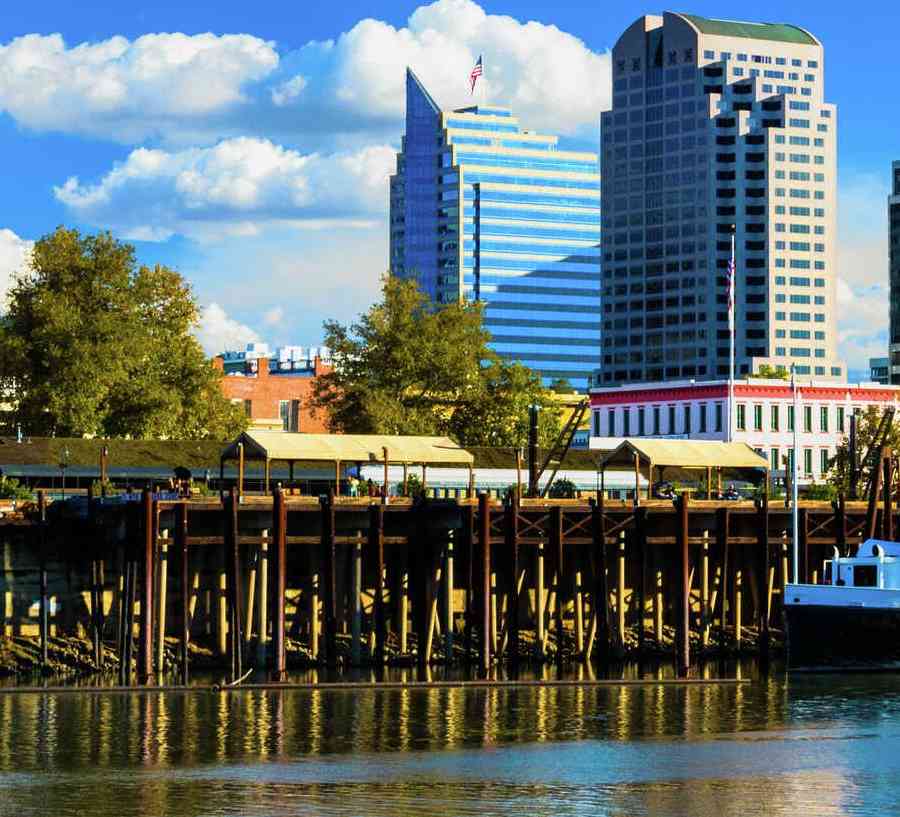 Your Dream Lifestyle Awaits
New Construction Homes Available in Sacramento
Sacramento
Nestled amongst 1.5 million acres of farmland, the capital city of California sits as one of the state's most often forgotten metros. With nicknames, like "Almond Capital of the World" and "America's Farm-to-Fork Capital," Sacramento may sound like a sleepy farm town. But Sacramento boasts so much more, including a diverse population and even an NBA team, the Sacramento Kings. Rich in history, Sacramento is also a center for higher education thanks to California State University and others in the city. The city boasts gorgeous vistas along the Sacramento River, and also sits in an ideal location in the state of California; just 96 miles from the ocean and 117 miles from world-renowned Lake Tahoe.
LGI Homes is building affordable new homes throughout the area in exceptional, amenity-filled neighborhoods. If you want more home for your money, visit us today and tour our models. You're going to love living in a new home with modern features and designer upgrades at no extra cost to you!
Explore the Californian Capital
#2 'Best Places to Retire in California 2022' (World Population Review)
#4 '14 Best Places to Live in California in 2022 - 2023' (US News)
#5 'California's 11 Most Affordable Places to Live' (California.com, 2021)
#7 'Fastest Growing Cities in California' (Stacker, 2021)
20% of the city's 100 square miles of land is covered in trees - sycamores, oaks & elms
Major industries include agriculture, life sciences, research and development, healthcare, clean technology and energy & post-secondary education
Major attractions include California State Railroad Museum, Crocker Art Museum, American River Bicycle Trail, Old Sacramento, Capitol Park & Old Sacramento Waterfront

Frequently Asked Questions
Continue reading for answers to frequently asked questions about our homes, community and the area.
01
Is Sacramento the capital of California?
Yes, Sacramento is the capital city of the U.S. state of California and the county seat and largest city of Sacramento County.
02
Where precisely in the state of California can you find Sacramento?
Sacramento is located where the Sacramento and American Rivers meet, in Northern California's Sacramento Valley, less than 90 miles northeast of San Francisco and the Bay Area on the I-80 W.
03
What year did Sacramento officially gain its city status, and what's its history?
Sacramento is the oldest incorporated city in California, incorporated on February 27, 1850. During the 1850s, the city was consolidated with the County of Sacramento and was named the permanent state capital in the Sacramento Constitutional Convention of 1879.
04
Is Sacramento experiencing population growth, and how does it compare to other California cities?
According to recent U.S. census data, Sacramento is the fastest-growing big city in California, while other cities, such as San Francisco, have experienced a population decline of around 7% since 2020. Sacramento County has a population of 1.6 million, while the Sacramento metropolitan area has an estimated population of 2.4 million.
05
What industries are contributing to Sacramento's population growth?
A vibrant mix of industries bolsters Sacramento's population growth. The real estate sector is a significant growth driver with its robust homebuilding activity. The fast-expanding healthcare sector, numerous educational institutions and the thriving clean energy industry are also contributing substantially.
06
Who are the biggest employers in the Sacramento area?
According to the Employment Development Department (EDD), large employers in the Sacramento region include Sutter Health, Kaiser Permanente and Mercy General Hospital healthcare entities. Tech firm Intel is also a top employer in the area. The California Department of Transportation (Caltrans) and the City of Sacramento contribute significantly to employment, as do educational institutions UC Davis and California State University, Sacramento.
07
What are the usual weather conditions in Sacramento throughout the year?
Sacramento is known for its Mediterranean climate, featuring hot, dry summers and cool, wet winters. Summer temperatures often peak around 93°F in July, while winter lows can reach 40°F in December. The city experiences most of its annual rainfall in January, averaging 24.1 inches during winter.
08
What are some of the best family activities that Sacramento has to offer?
Sacramento has numerous family-friendly activities, including Sacramento Zoo and the California State Railroad Museum. Sacramento also offers abundant outdoor activities, such as biking on the American River Bike Trail, Discovery Park and hiking in the Sierra Nevada foothills. You can view more family-friendly activity ideas at Visit Sacramento.
09
Is Sacramento home to any major league sports teams?
Yes, Sacramento hosts several major league sports teams. The Sacramento Kings of the National Basketball Association (NBA) play at the Golden 1 Center in downtown Sacramento. In addition, the city is home to Sacramento Republic FC, a team in the United Soccer League (USL), which is looking to join Major League Soccer (MLS).
10
Which major cities are within a few hours' drive from Sacramento?
Sacramento is centrally located in California, providing access to several major cities. Within a few hours' drive, you can reach San Francisco, the city of Oakland, and San Jose.
11
How does the cost of living in Sacramento compare to other major American cities?
Salary.com says the cost of living in Sacramento is about 19% higher than the national average. In comparison, the cost of living in San Francisco is 76% higher than the national average, Los Angeles is 48% higher, Seattle is 44% higher and New York City is 126% higher, making Sacramento a more affordable option.
12
How does LGI Homes maintain high-quality standards in their Sacramento properties?
LGI Homes ensure superior quality in its Sacramento properties by implementing building practices exceeding industry standards and using an effective move-in-ready homebuilding process. Our design and construction teams plan every home's start, construction and delivery before the building begins. This streamlined building process allows optimal management of subcontractors and delivery of building materials. This process reduces unknown variables, making it easy for every professional involved in the building process to focus on quality and craftsmanship. Each house has a 10-year structural warranty and other shorter-term warranties for appliances and other add-ons, giving homebuyers added peace of mind.
13
What types of homes does LGI Homes offer in the Sacramento area of California?
LGI Homes offer a diverse range of new homes in the Sacramento area that cater to different needs and budgets. We have single-family detached homes for individuals and families and active adult homes for homebuyers 55 and older. Our active adult homes are one-story homes with open floorplans offering two and three bedrooms. The single-family homes in the Sacramento area are one- and two-story homes with spacious rooms, an open layout, and three, four and five-bedroom floor plans. Every LGI home is move-in-ready and offers the CompleteHome™ or CompleteHome Plus™ package with designer upgrades, chef-ready kitchens and integrated technology at no additional cost to the homebuyer.
14
How can I schedule a tour of an LGI home or community in Sacramento?
Arranging a tour of an LGI Homes property or community in Sacramento is straightforward. Each community has a phone number and a 'request info' button in the top right of the webpage. If you call the community, you can schedule a visit immediately. If you request information, an LGI Homes representative will contact you as soon as possible to answer any questions and assist in setting up a tour that suits your schedule, ensuring a hassle-free and personalized visit to your potential new home.
REQUEST INFO