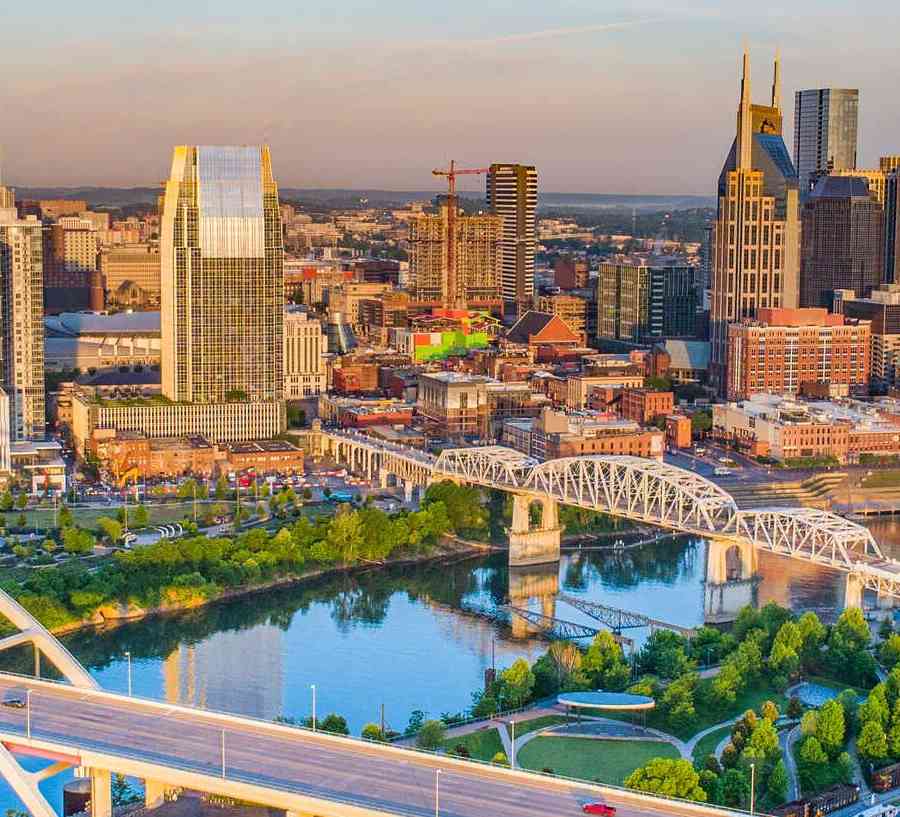 Entertainment Around Every Corner
Find Your New Home in Music City
Nashville
Be at the center of all things country music in Nashville! The so-called "Athens of the South" has over two dozen college and university campuses, including Vanderbilt, DeVry and Belmont. Plus, the presence of large corporations, tourism and the music industry provide considerable local employment. Not to mention, the weather is ideal with warm summers and mild winters.

LGI Homes has affordable new homes for sale in the Nashville area. We have charming communities rich with amenities. Our homes allow for your optimal lifestyle. Choose from innovative home designs with upgraded features, integrated technology, stainless appliances, spacious master retreats and an open floor plan. Don't wait to take advantage of the value in our new homes. View details below, and schedule a visit to view your favorite new home.
More Than Just Music
#1 'The 22 Best Places to Retire in the U.S. in 2022' (RBN)
#4 'The 50 Best U.S. Cities for Starting a Business in 2020' (Inc.)
#5 'The Top U.S. Cities for Job Seekers in 2021' (moneygeek)
#6 'Best Cities for Real Estate in 2022' (SpaceWise)
Major attractions include Grand Ole Opry, Country Music Hall of Fame and Museum, Ryman Auditorium & Centennial Park
Major industries include health care management, automobile production, finance, education, insurance and music production
Excellent higher-level education thanks to Vanderbilt University, Belmont University, Lipscomb University & Tennessee State University
Frequently Asked Questions
Continue reading for answers to frequently asked questions about our homes, community and the area.
01
Where is Nashville located in Tennessee?
Nashville is in the heart of Tennessee. It's in the northcentral part of the state along the Cumberland River.
02
When did Nashville become a city?
Nashville was incorporated as a city in 1806, twenty-seven years after its founding (1779). Nashville was named in honor of Francis Nash, an American general of the Continental Army during the Revolutionary War.
03
Is Nashville a fast-growing city?
Nashville's population is estimated to be 715,913 as of 2022, growing at an annual rate of 1.25%. It has grown by 3.84% since the 2020 census. The Nashville Metropolitan area is among the fastest-growing regions in the United States.
04
What is the weather like in Nashville year-round?
Temperatures in Nashville typically vary from 31°F to 90°F. They rarely fall below 16°F, and it doesn't usually get hotter than 96°F, according to WeatherSpark.com.
05
What outdoor activities are available in Nashville?
Nashville is a great city to explore outdoors. You can hike on the city's many trails or rent a boat or kayak to explore the rivers and lakes. The best outdoor activities include The Natchez Trace Parkway, Cumberland Park, Long Hunter State Park, Zipline Forest at Nashville North, The Warner Parks and Radnor Lake.
06
What's the cost of living like in Nashville compared to other cities?
Nashville, Tennessee has a relatively low cost of living compared to other major cities in the United States. According to PayScale.com, the cost of living in Nashville is 2% lower than the national average; it's 45.4% lower than in San Francisco. Keep in mind that the cost of living in cities can change over time, be sure to research on your own before making a purchase decision.
07
What major attractions are in Nashville?
Nashville is home to a plethora of attractions for visitors and locals alike. From music, art, and history to delicious cuisine and local festivals, there's something for everyone in this vibrant city.
08
Who are the largest employers in Nashville?
Some major employers are Vanderbilt University and Medical Center, HCA Healthcare, Nissan North America, Bridgestone Americas Headquarters and Amazon.
09
What large cities are close to Nashville, Tennessee?
Nashville is in the middle of the eastern United States. According to travelmath, Louisville (155 miles), Lexington-Fayette (182 miles), Birmingham (183 miles), Memphis (195 miles), Atlanta (214 miles), Indianapolis (252 miles), Saint Louis (256 miles) and Columbus (337 miles) are near Nashville.
10
Why are LGI homes built to superior quality standards?
We design and build new construction homes efficiently because of our move-in-ready model. We build homes with high-quality materials and include finishes and appliances from top-tier vendors. Our homes come with a 10-year structural warranty and exceed the home building industry's standards.
11
What kind of homes does LGI Homes offer in Nashville?
LGI Homes offers various one and two-story new homes for sale in the Nashville, TN area. There are attached two-story residences and detached single-family residences. Every community offers multiple floor plans for homebuyers with different budgets and family sizes. Every home is move-in-ready and complete with designer upgrades at no additional cost.
12
What financing options are available for LGI Homes in Nashville, TN?
Homebuyers can use any lender they choose. Our preferred lender provides financing options similar to other mortgage lenders. Depending on the homebuyers' specific situation and eligibility, our preferred lender can help with an FHA loan, VA Loan, USDA loan, Conventional Loan or any other loan type. Speak directly with one of our LGI Homes sales representatives to learn more about the benefits of obtaining new home financing with our preferred lender.
13
How can I schedule a tour of an LGI community or home?
You can schedule a tour of an LGI Homes neighborhood and new homes by requesting more information online or calling the community you want to visit. Each community has its phone number and a request information button towards the top of the page. An LGI Homes associate will help you schedule a visit that fits your schedule.
REQUEST INFO