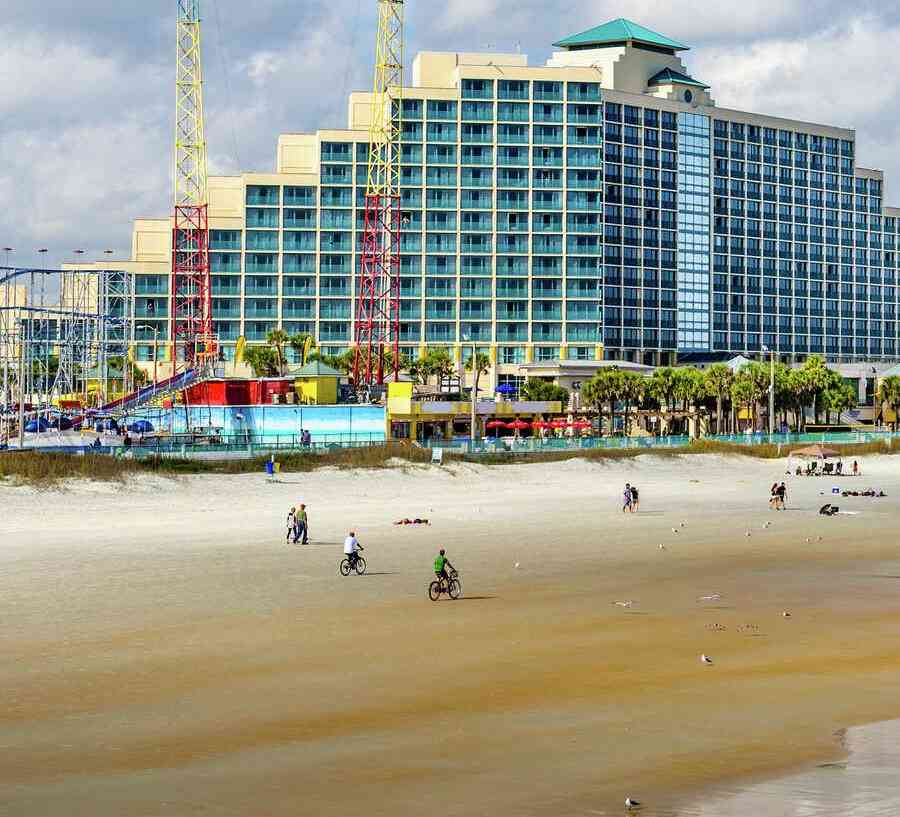 Excitement Around Every Corner
New Homes for Sale in Daytona Beach
Daytona Beach
The Daytona 500, countless antique markets, great weather all year AND no state income tax? Add more than 20 miles of world-class beaches, and you found yourself a home, right here in Daytona Beach. Walk the charming boardwalk by day, choose your dining experience and check out one of the performing arts centers for your evening's entertainment. For your active lifestyle, there's always something to do in Daytona Beach!
LGI Homes provide a luxurious place for all that life offers at an affordable price. Enjoy your new chef-ready kitchen and
fully appointed home
by making LGI Homes your Daytona Beach homebuilder.
Don't miss your opportunity to fulfill your dream lifestyle with LGI Homes by scheduling an online tour.
A Fantastic Place To Call Home
#3 'Best Places to Retire in the U.S. in 2021-2022' (US News)
#7 'The 25 Fastest-Growing Places in the U.S.' (US News, 2021)
#11 'Best Places to Live in Florida in 2022' (Ramsey Solutions)
#15 'Safest Places to Live in the U.S. in 2021-2022' (US News)

23-miles of sandy beaches along the Atlantic coast

Top attractions include Daytona International Speedway, Daytona Lagoon, Daytona Boardwalk Amusements, Museum of Arts & Sciences, Tomoka State Park, Daytona Beach Main Street Pier and The Casements.
Frequently Asked Questions
Continue reading for answers to frequently asked questions about our homes, community and the area.
01
What coast is Daytona Beach near?
Daytona Beach is in Volusia County, Florida, along the state's east coast and the Atlantic Ocean.
02
Does Daytona Beach have a port?
Although Daytona Beach does not have a large commercial port, it does have a small marina, several boat ramps and docks. These provide recreational boaters access to the Intracoastal Waterway and the Atlantic Ocean. Several fishing charters and boat rental companies operate in the area, allowing residents to explore the coast and enjoy maritime recreation around Daytona Beach.
03
What is Daytona Beach known for?
Daytona Beach is known for its 23-mile-long beach. Visitors can enjoy numerous recreational activities and drive along the Atlantic shore on pristine hard-packed sand. It's well-known for hosting numerous motorsports held annually, including the Daytona 500 NASCAR race and LGPA events.

As one of the best places to live in Florida, Daytona Beach offers countless festivals, entertainment venues, recreational opportunities and a vibrant nightlife. At the same time, it is a premier spring break location for college students from all over the country.
04
Is Daytona Beach one of the best places to live in Florida?
According to numerous magazines and online publications, Daytona Beach is one of the most attractive places in the nation. U.S. News & World Report ranks the city as the 3rd best place to retire in America and the 7th fastest-growing area. Daytona Beach ranks very high on Best Places to Live in Florida, with many attractions, conveniences, amenities and no state income tax.
The resort city offers innumerable recreation and entertainment opportunities for seniors looking to retire, contributing to an active yet leisurely retirement.
05
Is Daytona Beach a safe place to live?
Recently, U.S. News & World Report ranked Daytona Beach as the 9th safest city in the country in its publication of the 25 safest cities in America.
06
Why is Daytona Beach well-known?
Daytona Beach is well-known for its east-central location in Florida, beautiful weather, premium amenities and venues. With an excellent urban infrastructure and captivating scenery, the place is one of the most popular entertainment and recreation hubs in the United States.
07
Does Daytona Beach have new homes for sale from the $300s?
LGI Homes offers new properties in the Daytona Beach area priced from the $300s. Our homes are move-in-ready and include designer upgrades, integrated technology and gorgeous exteriors. Homebuyers can choose from an attractive catalog of ranch-style homes with lovely front-yard landscaping and open-concept floor plans. Our floor plans are spacious, with square footage ranging from 1,270 - 1,984, two-car garages and up to five bedrooms. Remember to ask about builder-paid closing costs.
08
Who are the largest employers in Daytona Beach?
With a strong and bustling economy, Daytona Beach attracts numerous large companies. The area also relies on excellent infrastructure, employing thousands of residents to keep the city up and running.

The largest employers in Daytona Beach include the Volusia County School District, Halifax Health, Brown & Brown, Advent Health Daytona Beach, International Speedway Corporation, the Daytona Beach International Airport and Volusia County. Other large employers include Embry-Ridge Aeronautical University, Daytona State College, Bethune Cookman University and the City of Daytona Beach, Florida.
09
What are large cities near Daytona Beach?
Daytona Beach is located in east-central Florida near several big cities. According to TravelMath.com, Daytona Beach is 51 miles from Orlando, 86 miles from J
acksonville
, 123 miles from
Tampa
, 140 miles from Saint Petersburg, 187 miles from Sarasota and 244 miles from Miami. If you're looking to leave Florida,
Atlanta
is 373 miles away, and Charlotte is 416 miles from Daytona Beach.
10
What are the biggest industries in Daytona Beach?
According to Livability, the Greater Daytona area's key industries include life sciences, boat building, food production, technology, advanced manufacturing, professional services, insurance and healthcare.
11
What companies have headquarters in the Daytona Beach area?
The Daytona Beach area is the headquarters of several large companies and organizations, including NASCAR, the Ladies Profesional Golf Association (LPGA), Florida Health Care Plans, Ventra Health, Boston Whaler, Kingspan, Teledyne Marine, Topbuild and Synergy Billing.
REQUEST INFO