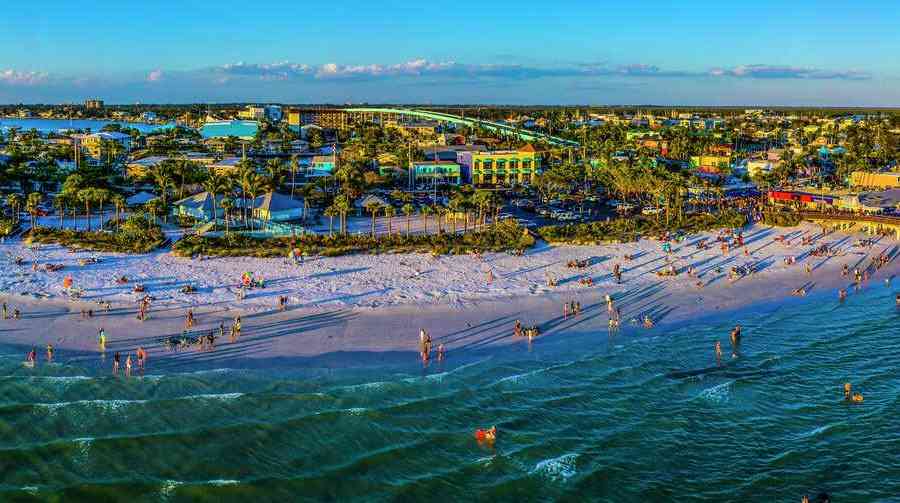 Something for Everyone
Find Your New Construction Home in Fort Myers
Fort Myers
Fort Myers is the place for everyone from growing families, working professionals, and retirees. Love the beach? Enjoy the area's many beaches year-round thanks to fantastic weather that averages 74 degrees. Plus, there's no state income tax! It's no wonder that Fort Myers consistently ranks as a top destination to live in across numerous publications every year.

When teaming up with LGI Homes, you get the perfect house to call home while you write the next chapter of your life. Choose from an array of affordable homes with three, four, and five bedrooms. You're going to enjoy your chef-ready kitchen, modern fixtures and amenities, and low monthly payments. Finally, rest assured with our 10-year structural warranty.
Always Something To Do
#1 'Fastest-Growing Cities in America' (WalletHub, 2020)
#7 'Best Places to Live in Florida in 2022' (Ramsey Solutions)
#7 'Best Places to Retire in the U.S. in 2021-2022' (US News)
#8 'Safest Places to Live in the U.S. in 2021-2011' (US News)
Fun festivals and events like the Craft Beer and Music Festival, Southwest Florida Music Festival and Artfest Fort Myers
Top industries include retail, healthcare, education and government employment
Residents and visitors alike love to go to the J.N. "Ding" Darling National Wildlife Refuge, Manatee Park, IMAG History and Science Center, and Florida Panther National Wildlife Refuge, to name a few
Frequently Asked Questions
Continue reading for answers to frequently asked questions about our homes, community and the area.
01
What cities have new construction homes near Fort Myers?
Fort Myers has several cities where homebuyers can find new construction homes. Along with Fort Myers, LGI Homes has new home communities in surrounding areas such as Cape Coral and Sarasota.
02
Are there job opportunities in Fort Myers?
The Fort Myers area is located near several cities and has recently enjoyed growth in its labor force. In a Department of Economic Opportunity
news release from March 2022
, Governor Desantis announced that Southwest Florida's labor force increased by more than 24,000 year-over-year (January to January). The news release mentioned that F
ort Myers' labor force grew by 15,850
, representing just over 64% of the area's growth.
03
Is public transportation available in Fort Myers?
LeeTran provides Fort Myers residents with public transportation. There are bus routes throughout the city. The bus is available Monday thru Saturday from 5 AM until 9:45 PM;
view maps and schedules
.
04
When was Fort Myers founded?
According to Wikipedia, Fort Myers was officially founded in February 1866 by Captain Manuel A. Gonzalez after the civil war. After further growth in the late 19th century, the small town of Fort Myers was incorporated in August 1885. At the time, the city had around 350 residents and was the second-largest town on Florida's Gulf Coast.
05
Is Fort Myers a safe place to live?
The Fort Myers area and many surrounding cities are some of the safest places in Florida and the country. U.S. News and World Report ranked Fort Myers #3 and nearby Naples #1 in their recent publication titled '25 Safest Places to Live in the U.S. in 2022 - 2023.' Florida cities earned eight rankings in the report's top 10 safest cities, with
Tampa
at #6, Sarasota at #7,
Daytona Beach
at #9 and Ocala at #10.
06
What are some popular attractions in the Fort Myers area?
Fort Myers is the gateway to Southwest Florida and a major tourist destination. Located between Naples and Sarasota, it provides access to a pristine shoreline with attractive retreats and eclectic venues.
Fort Myers is home to numerous cultural attractions and educational facilities. Fort Myers Beach, Edison and Ford Winter Estates, Times Square, Fort Myers River District, Fort Myers Beach Pier, J.N. Ding Darling National Wildlife Refuge, Six Mile Cypress Slough Preserve, Manatee Park, Calusa Nature Center and Planetarium, IMAG History & Science Center and the Barbara B. Mann Performing Arts Hall are some of the most popular places to visit in Fort Myers.
07
What are the major cities near Fort Myers?
Fort Myers is on Florida's gulf coast in southwestern Florida, conveniently located near several major cities. According to Travel Math, if you're traveling by car, Fort Myers is 111 miles from Saint Petersburg, 126 miles from Tampa, 156 miles from Miami and 157 miles from
Orlando
.
08
What county is Fort Myers located in?
Fort Myers is located in Lee County, Florida, where it is the administrative and commercial center of the county.
09
What kind of climate does Fort Myers have?
Fort Myers has a subtropical or tropical savanna climate with warm temperatures, high humidity, clouds and abundant rainfall. In the summer, temperatures typically reach the high 80s and low 90s (Fahrenheit). In contrast, winter temperatures are generally mild, with daytime highs in the mid to upper 70s and nighttime lows in the low 60s to mid-50s. Weather Spark mentions that temperatures rarely drop below 42° F in the winter; the summers rarely have temperatures above 94° F.

Fort Myers has less rainfall and clouds during the winter. Some tropical storms and hurricanes affect the coast during late summer and early fall, though presenting much less severe than those on the East Coast.
10
What are the major industries in Fort Myers?
Fort Myers attracts millions of visitors annually, giving life to a bustling tourism sector with hundreds of hospitality venues. Aside from hospitality and tourism, Fort Myers has a diverse economy. Some more significant industries include retail trade, healthcare, construction, education, professional services, finance and manufacturing.
REQUEST INFO