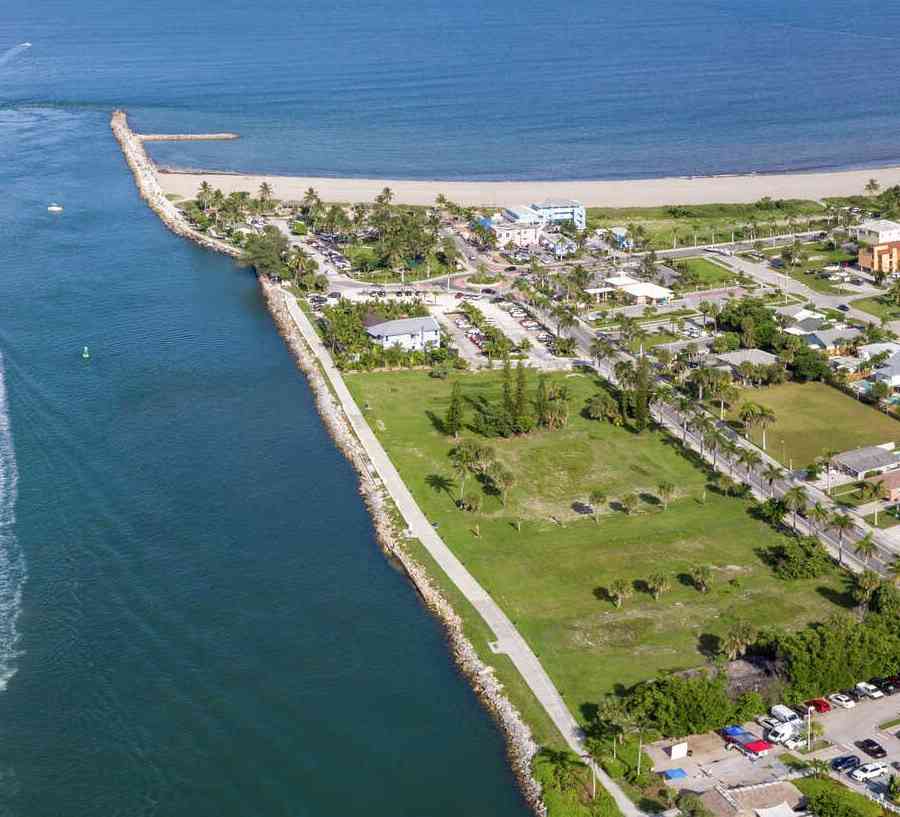 Discover the Treasure Coast
Find Your New Construction Home in Fort Pierce
Fort Pierce
Welcome to the premier small, oceanside town in the United States. With a total population of about 45,000, you'll discover a vibrant community with a laid-back lifestyle in Fort Pierce. Then, take in the breath-taking ocean views in the perfect weather all year. And remember, no state income tax in Florida!
Sitting on the Central Atlantic Coast between Melbourne and West Palm Beach, you could be living in your brand-new luxury Fort Pierce home in 30-45 days. In the Fort Pierce area, LGI Homes has charming neighborhoods with spacious, open-concept floor plans and affordable new homes. Each home has
energy-efficient appliances
, designer finishes and
integrated technology
, all for no extra cost!
Discover Fort Pierce
#10 'Most Affordable Beach Towns' (SmartAsset, 2021)
#20 'Most Beautiful Main Streets in America' (Reader's Digest, 2021)
Leading industries include education, healthcare, and medical supplies
Leading attractions include The National Navy SEAL Museum, Ft Pierce Inlet State Park and Manatee Observation and Education Center
Part of "Treasure Coast," named for a famous Spanish fleet of ships which sank off the coast in 1715 carrying riches
Frequently Asked Questions
Continue reading for answers to frequently asked questions about our homes, community and the area.
01
What big cities are near Fort Pierce, FL?
According to travelmath, Fort Peirce is near six (6) U.S. cities with a population of more than 200,000. Orlando (99 miles), Hialeah (110 miles), Miami (117 miles), Tampa (135 miles), St. Petersburg (144 miles) and Jacksonville (215 miles).
02
Where is Fort Pierce, FL?
Fort Pierce is on the Atlantic Coast on the eastern side of Florida. The city is part of the Treasure coast region of Florida.
03
How much are the closing costs on LGI Homes in Fort Pierce?
Closing costs typically range from 2 - 5% on new construction homes. Your expenses will depend on your purchase price and your lender's fees. We offer builder-paid closing costs if you purchase an LGI home in Fort Pierce and use our preferred lender.
04
What is it like to live in Fort Pierce?
Fort Pierce is a small city on the Eastern shore of Florida with 48,000 residents. Known as Sunrise City, Fort Pierce is a world-renowned destination for outdoor fun and exploration of nature and wilderness. The city provides an active outdoor lifestyle and has several attractions and entertainment venues. Residents of Fort Pierce enjoy sandy beaches, endless scenic waterfronts, numerous parks, nearby farms and vineyards.
05
Does Fort Pierce have modern conveniences?
Big-city conveniences surround Fort Pierce. The city is known as a quaint fishing village, but it has a lot to offer residents. Apart from captivating outdoors, the city is home to farmers' markets, excellent educational facilities and a vibrant cultural scene. Downtown, locals get to enjoy charming venues for entertainment, dining and shopping. The historic Sunrise theatre hosts frequent live performances of local bands, comedians, opera, ballet and popular music genres.
06
How is the climate in Fort Pierce?
Florida is famous for its appealing weather, which varies between 51° F and 95° F (10.5° C - 35° C). The area around Fort Pierce provides a humid subtropical climate with dry and warm winters and hot, humid summers ideal for outdoor exploration and beach fun.
07
What County is Fort Pierce, Florida in?
Fort Pierce is in St. Lucie County, FL. The city is the county seat of St. Lucie.
08
Does LGI Homes have move-in-ready homes in Fort Pierce?
LGI Homes has multiple move-in-ready homes for sale in Fort Pierce. Every LGI home is move-in-ready, complete with a chef-ready kitchen, upgraded flooring, integrated technology and many more designer upgrades and finishes.
REQUEST INFO