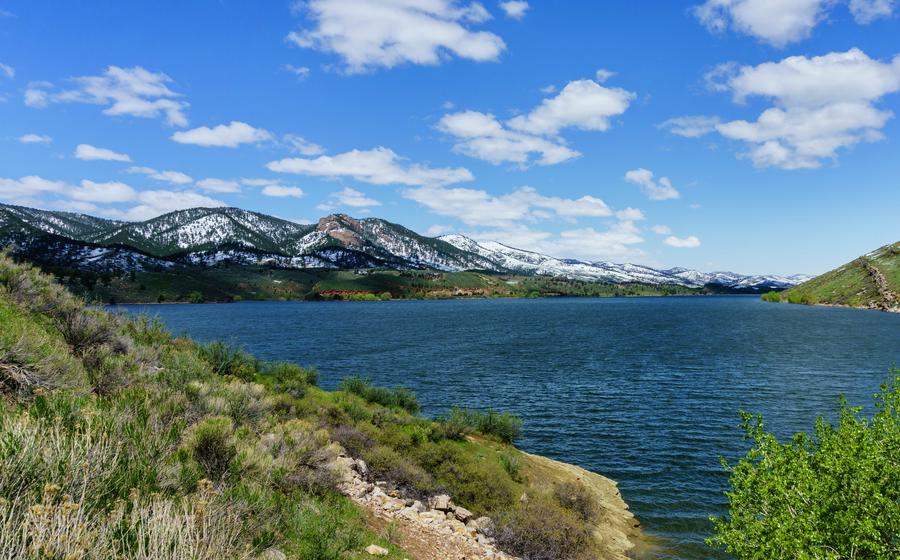 Something for Everyone
New Homes Available in Fort Collins
Fort Collins
Are you looking for a new home in Fort Collins? A city surrounded by picturesque outdoor spaces, fantastic recreational opportunities and historic districts with elegant architecture from the 1800s. Fort Collins is home to Colorado State University, the region's most educated workforce and has a dynamic and versatile economy with opportunities in various industries.

LGI Homes has gorgeous one and two-story single-family new homes in Fort Collins with open-concept floor plans, designer upgrades and stunning curb appeal. Our focus on building energy-efficient and stylish move-in-ready homes is why we're confident you'll discover the perfect home for you and your family. Schedule your visit to view our Fort Collins area homes today.

The Perfect Place to Call Home
#1 '2020 Top 100 Best Places to Live in America' (Livability)
#1 'Best Places to Live in Colorado in 2023' (Forbes)
#1 '5 Best Cities for Families in Colorado' (Livability, 2022)
#3 'The '10 Best Cities to Live in Colorado' (Rocket Homes, 2022)
#6 'The '15 Best U.S. Cities for Outdoor Enthusiasts' (Landing, 2022)
#10 '16 Most Picturesque Towns in Colorado for 2023' (Tips to Discover)
Frequently Asked Questions
Continue reading for answers to frequently asked questions about our homes, community and the area.
01
How far is Fort Collins from Denver and Colorado Springs?
According to Google Maps, Fort Collins is 63.3 miles from Denver, 1 hour and 8 minutes by car, and 133 miles, or 2 hours and 6 minutes by car, from Colorado Springs.
02
What is Fort Collins' nickname?
The most common nickname for Fort Collins, CO, is Choice City.
03
What county is Fort Collins, CO in?
Fort Collins is part of Larimer County. It is the county seat and the most populated city in Larimer County.
04
When was Fort Collins established as a city?
After being a military fort, Camp Collins, since 1864, Fort Collins was officially incorporated as a town in 1873, according to the City of Fort Collins website, fcgov.com.
05
What are some major attractions in the Fort Collins, Colorado area?
Some of the top places to visit in the Fort Collins area are Fort Collins Museum of Discover, Odell Brewing Company, Totally 80's Pizza & Museum, CSU Annual Flower Trial Gardens, Fort Fun, Coyote Ridge Natural Area, New Belgium Brewing Company, Downtown Fort Collins (aka Old Town Fort Collins), Fort Collins Trolley, Horsetooth Mountain Open Space and Majestic Mountains Scenic Rides.
06
What well-known outdoor areas are near Fort Collins, CO?
Fort Collins is near Rocky Mountain National Park, Horsetook Reservoir, Gardens on Spring Creek, Jessup Farm Artisan Village, Feisty, Barr Lake State Park, Arapaho National Forest and Lory State Park.
07
What is an impressive fact about Fort Collins that homebuyers moving to the area will learn?
According to the Chamber of Commerce, the Fort Collins area is home to the region's 'largest and most educated workforce.'
08
What industries are significant to the economy of Fort Collins, CO?
Fort Collins is known for the city's innovation and entrepreneurship; critical industries are clean energy, water, bioscience, hardware & technology, education, manufacturing, government, healthcare and creative industries.
09
Who are the largest private employers in Fort Collins, CO?
Some of the largest private employers in the Fort Collins area include UCHealth, Otterbox, Woodward, Broadcom, Employment Solutions Personnel Services, Anheuser-Busch, Madwire, New Belgium Brewing Co. and Tolmar.
10
What large cities are near Fort Collins, CO?
Populous cities near Fort Collins include Denver (59 miles), Aurora (61 miles), Colorado Springs (122 miles), Albuquerque (389 miles), Omaha (482 miles), Lubbock (513 miles) and Oklahoma City (532 miles).
11
Does LGI Homes build new construction homes in the Fort Collins area?
Yes, LGI Homes builds one and two-story single-family homes in the Fort Collins area with quick move-in homes available. Every LGI home in the Fort Collins area includes designer upgrades inside and out at no extra cost to the buyer, integrated technology and a 10-year structural warranty.
12
Why are new construction homes by LGI Homes more affordable than new homes from other Fort Collins home builders?
LGI Homes is the leader in affordable new homes. Our entire construction, design and sales processes are consistently optimized and refined to help us deliver affordable homes for families. These are why our homes are usually less expensive than other home builders and offer unparalleled value.
REQUEST INFO