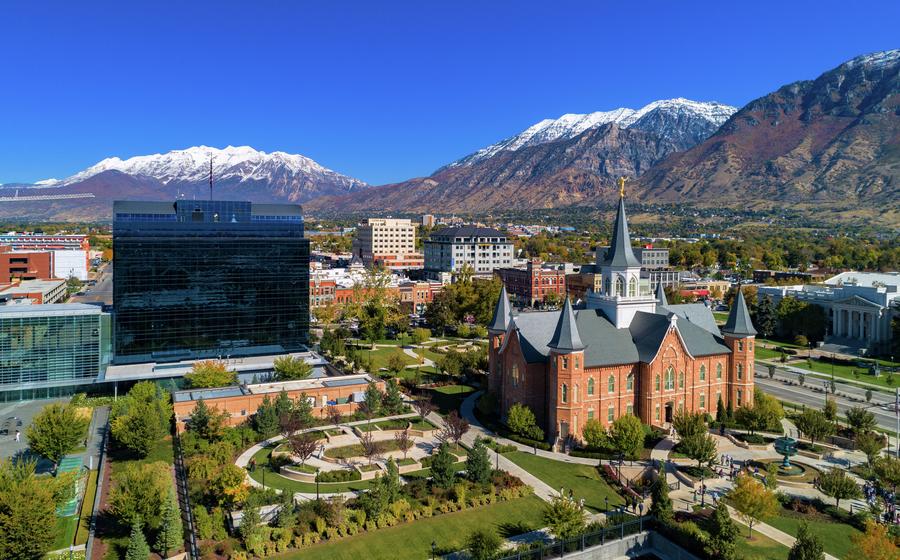 A Scenic Place to Call Home
New Construction Homes in Provo
Provo
Welcome to Provo, where a thriving economy, a family-oriented ambiance and many outdoor activities intertwine. Nestled between Utah Lake and the Wasatch Mountains, Provo is an epicenter of technology and academic excellence. Whether a hiking enthusiast, an avid biker or a skiing aficionado, Provo can satiate your adventurous spirit. The city offers abundant opportunities for anyone aspiring to shape a prosperous future in the Mountain West.
If you're looking for affordable new homes in Provo, short-list LGI Homes. We have several open-concept floor plans for buyers with spacious rooms, chef-ready kitchens, integrated technology and designer upgrades included at no extra cost. Take advantage of this opportunity to be a homeowner in Provo by scheduling your visit online today.
Your New Home Awaits
#1 'Best-Performing Cities 2023' (Milken Institute)
#1 'The 5 Best Places to Buy a Rental Property in Utah' (Home Bay, 2023)
#2 'The Top 20 Happiest Cities in the U.S.' (HouseFresh, 2023)
#3 'Affordable Places to Live in Utah' (Zumper, 2023)
#3 'The 15 Least Stressed Cities in America' (Rocket Homes, 2023)
#6 'The Best Cities in the United States for Startups and Entrepreneurs 2023' (crowdspring)
#8 '10 Best Cities to Retire in Utah in 2023' (Retirable)
#16 '25 Best College Towns and Cities in the U.S.' (Travel + Leisure, 2023)
Frequently Asked Questions
Continue reading for answers to frequently asked questions about our homes, community and the area.
01
When was Provo, Utah founded?
According to APNews.com, Provo became the first city in Utah County on April 1, 1849.
02
Is the city of Provo a good place to live?
According to many websites and platforms focused on ranking American cities, Provo is an excellent place to live. Provo has a strong economy and is one of the most affordable cities in Utah. It's in a great location, surrounded by outdoor beauty and adventure, and has a downtown area with shopping, dining and amenities. In 2020, Provo earned recognition as one of the ten best places to live in Utah, according to Neighbor.com.
03
What county is Provo part of?
The city of Provo is in Utah County; it's the largest city in the county.
04
How far is Utah Lake from the city of Provo?
Provo sits on the eastern bank of Utah Lake. The city is less than 8 miles from the lake.
05
What is the Wasatch Front?
The Wasatch Front is an area in north-central Utah on the west side of the Wasatch Mountains. The region runs north to south and is home to most of Utah's population. The Wasatch Front includes cities from Utah Valley, Ogden Valley, Salt Lake Valley and Juab County.
06
What family-friendly attractions are in and around Provo?
Some family-friendly attractions in the Provo area include Bridal Veil Falls, Monte L. Bean Life Science Museum, Seven Peaks Water Park, BYU Museum of Art, The Peaks Ice Arena, Provo Canyon, Rock Canyon, The Soap Factory, Utah Lake State Park, BYU Museum of Paleontology, Hiking the Y and Alpine Loop.
07
Why is Provo also known as the 'Garden City?'
Provo earned its Garden City nickname in the nineteenth century because of its vast gardens, trees and fruit orchards.
08
What large cities are near Provo?
According to travelmath, large cities with a population of more than 200,000 near Provo include Boise, Idaho (335 miles), Las Vegas, Nevada (336 miles), Henderson, Nevada (339 miles), Paradise, Nevada (340 miles), Denver, Colorado (353 miles), Aurora, Colorado (362 miles), Colorado Springs, Colorado (373 miles) and Albuquerque, New Mexico (443 miles).
09
What industries contribute the most to Provo's economy?
A large portion of Provo's economy has high technology, software development, healthcare, education, manufacturing, retail and biotech companies.
10
What large companies and organizations are in Provo?
Some of the largest companies and organizations in Provo include Brigham Young University (BYU), APX Group, Vivint, Nu Skin Enterprises, Aptive Environmental, Qualtirics, Ancestry, Riverview Healthcare Inc, Host Monster, Redstone Residential, CircusTrix, Caliber Smart, Ion Solar, Utah Valley Region Medical Center and DishOne.
11
Is the city of Provo part of the Silicon Slopes area?
Yes, Provo is among many cities in Utah along the Wasatch Front, with a high concentration of companies and startups in information technology, research, hardware manufacturing and software development.
12
Is there public transportation available in Provo?
Provo has one train line and bus options for public transportation. Buses are the most popular and have routes that take commuters throughout the city. The Utah Valley Express (UVX) bus line connects Utah Valley to BYU. The UVX is a free bus line for students, but the general public can also use the UVX. The UTA Frontrunner is a train line connecting north Provo to the Salt Lake City area.
13
How long does it take to get to Salt Lake City from Provo?
Provo is about 43 miles south of Salt Lake City; it takes about an hour to get to Salt Lake City from Provo.
14
What is the weather like in Provo, Utah?
Provo has four distinct seasons. Weather Spark states that temperatures in Provo typically ranges from lows of 20 degrees Fahrenheit to highs of 90 degrees Fahrenheit. The average daily highs in the summer are 79 degrees Fahrenheit, and the average daily highs in the winter are below 45 degrees Fahrenheit.
15
What are the closing costs associated with buying a home in Provo?
Closing costs are one-time expenses associated with finalizing the purchase of a home and obtaining a mortgage. Closing costs are not paid to the home builder and are in addition to the home's purchase price. Some examples of closing costs include notary fees, appraisal fees, homeowner's insurance and property taxes. Visit our Welcome Home Blog to learn more about closing costs.
REQUEST INFO