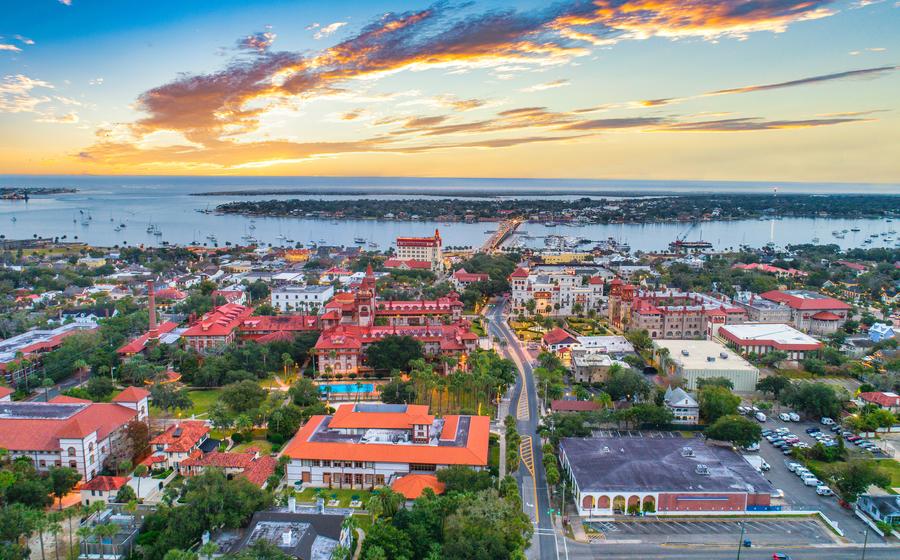 Rich in History and Entertainment
Find Your New Home in St. Augustine
St. Augustine
Endless entertainment, miles of beaches and rich area history are just a few impressive highlights that set St. Augustine apart. The city's incredible historic background of being the oldest continuously occupied settlement in the U.S. prompted more than 60 historic sites and attractions to emerge over the years. Offering over 40 miles of gorgeous beaches, surfing, kayaking, boogie boarding and fishing are always just minutes away. Zoned to the number one school district in the state of Florida, St. Augustine is also home to Flagler College, which was ranked #4 in U.S. News & World Report's 2022 Best Regional Colleges in the South.

Your desire for more space in a brand-new home with luxury finishes comes at an incredible value when living near the white-sand beaches of St. Augustine. Designed with stunning upgrades included, these move-in ready homes are spacious enough for growing families. Homebuyers looking for a simplified process will feel confident when taking this next step with LGI Homes.
A Historic Place to Call Home
The oldest city in the U.S., founded in September, 1565

#1 'The 16 Most Charming Towns in Florida' (PureWow, 2021)
#4 'Florida Beach Towns for History Buffs' (Visit Florida, 2021)
#6 '7 Great Places to Retire in Florida' (Kiplinger, 2019)
#11 '2022 Best Suburbs to Live in the Jacksonville Area' (Niche)
The city boasts over 40 miles of beaches including St. Augustine Beach and Jacksonville Beach.
Top employers include Amazon, Flagler Health, PGA Tour, Inc. and St. Augustine Tourism.
Frequently Asked Questions
Continue reading for answers to frequently asked questions about our homes, community and the area.
01
When was St. Augustine founded?
The Spanish explorer and admiral Don Pedro Menéndez de Avilés founded St. Augustine in September 1565 (September 8, 1565). The city is the oldest continually inhabited territory of European and African-American
origin in the United States
.
02
What county is St. Augustine part of?
St. Augustine is the official county seat of St. Johns County, located in northeastern Florida along the Atlantic coast. St. Johns County is part of the larger Jacksonville metropolitan area.
03
Where is St. Augustine located?
St. Augustine is in northeast Florida, about 45 minutes south of Jacksonville and 60 miles north of Daytona Beach, on the Atlantic coast. The latitude and longitude coordinates are 29.901243 and -81.312431.
04
What are some of the large cities near St. Augustine?
According to travelmath.com, St. Augustine is near these large cities; Jacksonville (about 36 miles away), Orlando (about 94 miles away), Tampa (about 151 miles away) and Saint Petersburg (about 167 miles away).
05
What is the job market like in St. Augustine?
St. Augustine has a diverse economy and a thriving job market formed by various small businesses and large corporations. According to Homefacts.com, St. Augustine's unemployment rate was lower than the Florida and national averages throughout 2022; the unemployment in the area was 2.1% in December 2022.
06
Does St. Augustine have good school districts?
The school districts in St. Augustine are highly rated. According to Movoto.com, St. Johns County School District is the best district in Florida.
07
Who are the largest employers in the St. Augustine area?
St. Augustine is home to major employers in various industries, from education to national defense. Some of the largest employers in the St. Augustine area include the St. Johns County School District, Flagler Health+, Northrop Grumman, Carlisle Interconnect Technologies, PGA Tour, Inc., Ring Power and the Florida Army National Guard. View a list of the largest employers in the area on the St. Johns County
official website
.
08
Is St. Augustine a good place to live?
With its historic Spanish charm, unparalleled urbanism, pleasant climate and proximity to Jacksonville and the theme parks in Orlando, St. Augustine is among the most desirable places to live in Florida. According to Niche.com, St. Augustine is the 5th best place to live in St. Johns County, and St. Johns County is the #1 county to live in
Florida
.
09
What tax incentives does St. Augustine offer?
Like the rest of Florida, St. Augustine has no state income tax, property taxes are relatively low and there are tax-free holidays throughout the year, which allows residents to purchase some items without paying sales tax. The general
state sales tax rate of 6%
is low compared to other states.
10
Why is St. Augustine an excellent place for retirement?
Aside from tax benefits, St. Augustine appeals to retirees for several reasons. It's a coastal city with warm summers, mild winters and plenty of sunshine. The area has top-notch healthcare facilities, and the cost of living is low compared to many retirement alternatives. St. Augustine offers amenities and conveniences that can help facilitate an attractive and active lifestyle.
11
What are the most popular types of homes being constructed in St. Augustine?
Most new construction homes in the St. Augustine area are one and two-story single-family residences and townhomes.
12
Does LGI Homes have new homes for sale in St. Augustine from the $300s?
New LGI homes start in the $300s. These gorgeous St. Augustine new homes include a chef-ready kitchen, upgraded flooring, custom cabinetry and integrated technology at no extra cost for homebuyers. Learn more about our
CompleteHome™
and
CompleteHome Plus™
upgrade packages.
13
Are the LGI homes in St. Augustine quick move-in homes?
Every home for sale by LGI Homes in the St. Augustine area is a q
uick move-in home
. Homebuyers can move into their new home 30 - 45 days after closing their mortgage.
14
What are the major attractions in St. Augustine?
The most popular attractions in the St. Augustine area are Castillo de San Marcos, Flagler College, Lightner Museum, Ponce de Leon's Fountain of Youth Archaeological Park, Colonial Quarter, Ripley's Believe it or Not Museum and the Lighthouse & Maritime Museum.
15
What are some of the best beaches in the St. Augustine area?
St. Augustine is one of the best places for beach fun in Florida. The city boasts 42 miles of beaches. Some of the most popular beaches are Vilano Beach. Ponte Vedra Beach, Crescent Beach, Anastasia State Park and Butler Beach.
REQUEST INFO