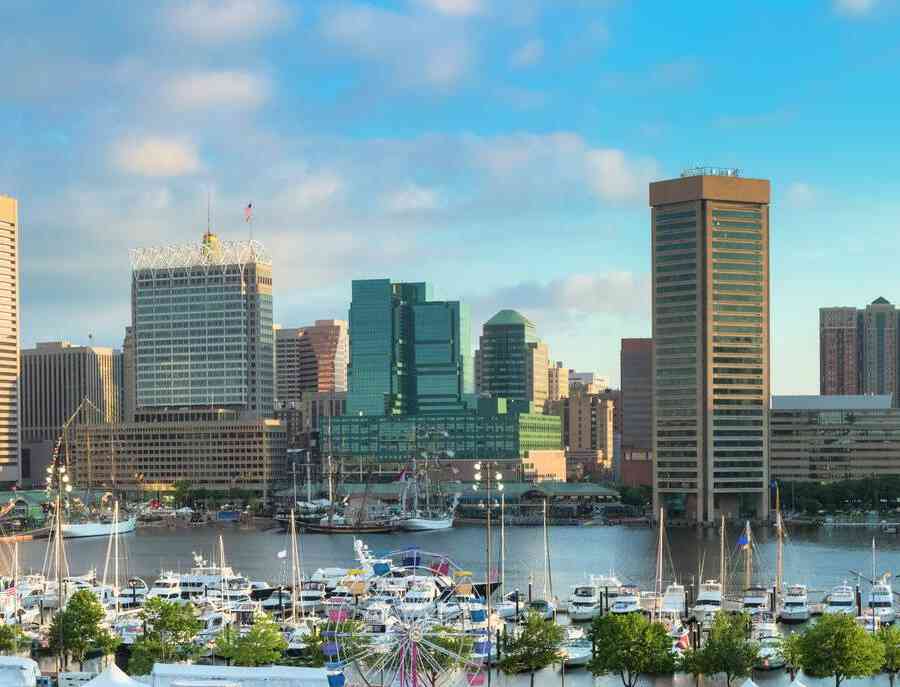 Culture All Around
New Homes for Sale in Baltimore
Baltimore
Just 45 minutes to Washington DC and the most famous tulip garden in North America, Baltimore has it all! Ride the commuter train for only three-quarters of an hour to our nation's capital. And check out the 80,000+ gorgeous blossoms at Sherwood Gardens. Hip and historic, Baltimore has award-winning restaurants, art, museums and hands-on family fun.

Discover a Baltimore LGI Homes community with access to three airports. Luxury living and lasting quality in a superior home, with a convenient commute. Find the best of both worlds in a Baltimore LGI Homes community. Rich amenities, innovative home designs, energy-efficient appliances, spacious master retreats and other premium upgrades are included at no extra charge.
Explore Baltimore
#1 '5 Best Places to Live in Maryland' (Apartment List, 2022)
#2 '2022 Most Affordable Cities in Maryland' (NewHomeSource)
#9 'The Best Cities for U.S. Job Seekers in 2022' (Indeed)
#19 'The 25 Best Places to Live on the East Coast in 2021 - 2022' (US News)
Top industries include transportation, distribution, construction, manufacturing, government, healthcare, energy, education, financial services & information technology.
Top attractions include the National Aquarium, Fort McHenry National Monument and Historic Shrine, Baltimore Museum of Art, The Walters Art Museum, Oriole Park at Camden Yards, The Maryland Zoo and Port Discovery Children's Museum.
Frequently Asked Questions
Continue reading for answers to frequently asked questions about our homes, community and the area.
01
When was Baltimore founded?
The city of Baltimore was founded in August of 1729.
02
What is Baltimore famous for?
Baltimore is famous for various things, including its industrial and manufacturing history. The city was the birthplace of Babe Ruth, one of the greatest pitchers in the history of Baseball. The Baltimore Harbor has been a commerce hub since the 18th century. Baltimore is well-known for its prominent role in the Civil Rights Movement and was home to Frederick Douglas and Harriet Tubman. Fort McHenry is where Americans successfully thwarted an invasion by the British Navy during the War of 1812. Baltimore is the origin place of the United States' national anthem. The city hosts the Preakness Stakes, a thoroughbred race in the Triple Crown Series.
03
What does being an independent city like Baltimore mean?
An independent city is a city that is not part of a county and is not part of another local government entity. Baltimore became independent in 1851, the largest independent city in the United States. As an independent city, Baltimore is not part of another general-purpose local government entity. It is considered the primary administrative division of its state.
04
What big cities are near Baltimore?
Baltimore is less than 200 miles from nine (9) cities with more than 200,000 residents, according to travelmath.com. Washington D.C. (35 miles), Philadelphia (90 miles), Newark (164 miles), Jersey City (169 miles), Norfolk (169 miles), New York (171 miles), Virginia Beach (172 miles), Chesapeake (175 miles) and Pittsburgh (198 miles).
05
How is the transportation system in Baltimore?
The transportation system in Baltimore is relatively good. There are various options, including buses, trains, light rail and water taxis. The Maryland Transit Administration (MTA) operates most of the public transportation in the city. The MTA's Local Bus service is the most extensive, with routes covering all parts of the city. The MARC Train provides commuter service between Baltimore and Washington, D.C., and the Light RailLink system serves the Inner Harbor and other popular destinations. The Baltimore Water Taxi is a fun way around the Inner Harbor and Fells Point.
06
What are the employment opportunities like in Baltimore?
Employment opportunities in Baltimore are abundant; the city is experiencing a shrinking workforce. Instawork.com published an article in April 2023 highlighting Baltimore's shrinking workforce, mentioning that the labor market in the Baltimore area is one of the tightest in the nation. The city is among the top 20 in the country for healthcare professionals. Overall, Baltimore has a diverse economy with a strong focus on healthcare, construction, logistics, information technology, education, manufacturing and financial, professional and business services.

Remember to do independent research regarding employment opportunities in Baltimore because employment numbers frequently change.
07
Who are Baltimore's most prominent employers?
According to Maryland.gov, the largest employers in Baltimore include Johns Hopkins University, Johns Hopkins Hospital & Health System, University of Maryland Medical System, University System of Maryland, LifeBridge Health, MedStar Health, St. Agnes Healthcare, Exelon, Kennedy Kriger Institute, Horseshoe Casino, Under Armour, Morgan State University, H&S Bakery, T. Rowe Price Group, U.S. Army Corps of Engineers, Marriott International, M&T Bank, Morgan Stanley and Abacus.
08
How does Baltimore's cost of living compare to other major cities in the United States?
In 2023, Baltimore's cost of living is higher than the national average but lower than comparable large cities. According to Numbeo, the cost of living in Baltimore is about 10% lower than in New York City. Compared to San Francisco, the cost of living in Baltimore is 39% lower. Regarding healthcare, Baltimore is affordable; healthcare in the city is 10% lower than the national average. Baltimore is inexpensive when compared to other major cities. Baltimore is reasonable if you're looking to live in a major city or coming from one.
09
What's the population of Baltimore, Maryland?
According to the United States Census Bureau, the population of Baltimore was 585,693 in 2020; as of July 1, 2022, the number of people in Baltimore was 569,931. The city's population has decreased for years as individuals and families move from Baltimore to growing areas around the city.
10
What colleges and institutions serve Baltimore?
Baltimore is home to several well-known colleges and universities, including Johns Hopkins University, the University of Maryland, Baltimore, and Loyola University Maryland. According to Franklin.edu, 22 colleges serve Baltimore, including four community colleges, 12 private colleges and six public universities.
11
How many days of sunshine does Baltimore have each year?
On average, Baltimore has 213 days of sunshine annually; 205 is the national average.
12
What amenities and activities are available for families in Baltimore?
Baltimore has several parks, museums and other attractions perfect for families. Some popular family-friendly destinations in Baltimore include the National Aquarium, Port Discovery Children's Museum, The Baltimore Zoo, The Maryland Science Center, Fort McHenry, Babe Ruth Birthplace and Museum and Edgar Alan Poe House and Museum.
13
What is the arts and culture scene like in Baltimore?
Baltimore has a vibrant cultural scene. There are many museums, theaters and music venues in the city. Some of Baltimore's most famous art and cultural destinations include The Walters Art Museum, The Peabody Institute, The Lyric Opera House, The Baltimore Symphony Orchestra and The Hippodrome Theatre.
14
What recreational activities and outdoor attractions does Baltimore offer?
Baltimore has various outdoor attractions with numerous activities. Residents can go hiking, biking, swimming, camping, fishing and boating in and around the city. Popular outdoor venues in and around Baltimore include Historic Mount Vernon Place, Fruid Hill Park, Gwynns Falls Trails, Cylburn Arboretum and Federal Hill Park.
15
Where are new construction homes in the Baltimore area?
Homebuyers looking for new homes for sale in Baltimore will discover homebuilder neighborhoods in Baltimore and numerous nearby cities. A few popular cities include Hanover, Nottingham, Owings Mills, Towson,
Martinsburg
, Ellicott City, Fulton, Joppa, Frederick, New Market, Laurel, Cockeysville and
Hagerstown
. Many of these cities are just off the highway with easy access to Baltimore and have gorgeous homes at affordable prices.
16
Are there programs to help first-time homebuyers buy their first house in Baltimore?
In 2023, Baltimore first-time homebuyers have access to the
First-Time Homebuyers Incentive Program
, which helps eligible buyers with down payment and closing costs. Multiple federal programs
help buyers secure financing
with favorable terms; the FHA loan is one example. Ask an LGI Homes representative if you qualify for any homebuyer programs.
17
Does LGI Homes offer new home financing?
We work with a preferred lender to provide buyers with new home financing options. Our preferred lender is familiar with our new homes, our buying process and the value we include in every home. Homebuyers can work with our preferred lender to secure a conventional,
FHA
, VA or USDA home loan.
REQUEST INFO